Routing, Terrain Keys to County Louth in Ireland
By: Steve Habel
Some golf course architects - even in Ireland, a place where playing golf is nearly as regular as breathing or paying taxes - can go over the top in manufacturing difficulty on their courses when it's just not needed.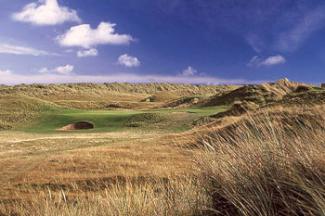 County Louth GC
That can never be said about the work of renowned architect Tom Simpson at County Louth Golf Club, one of the most understated - and overall satisfying - links in Ireland.

Set in Baltray, formerly a fisherman's village at the mouth of the River Boyne and about four miles north of the medieval town of Drogheda, County Louth Golf Club was established in 1892. The course winds across 190 acres of seaside terrain and remains largely unchanged from the design laid out by Simpson in 1938.

County Louth (rhymes with "South") was established when a transplanted Scotsman named Thomas Gilroy teamed up with a local barrister, George Henry Pentland, who had never played the game. After laying out some holes at nearby Mornington, one day they rowed across the river and discovered what Pentland proclaimed "one of the best pieces of golfing ground in the world."

The first holes at Baltray, as the course is popularly known, were crafted by Gilroy and a Scottish professional with the peculiar name of "Snowball" (about whom nothing else is known). The club prospered from the start, but it wasn't until the late 1930s that Simpson's work took full advantage of the superb linksland.

In latter years, refinement has taken place under the direction of Donald Steel and Tom Mackenzie. Most recently (in the summer and fall of 2013), the golf design firm Spogárd & VanderVaart completed a renovation and the building of a new green (at No. 17) to resolve some playability issues and aesthetic qualities.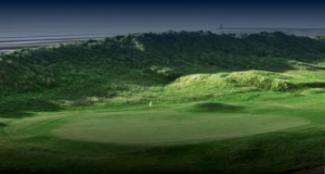 County Louth GC's 13th Hole
Routing Makes County Louth GC Special

The course has two nine-hole loops that are arrayed through the dunes so the player seldom feels any two holes go in exactly the same direction. The routing runs close by the sea, beyond Baltray, and is separated from the water by the course's tallest dunes. The water is visible only occasionally and, some 40 miles up the coast, the Mourne Mountains ripple across the horizon.

It speaks highly of Simpson's design that only 50 bunkers were built; the rest were provided by Mother Nature. The bunkering at County Louth GC is clever and almost magnetic, but is positioned to punish poor shots rather than penalize good ones.

The course demands accurate driving and an inspired short game, while each green provides tests without being impossible. There is not a weak hole at County Louth GC and many are wonderful.

The par-72 is carded at 7,031 yards from the back set of three tees and plays firm and fast, with skills with the ground game being important to good scoring.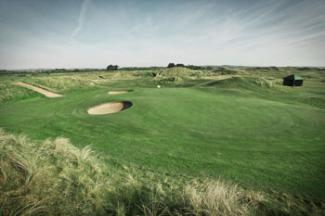 No. 15 at County Louth GC
Excellence is demanded at the first hole, a 454-yard par-4 where the player drives into sloping ground bracketed on both sides by penal bunkers. The long approach moves slightly left over a gentle rise that hides another bunker, this one some 15 yards short of the green and in the fairway, to snare under-hit mid-irons. The green falls off to the right. This is an exacting opener.

The second and third holes are both par-5s but are distinctively different. The second often plays downwind. It's carded at 523 yards and is reachable in two, providing one of the best birdie opportunities on the course. Conversely, the third plays in the opposite direction and is 21 yards longer, with the approach a blind shot over a ridge. Miss the putting surface left and there's a tough uphill pitch that can easily end up back where it started . Miss it right, and it's in tall grass.

Two memorable par-3s on the outbound nine, the fifth (173 yards) and seventh (163 yards), play from lofty, wind-exposed tees across swales to plateau greens defended in both cases by bunkers and steep falloffs. These short holes sandwich a stunning par-5 that twists and turns over 531 yards to a green high on a knob and surrounded by collection areas.

Three consecutive par-4s on the home half - Nos. 12, 13 and 14 - begin at the Irish Sea and weave through dunes. The first two, at 410 and 421 yards, respectively, require long second shots through narrow gaps to sheltered and barely visible greens.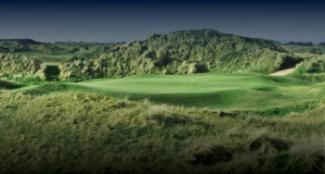 The 14th Hole at County Louth GC
The 14th, which is almost nearly 100 yards shorter, asks for precise short-game play, especially on the uphill pitch to a small green partially concealed within dunes.

The round closes at a strong, straightaway 559-yard par-5, with a pair of pot bunkers smack in the middle of the fairway, one of them 100 yards short of the green, the other 50 yards closer.

Golf Digest's Ireland editions said this about County Louth GC: "This peaceful links course located on Ireland's east coast is a snapshot of the way golf should be played. However, the serene atmosphere gives way to towering dunes, murderous rough and long holes that will make use of every club in the bag."

County Louth Golf Club is often referred to as one of the great, unsung Irish golf links. It hosted the Irish Open in 2004 and '09 and remains off the main highway of Ireland's links' destinations. It's an authentic seaside links, easily one of Ireland's top-10 courses and among the top-20 in the British Isles, a strikingly natural and classic layout that tests and delights at every turn.

Without a doubt, the "Baltray" experience is one to be savored. It is a club renowned not only for its course and achievements but for the friendliness of its members and staff - and that's an unbeatable combination.
For more information, visit http://countylouthgolfclub.com.
Steve Habel is a freelance writer contributing Cybergolf news stories, features, equipment and book reviews and personality profiles from his base in Austin, Texas. He also works as an associate editor for Horns Illustrated magazine, a publication focusing on University of Texas sports, and is a contributing writer for Texas Golf Insider, Golf Oklahoma magazine, Tri-State Golfer and ATX Man magazine. Habel's blog (www.shotoverthegreen.blogspot.com) features news on golf and chronicles his many travels, including playing almost 1,000 golf courses since 2008. Habel is a member of the Golf Writers Association of America and the Texas Golf Writers Association.