Royal Dublin & St. Anne's Make Ireland's Bull Island a Golfer's Haven
By: Steve Habel
When Ireland's Bull Island was built in the early 1800s, its purpose was not to house golf courses nor Dublin's most famous ecological attraction and largest public park.
No. 18 at Royal Dublin GC
The manmade land mass in Dublin Bay, about three miles long and a half-mile wide, was constructed to help solve a long-standing problems of providing shipping with a safe, straight and deep approach into Dublin, a tough proposition because of silting, notably at the mouth of the River Liffey.

It was none other than Captain William Bligh, of "Mutiny on the Bounty" fame, who proposed a seawall two miles out from the shore, running parallel to the districts of Clontarf (including Dollymount), Raheny and Kilbarrack, and facing Sutton along the coast of the Irish Sea.

The resulting sand bank, now known as Bull Island, continues to grow as the silt from the sea accumulates on its eastern banks. The island is accessed from the south by a timber bridge, the latest of which was built in 1907 and is still in use.

That silt, and the dunes created over the past 190 years, also helped provide excellent terrain for links-style golf courses. Two of those - Royal Dublin Golf Club (at the south end of the island) and St. Anne's Golf Club (to the north, just across a one-lane road from Royal Dublin) - occupy the western half of the island, the remainder of which is a protected wildlife preserve and a popular public beach.

Generally, links courses are in remote, even desolate areas, but these enchanting courses offer Dubliners a pair of great choices within a 15-minute drive from the city's center.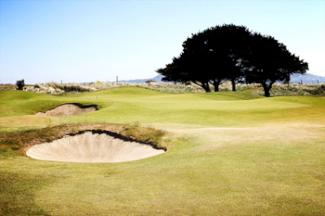 The 2nd Green at Royal Dublin
Nothing but the Best at Royal Dublin GC

Royal Dublin Golf Club began at a meeting held at No. 19 Grafton Street in May 1885, and was founded by John Lumsden, a Scottish banker. Originally called Dublin Golf Club (it received the "Royal" designation in 1891), and located near the Magazine Fort in Phoenix Park, the club moved to its present 160-acre home in 1889. Having celebrated its 125th anniversary in 2010, Royal Dublin is Ireland's second-oldest golf club.

During World War I, the course was taken over by the military and used as a rifle and artillery range; there are still, in fact, some visible foxholes and artillery works. After the war, the clubhouse was in a very dilapidated condition and the course was devastated, but the clubhouse was rebuilt and the links redesigned by renowned golf architect H.S. (Harry) Colt in 1920.

Martin Hawtree, the architect who most recently designed Trump International GC in Scotland, renovated the course for the modern game in 2006. Now stretching 7,269 yards from its back set of three tees, Royal Dublin offers a combination of challenge and playability, all enhanced by an out-and-back routing.
The exposed island location is relatively flat, making the constant wind off the Irish Sea unpredictable, a particularly important playing factor. The test at Royal Dublin is further complicated by narrow fairways and extensive stretches of out-of bounds; accurate drives are paramount here.

Generally, the front nine plays downwind, making the home half (which is 550 yards longer than the front) particularly difficult. Nothing about Royal Dublin is easy or to be taken for granted. If golfers don't do well on the front side, nothing short of a miracle will help them on the back.

While the challenge is solid throughout, the course's real tests are its bunkers, a Colt specialty. The steep-faced greenside bunkers are set perfectly, almost deviously so. Miss the greens and golfers are all but guaranteed trouble; they almost act like ball magnets. Sometimes approaches that land on the putting surface won't hold as Hawtree's restoration included aggressive contouring with roll-offs toward nearby traps.

The fairway bunkers are only slightly kinder. With any Colt design, the purpose is to make players think and execute shots, while adding a few more strokes to the scorecards of those who don't.

Adding even more spice here is a meandering stream that enters play more than once, high and dense rough that must be avoided at any cost, and a smattering of blind drives.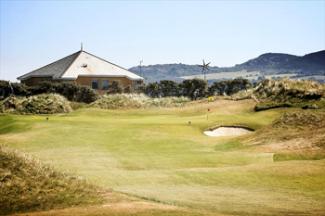 8th Green at Royal Dublin GC
Hawtree's work added teeth to several holes, the toughest of which is the 483-yard 18th, which turns 90 degrees 300 yards off the tee around an environmentally sensitive area with a deep burn in between it and the green.

Royal Dublin asks for solid ball-striking and good course management. This is an exceptionally demanding examination of links golf that will keep any player on their toes from the opening drive through the last hole.

No discussion of Royal Dublin Golf Club would be complete without including mention of the generous hospitality afforded members and visitors alike. There may be no friendlier or more welcoming clubhouse in all of Ireland.
For more information, visit www.theroyaldublingolfclub.com.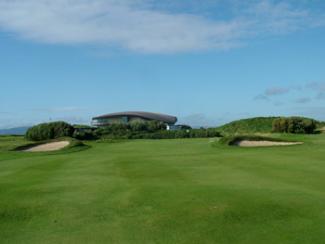 The Approach to 4th Green at St. Anne's GC
- Its Futuristic Clubhouse in the Background
St. Anne's Less Severe but Still a Solid Test

Founded as a nine-hole course in 1921, St. Anne's Golf Club was originally fashioned by Irish architect Eddie Conniaghton. Nine more holes were designed by Eddie Hackett (whose most famous work is Waterville in southwest Ireland) and added in the late 1980s.

Though less well-known than Royal Dublin, St. Anne's is first-rate as a traditional links. The course's unique setting offers splendid views of Howth Head to the northeast and across Dublin Bay to the Wicklow Mountains to the southwest, ensuring an enjoyable outing.

St. Anne's stretches 6,717 yards from its back set of four tees and plays to a par of 71 that includes just three par-5s. There is not a pushover hole, and wind conditions play a major role in how the course played.

In 2003 an extensive redevelopment of the course was completed and a new clubhouse - one of the best in all of Ireland - opened. From here you can survey the surroundings and a golf course that flows through low dunes interspersed with gorse thickets. Oddly, just outside the clubhouse are several palm trees.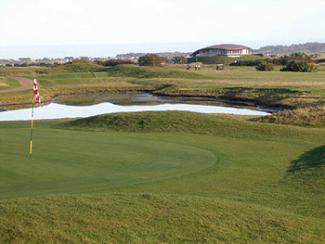 St. Anne's GC
Part of the reworking of St. Anne's included lengthening and giving definition to the back nine, and five new greens and eight new tees, all of which were sodded with turf from old Croke Park, the Dublin stadium that is the principal arena and headquarters of the Gaelic Athletic Association. Together with the ninth, the first three holes on the home half are those most recently constructed.

The beauty of St. Anne's lies in its naturalness. Downwind holes require well-judged running shots on fast fairways and greens. Playing into the wind complicates club selection and shot execution, and any ball missing the green requires some scrambling.

There are several tight holes guarded by out-of-bounds, and well-placed bunkers can be penal. A notable feature of St. Anne's is that forethought is required at all times; be sure to get into correct positions for approaches to ensure a chance at par.

The final three holes are memorable and typify the natural links feel of the course. The 370-yard 16th is a par-4 and superb driving hole where trouble threatens along the right and bunkers lurk left. Its large green is separated in the middle by a hump. The 17th is a fine par-3 of 186 yards where bunkers guard the entrance to the semi-blind green.

On the tee of the 430-yard closer, the green is seen tucked behind a hillock and slightly to the left. A line of low dunes provides the direction of the fairway, which contains a series of low hummocks that will kick the ball either left or right. The right side of the fairway gives the most direct path to the green but it's tighter, and balls hit left will require negotiation of the hill guarding the putting surface.

St. Anne's is a compact links with many holes running parallel between low-lying sand hills, which add character. Though it boasts some challenges, it's not too severe and is fun to play.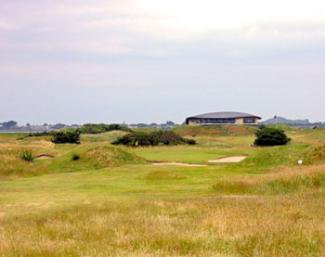 The 17th hole at St. Anne's Golf Club
See more info at www.stanneslinksgolf.com.
Steve Habel is a freelance writer contributing Cybergolf news stories, features, equipment and book reviews and personality profiles from his base in Austin, Texas. He also works as an associate editor for Horns Illustrated magazine, a publication focusing on University of Texas sports, and is a contributing writer for Texas Golf Insider, Golf Oklahoma magazine, Tri-State Golfer and ATX Man magazine. Habel's blog (www.shotoverthegreen.blogspot.com) features news on golf and chronicles his many travels, including playing almost 1,000 golf courses since 2008. Habel is a member of the Golf Writers Association of America and the Texas Golf Writers Association.