Royal Isabela Raises the Bar for Golf & Luxury in Puerto Rico
By: Steve Habel
Golf has always been one of the key calling cards for the islands of Puerto Rico, which, thanks to their relative proximity to the East Coast of the United States and year-round tropical climate and terrain, is perfect for building memorable courses - especially on its topographically varied coastline.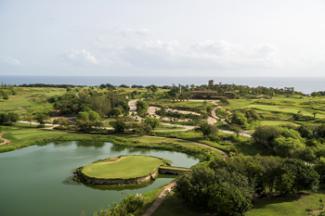 The Island Green at No. 9 at Royal Isabela
With the development and full-fledged opening of Royal Isabela and its stunning seaside course, the bar for the sport in Puerto Rico has been raised to its highest level ever while shifting the epicenter of golf in the commonwealth.

Puerto Rico has many great golf destinations, but almost all are focused near the bustling territorial capital of San Juan or the northeast coastline. Royal Isabela, located about 75 miles west of San Juan, is the first attempt to bring attention to the more relaxed northwest corner of the main island which, until now, had been a somewhat remote destination for surfing, bicycling, fishing and those seeking a more laid-back culture.

Royal Isabela is a resort community lined by jungle and defined by high cliffs above crashing waves, a place where green, blue and sandstone hues all work in harmony with nature. Here, luxury is the norm and no expense has been spared to provide guests and residents lifelong memories.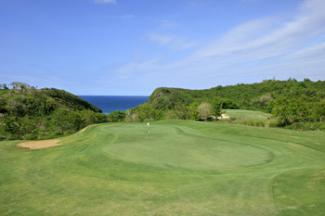 No. 1 at Royal Isabela
Brothers Stanley and Charlie Pasarell and business partner Edwin Pérez own Royal Isabela, which took more than 10 years and better than $100 million to develop and build. The Pasarells are world-class tennis players who later fell in love with golf and vowed to develop a course and exceptional community in Puerto Rico. They're part of a multigenerational Puerto Rican family that has always been dedicated to treating the land with the utmost respect.

"Our commitment to the environment here is genuine and comprehensive," Stanley Pasarell said. "Puerto Rico has been good to us, and our dedication to Royal Isabela is born out of our family's heritage on this beautiful island. There is no 'end' to Royal Isabela for us. We live this project. Royal Isabela will be our legacy and is our gift to Puerto Rico."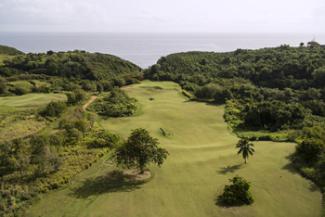 No. 5 at Royal Isabela
The centerpiece of the 426-acre property is a challenging and dramatic golf course perched on cliffs that soar from 150 to 350 feet above the Caribbean Sea.

In fall 2012, Royal Isabela began welcoming visitors to the property's 20 plush, 1,500-square-foot casitas, each with a private terrace, a salt-water plunge pool on the deck and indoor/outdoor spaces with vistas of the blue water and waves breaking on the beach below.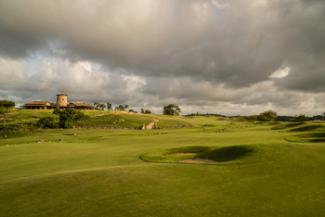 The 18th hole & Clubhouse at Royal Isabela
A Golf Course with Considerable Variety

The brothers traveled the world to play many historic golf courses, and Royal Isabela's layout was loosely modeled on those in the British Isles. When it came time to design their track, they enlisted the aid of noted golf architect David Pfaff (who formerly worked with Pete Dye) and routed the course on land that took required little manipulation.

"The golf course design was not about moving the earth, but how the earth moved us to tread gently," said Charles Pasarell, who's been involved with the site since the 1980s. "We are not the creators of Royal Isabela, we are its caretakers."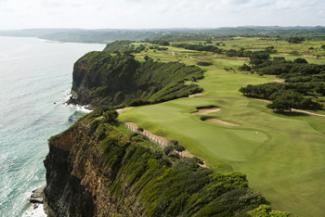 The Cliff-Hugging Dual Green for Nos. 12 & 14
The result is a demanding test, with a hilly front nine routed through jungle-like flora, and an attention-grabbing home half bearing a links-like feel with three holes perched high on a cliff that rank among the best ocean-side holes in the world.

Royal Isabela's natural rises and falls accentuate the setting, as wide fairways stretch over various undulations, hugging the edges of the Caribbean. Along the way, numerous vertical sod-faced bunkers add a Scottish flair in this tropical paradise. With the nearly always-blowing trade winds, these elements are integral to the course's personality.

Particularly notable junctures include the island green at the par-3 ninth hole, and the double-green for Nos. 12 and 14 that's perched upon a promontory.
Perhaps even more remarkable is the sixth, which boasts two separate fairways and greens, resulting in a par-4 and a par-5 on the same hole. Starting from the same tee box, the hole shares a landing area but then splits into two directions, with the par-4 heading to the right on an uphill route and a par-5 that veers left along a canyon.

Many elements enhance Royal Isabela's entertainment value. At the daunting 12th, a 435-yard par-4 that plays across the sea below, a special tee at the 300-yard mark entices golfers to drive the green. Then there's the par-3 17th, which seems suspended over the ocean and involves an all-or-nothing carry.

Royal Isabela is not limited to one or two highlights, however. There are six sets of tees, with the tips stretching the layout to a maximum of 7,667 yards as a par 73, and a slightly tougher par-72 configuration of 7,538 yards (depending on how No. 6 is played).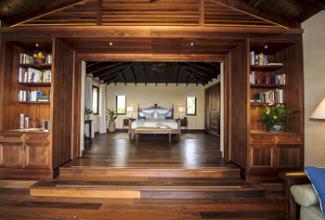 One of the Luxurious Casitas at Royal Isabela
Visionary Ideas & Dogged Determination

Every aspect of Royal Isabela, from its conservation efforts to its farming and nursery operations, is meant to protect the land and honor Mother Nature. More than 20,000 native trees and indigenous ornamental plants have been propagated and grown in Royal Isabela's nurseries, using seeds and cuttings gathered on the property. Other than the putting surfaces, every blade of grass and every plant within its confines are grown on-site.

Throughout the construction of the course and resort, the vast majority of the work was done by hand, reflecting the desire to minimize disturbing the land. Natural lakes and ponds were enhanced, and no tree, plant or endemic shrub was removed without specific, written approval from Stanley Pasarell.

More than 100 acres along the cliffs and seaboard zone have been preserved in their natural state for perpetuity via the El Pastillo Conservation Trust, a nonprofit entity formed to protect, conserve and educate about the conservation areas established at Costa Isabela.

Almost as amazing as the cliffs is the unspoiled shoreline below - where warm water and heavy surf crash against the rocks, the dunes and palm trees. Royal Isabela's private beach extends as far as the eye can see to the east (where the surf gets milder the farther you go) and west, which is marked by huge rocks ripped from the island over the eons.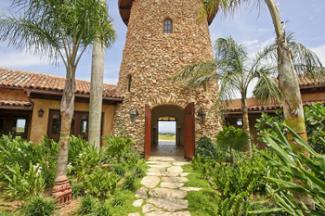 La Casa, the Main Clubhouse, at Royal Isabela
(all of the above photos are by Joann Dost)
Lots to Do off the Course

Royal Isabela has taken the luxury travel and golf world by storm since debuting three years ago. It helps that the property offers more than just a great golf course on an outstanding site; Royal Isabela's other amenities are also top-shelf.

The private, gated complex includes a spacious clubhouse, a huge pool, a golf shop, tennis courts, a wonderful restaurant with views of the ocean and a separate outside bar/dining area. There also are 28 home sites and room for up to 50 fairway villas.

Royal Isabela's dining room, the Restaurant at La Casa, features farm-to-table dishes using many local ingredients including vegetables, herbs and seafood. The restaurant also boasts a wood-burning stove and a fine wine collection.

When ordering from the kitchen, the question to ask isn't "What's cooking?" but "What's growing?" Each day chef José Carles Fabregas visits the resort's River Farm and Organic Gatehouse Garden to see what's ready and ripe.

A trip here is truly a memorable experience. For more info, see www.royalisabela.com.
Steve Habel is a freelance writer contributing Cybergolf news stories, features, equipment and book reviews and personality profiles from his base in Central Texas. He also works as a contributing editor for Horns Illustrated magazine, a publication focusing on University of Texas sports, and is a contributing writer for Golfers' Guide and Golf Oklahoma magazine, Texas Links magazines and Golfers Guide. Habel's main blog (www.shotoverthegreen.blogspot.com) features news on golf and the Longhorns, and another (www.checkinginandplayingthrough.blogspot.com) chronicles his many travels, including playing more than 600 golf courses since 2008. Habel is a member of the Golf Writers Association of America and the Texas Golf Writers Association.