Royal Kunia Golf Course To Open At Year's End
The idle Royal Kunia Golf Course will likely be open for play by the end of the year under an agreement approved by the Honolulu City Council in mid-July 2001.
The Council voted 8-1 to approve a resolution freeing owner JAC Hawaii from an obligation to pay the city $13 million in community impact fees originally promised by former developers Royal Oahu Resort Inc. and Halekua Development Corp.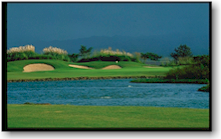 The course, designed by Robin Nelson, has remained closed since it was completed in 1994 because only $12 million of the $25 million impact fee required by the city was paid. Under the new agreement, the owners and creditors will pay the city $2.5 million up front and a dollar per round for the life of the course. JAC officials said the course could begin play by December. Construction on a clubhouse is expected to begin in the fall and take about a year to finish.