Sahalee Players Championship to Feature Hottest Amateur Golfers
By: Craig Smith
The Fourth of July might mean firecrackers to most people, but to golf fans it means great shot-making by some of the world's top male amateurs at the Sahalee Players Championship (SPC).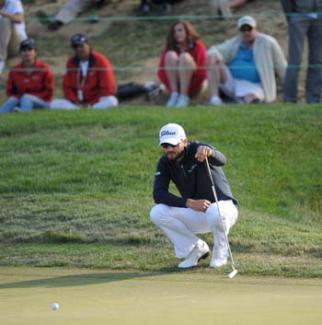 Kyle Stanley, 2006 SPC Champion,
Is Now a PGA Tour winner (Photo by Rich Heins)
The field in this year's three-day, 72-hole championship includes Beau Hossler, the 17-year-old Californian who briefly held the lead in the second round at the U.S. Open a few weeks ago at the Olympic Club in San Francisco. He finished in a tie for 29th. Hossler has one more year left at Santa Margarita High School in Orange County and plans to play for the University of Texas. He is the reigning world junior champion.

Chris Williams, the University of Washington All-American, will try to become the first two-time winner of the event. He beat Zac Blair of Brigham Young University by a stroke last year, and senior-to-be Blair is back in the field this year.

Williams, who has one more year as a Husky, won the Washington State Amateur last month and was intrigued to learn that the SPC never has had a repeat or two-time winner.

"Really?" he said. "All right, I'll have to keep that in mind."

Williams, currently ranked as the world's No. 2 amateur, will be one of five Huskies in the tournament.
The 19th SPC begins with a single round on Independence Day at Sahalee Country Club on the Sammamish Plateau outside Seattle. The 66 competitors will then play 36 holes July 5 and a final 18 on July 6.

Players in this year's field come from Canada, Australia, New Zealand and nine U.S. states. Most of the competitors are elite collegians.

Entrants include Nick Chianello, this year's Oregon Amateur champion who will be a senior in the fall at Oregon State; Lorens Chan, Hawaii Amateur champ who is still in high school, and 2011 Pac-10 champion Martin Trainer of USC and 2012 Pac-12 champion Andrew Yun of Stanford. Yun lived in Tacoma until age 14, when he persuaded his parents that a move to Arizona would benefit his golf.

Others include Reid Martin, the University of Central Florida senior-to-be from Kamiak High School in Mukilteo. Wash., who won the Oregon Open Invitational last year against top Northwest club pros, and Colin Nisbet, a finalist in this year's Australian Amateur.

The championship was first played in 1992 and was won in 1993 by later-to-be-famous Casey Martin of Eugene, Ore.
Now the golf coach at the University of Oregon, Martin said, "It's a coveted event, for sure. Anyone who gets in is going to play against great competition on a world-class golf course."

Sahalee, famous for its tight fairways, has consistently been ranked by Golf Digest as one of the nation's Top 50 courses.

The Sahalee Players Championship has become a summer staple on the Seattle sports scene along with events such as the annual hydroplane race on Lake Washington, the Washington State Open at Seattle Tennis Club and the Longacres Mile Thoroughbred race.

Tournament co-founder and chairman, Mike Jonson, said the SPC was started "because the West needed a major amateur event. Sahalee's mission has always been to host major competition," Jonson said. "This was a way for Sahalee to develop its name and reputation, prove its suitability as a host for major competition, and make a contribution to golf."
Six years after the SPC was first held, Sahalee hosted the 1998 PGA Championship won by Vijay Singh. In 2002 it hosted the World Golf Championships-NEC Invitational won by Craig Parry and in 2010 was the site of the U.S. Senior Open, won by Bernhard Langer.

The SPC was not held in 1998 and 2002 because of the PGA Tour events and in 2010 it took place at The Home Course in DuPont, Wash., because of the U.S. Senior Open. The field was strong as usual because golfers were eager to get an advance chance to play The Home Course, which was the assisting course for the U.S. Amateur at Chambers Bay that year.

Four of the past nine winners of the Ben Hogan Award (given to the nation's top male collegiate golfer) have won the SPC, including Puyallup native Ryan Moore, UNLV, 2005; Gig Harbor native Kyle Stanley, a Clemson recruit when he won the SPC in 2006 (and a Clemson star when he won the Hogan Award in 2009); British Columbia's Nick Taylor, Washington, 2009; and Peter Uihlein in 2010 (Uihlein also won the 2010 U.S Amateur).

More than a dozen SPC players graduated to the PGA Tour.
The wildest finish came in 2006 when future tour pro Stanley won a four-man playoff in which he and Jon McLean of Texas Christian University each eagled the first playoff hole, the par-5 18th. Stanley won by eagling the hole again 20 minutes later.

Stanley told a reporter this spring, "I was just thinking about that, and was talking to Jim McLean (Jon's famous golf-instructor father, a Seattle native) last week about that playoff. That was really something. It was really cool."

Though the field is always full of long hitters, last year's toughest holes were a pair of par-3s. The 185-yard fifth had a scoring average of 3.5 and the 210-yard 17th had a 3.48. The historic 17th (the eighth hole on the North nine at the 27-hole layout) was where Vijay Singh came out of a bunker to save par and take a decisive two-stroke lead against Steve Stricker in the final round of the 1998 PGA Championship. Stricker was in the same bunker. but his 15-foot par putt just missed.

"I love 17, the par-3," said Williams when asked to name a favorite hole at Sahalee. "It's awesome."
Admission is free, but spectators must comply with Sahalee's dress code that requires a collared shirt and bans denim and jeans. Cell phones are prohibited.

The SPC will be followed by the Pacific Northwest Golf Association Men's Amateur at Wine Valley Golf Club outside Walla Walla, July 9-14. This "Western Swing" scheduling is done for the convenience of the out-of-area competitors. Blair, last year's SPC runner-up, won the PNGA Amateur last year at Tetherow Golf Club in Bend, Ore.

Sahalee tee times will be noon to 3 p.m. on July 4. On the 36-hole day - July 5 - golfers will tee off between 8 a.m. and 9:30 a.m. on No. 1 and No. 10 and then again between 1:30 p.m. and 3 p.m. July 6 tee times will be from 8 a.m. to 11:30 a.m., with the leaders going off last.

Sahalee, which in the language of the native Chinook Indians means "high heavenly ground," can also be translated to "really good golf" once the Fourth of July arrives.

For more information and live scoring, visit www.sahaleeplayerschampionship.com and www.thepnga.org.