Salish Cliffs Becomes World's First 'Salmon-Safe' Course
Salish Cliffs Golf Club in Shelton, Wash., has become the first "Salmon-Safe"-certified golf course in the world. The certification came after the course successfully passed an exhaustive assessment verifying the Squaxin Island Tribe's commitment to protecting native habitat, managing water runoff, reducing pesticides, and advancing environmental practices throughout the region.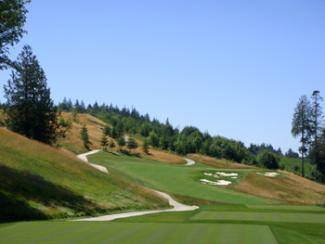 The 2nd Hole at Salish Cliffs
The Salmon-Safe Golf Course Certification Program is an offshoot of the popular Northwest eco-label for agricultural and vineyard practices, administered in Washington by the Seattle-based non-profit Stewardship Partners. The program looks at site-development practices to protect water quality, fish and wildlife habitat, and overall watershed health based on a detailed set of peer-reviewed guidelines.

A highly technical and efficient water treatment system that generates Class A reuse water from Little Creek Casino Resort is typical of the detail and effort the Squaxin Island Tribe employed to earn Salmon-Safe certification at Salish Cliffs. The treated water is stored for its intended use of irrigating the course in the summer.
"When we decided to build Salish Cliffs, we vowed to uphold our tribal mission to nurture our people and our land and ensure both thrive for generations to come," said Dave Lopeman, Squaxin Island Tribal Council Chairman. "Creating and maintaining an eco-sensitive course from site planning through ongoing operation was essential to us and the people of Western Washington. Special recognition goes to Jeff Dickison, Assistant Natural Resources Director for Squaxin Island Tribe, and Salish Cliffs superintendent Bob Pearsall. Their joint dedication and persistence spearheaded this significant achievement."
The independent review process was conducted by a team of experts in the fields of stream ecology, storm-water management, golf course design, and landscape management. Salmon-Safe assessment validated the tribe's efforts to protect wetlands and streams, preserve existing trees, and ensure the land is protected.
Squaxin Island Tribe is acting on several assessment team recommendations to enhance its management program. For example, in an effort to minimize storm-water pollution from its clubhouse parking lot, the tribe will join with Stewardship Partners to install a rain garden and implement other innovative methods to minimize runoff.
The tribe has proactively reduced and/or eliminated pesticides used at Salish Cliffs that could be harmful to salmon. And it continues to enhance the wildlife habitat across the site.
"The Squaxin Island Tribe designed Salish Cliffs from inception to support salmon so they can once again thrive in south Puget Sound," said David Burger, Executive Director of Stewardship Partners. "We hope that Salmon-Safe certification of Salish Cliffs demonstrates to the golf industry that environmental innovation and world-class courses are mutually beneficial."
Salish Cliffs is the new 18-hole championship course and amenity of Little Creek Casino Resort. Salish Cliffs was designed by Gene Bates and 2012 will mark its first full season. It has already won several best-of awards from national golf media.

Greens fees through April are $75 (Monday-Thursday) and $85 (Friday-Sunday, holidays) for 18 holes and include golf, cart, range balls before round and all taxes. MVP Player's Card Holders receive $5 off the regular price. Nine-hole and after-3p.m. rates are $45 (Monday-Thursday) and $55 (Friday-Sunday, holidays).

Tee times can be booked 10 days in advance at www.salish-cliffs.com or by calling 360/'462-3673.
About Little Creek Casino Resort

Owned and operated by the Squaxin Island Tribe, Little Creek Casino Resort features nearly 190 well-appointed rooms. The gaming casino offers more than 1,000 slot machines and table games, including poker, blackjack, craps, roulette and Texas Hold-Em. Top live-entertainment acts perform in the Skookum Creek Event Center, which hosts business and other events for up to 2,000. For more information, visit www.little-creek.com.

About Stewardship Partners & Salmon-Safe

Stewardship Partners is a Seattle-based nonprofit conservation organization that helps private landowners restore and preserve Washington State's natural landscapes. They partnered with Portland-based Salmon-Safe, Inc. in 2004 to bring the independent eco-label to the Puget Sound region. For more information, visit www.stewardshippartners.org.

Salmon-Safe is an environmental-certification nonprofit devoted to inspiring the restoration of agricultural and urban watersheds so salmon can spawn and thrive. Salmon-Safe works with more than 400 agricultural and urban landowners in Washington, Oregon, California, and British Columbia. For more information, visit www.salmonsafe.org.