Same as it Ever Was - Olympic Club Provides Great U.S. Open Champion in Webb Simpson
By: Jay Flemma
You may find yourself
In a beautiful house
With a beautiful wife
You may ask yourself
Well ­how did I get here?
Talking Heads' "Once in a Lifetime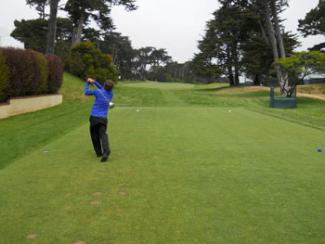 Jay Hits One off the First Tee at Olympic
One of my Golf Magazine writer buddies turned to me wide-eyed after the final putt dropped and said, "Congratulations on picking Webb Simpson to win this week . . . now how did you do it?"

"Easy," I replied. "He was the best player in the field to fit the Olympic Club mold."

Yes, once again the same script played out at a U.S. Open at Olympic Club, no matter how many former major champions, plucky amateurs and grizzled veterans tried their tarnation polecat darnedest to hand out script revisions to Act IV. Great champions battled heroically in an effort to recapture former glory, perhaps even cement immortality . . . and then one of the supporting actors stole the scene at the end.

Webb Simpson, who everyone should have seen coming but ignored until it was too late, landed in the winner's circle after firing back-to-back 68s on the weekend to win the 112th U.S. Open by one shot over 2010 Champion Graeme McDowell and Michael Thompson. In doing so he also made bridesmaids once more out of former U.S. Open champions Jim Furyk and Ernie Els, who yet again squandered chances in the clutch.

"This is only my second U.S. Open and so I told myself don't get too excited, don't try to win. You've got to go out there ask try to make pars . . . I never really wrapped my mind around winning," claimed Simpson, who kept himself within hailing distance of the leaders after the difficult opening holes of the Lake Course, then ran off four birdies in five holes to power into contention. When the more decorated players above him faltered late, Simpson was the last man standing.

"Today I was 2 over through five, but I didn't think anything of it because I knew I had seven coming up and a few other birdie holes in the back.[On six] my caddie talked me into hitting driver on the weekend and to try to get myself a 6 or 7 iron in," he explained. "I did that yesterday, made par, and today it set us up for a 7 iron. It ended up about five feet, I made birdie, and kick-started the run," concluded the young rising star, who also confided that he was so nervous, he couldn't even feel his legs for most of the back nine.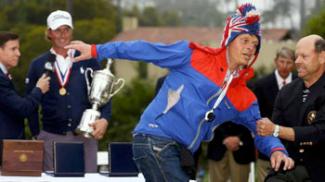 Mike Davis Turns into
"Olympic hates sports writers," concluded one reporter, and "here we go again . . . again!" groused another as the quiet, devoutly religious Simpson proudly wore his championship medal and cradled the U.S. Open trophy in his arms much like Billy Casper did back in '66. "Another nobody wins at Olympic," he assumed.

He assumed incorrectly, I might add. Olympic gave us what it always gives us, a great tournament. It was a tough but fair test, riveting drama, an exciting finish. This time, unlike with Scott Simpson and Jack Fleck, it also gave us a young rising star who will more majors and have a long, fruitful career as both a golfer and a role model.

Picking Webb Simpson was actually quite easy. At Olympic Club, you have to be skilled at every facet of your game and you have to have a phlegmatic demeanor to survive the crucible of the U.S. Open over a long stern test of a golf course. Every prior winner has had a well-rounded game and has had a deep inner faith in their ability to put aside the distractions and inevitable setbacks. Plus, each prior winner was deeply religious. It's like that Talking Heads song "Once in a Lifetime" - "Same as it ever was, same as it ever was . . ."

Webb was simply the best player in the field that blended those attributes. Didn't you see the signs?

I saw the signs (and won the pool).

Last year, I wrote that everyone should watch out for Simpson, "who made the President's Cup team in only his second year as a pro and skyrocketed from 94th on the Tour money list to second. He had the best second half of 2011 and entered 2012 as a player to watch in the majors, especially a quirky Olympic Club that likes crowning shot-makers, not stars."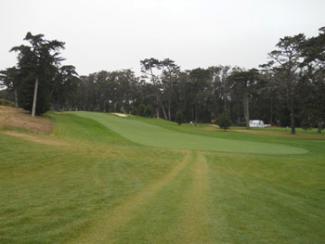 Reverse Camber on Display at 4th Hole
Ever since I saw the kid play at Wake Forest, I knew he was sublime. Quiet dignity, unquenchable fire, rock-hard faith, and the ability to let go of the setbacks ¨Golf, God, and Country, that's Webb Simpson.

Back then Webb was leading Wake Forest to a three-hole playoff victory over Baylor at the Hootie and the Blowfish NCAA Tournament. He did the heavy lifting, but there was Simpson leading the cheers for them, congratulating them, giving all the credit to them . . . despite his burning up the course with sizzling scores for three days and being medalist. It was about team, not player.

There's Simpson, the embodiment of golf virtue: Altruism, sincerity, camaraderie, and sportsmanship.

There's Simpson: leading by example, not by sound bite or commercial appeal.

There's Simpson: being grateful.

He's been a champion human being all his life.
Cut to 2011 and after scaring leaderboards all year long, he won twice in two weeks late in the season. Simpson played reasonably well in all four 2011 majors. That means he's one of the most well-rounded golfers out there. That's how you can tell staying power - he's versatile. He's America; he's a proper rejoinder to Rory McIlroy. Simpson can play well at Augusta because he blends power, brains, and a sparkling short game. He has the unflappable demeanor for the crucible of the U.S. Open. He has the creativity for the Open Championship, and he can win anywhere the PGA Championship picks for a venue.

I know Bill Haas won the Tour Championship and the FedEx Cup and Luke Donald was voted Player of the Year, I still voted for Webb. Two wins, 12 top-10s and 23-26 in cuts made. Plus a contribution to the winning U.S. side at the President's Cup. Yes, Haas stole the season's bells, whistles, and buzzers, but Webb won its heart and soul.

"He thanked God after he won. I'm a fan for life, we need more golfers like him," said a beaming Jeanne Capraro, a lifelong golf fan from Syracuse. °We need more role models, clean-cut, forthright kids the public can admire.

Webb doesn't cater to the flighty or the feckless - he caters to the core golf fan. Lift him on up and watch ratings soar. He's a star because of the way he plays and the way he carries himself.
But more importantly, when Webb wins, all golf wins. When Webb wins, it's everything right and true and bold and in the character of the game and its virtues. Moreover, he's the Tour's best role model. So what that Madison Avenue doesn't know what to make of him? So what that a few Godless heathens want to shout him down because he has rock-hard faith? Who cares that he and God are mates and he wants the world to know? Webb Simpson has done everything right: 1) win, 2) win with grace and class, and 3) win with nary a snap, snipe, or sour note.

What more do you want? You saw where fist-pumping, intimidating scowls, got us.

"One thing I've kind of noticed with certain guys that have had great years is maybe they change equipment or they change swing instructors," Simpson confided after his biggest win ever. "And I wanted to make sure I didn't change anything. And I wanted to continue with what we call our process, which is that we're trying to get better.

" That's a great observation by a kid who grew up fast. We care too much about anointing the next Tiger and about "win at all costs right now." You can't buy championships in golf.

Yet still, there are the Monday morning quarterbacks from big daily papers or major magazines and lunkhead talk radio show broadcasters from powerful national outlets asking, "Who is this Webb Simpson?" and saying, "Another nobody won at Olympic. Maybe it's not really that great a U.S. Open course and should be removed from the rotation."

Simpson isn't a nobody - he's just someone other than Tiger Woods who you overlooked because you're preconditioned and afraid of change. He is not some random player who got hot or lucky for one week and then will retire to the "Where are they now?" file. Start watching golf or go back to your Budweiser and buffalo wings. A few years from now, after he's piled up four majors in, say, six years, we'll remember this week as his coming out party, not another Olympic Club fluke.
And while we're at it, Olympic Club proved itself an excellent venue, despite the fact that it's also the La Brea Tar Pits of golf courses - where golfing mammoths go to die.

Tacking your way around Olympic Club is like trying drive down Lombard Street when it's covered in ice. You can't overpower it. Instead it requires you to shape the ball both ways.

"The fairways are elusive and the greens are rock hard . . . you have to hit the ball both ways," explained a disappointed, but sportsmanlike Graeme McDowell after his 73 left him in second by one shot. "I hit a lot of cut, cut, cut, but then at 16, I had to hit a hard hook. The course never lets you get in a rhythm. I controlled the play two years ago, but got out of position today . . . Those bogeys at five and six put me behind the eight-ball, and I had to fight from behind all day," he explained intelligently.

Then there was poor Jim "five-hour agony" Furyk, who couldn't quite catch Geoff Ogilvy at Winged Foot or Angel Cabrera at Oakmont, but will rue this loss the most since he had the lead, but couldn't get to the house with it.

"I couldn't get that separation I needed to just go 'fairways and greens' and let the other guys try to catch me, I needed to make birdies and didn't do it," he lamented. "I still had my opportunities. I just wasn't able to hit that one good golf shot, that one great golf shot that I needed. But I was tied for the lead on the 16th tee, with wedges basically if I hit good shots. I've got wedges in my hand on reachable par 5s in my hand and one birdie wins the golf tournament, I'm definitely frustrated."

But that's what Olympic Club does to you. They moved up the tees on 16 so that you had to play a hard draw to hit the fairway and Furyk couldn't do it.

For goodness sake Jim, I made par at 16 during the writers' round on the course the day after the tournament! (Using the same Sunday pins and playing for the same tee box on 16 . . . of course I sank a 50-foot putt from the fringe to do it. See my article later this week for details). But that's the U.S. Open for you. Even former champions and rising stars can collapse like the Greek economy: Goosen at Pinehurst, McDowell and Furyk here, at Olympic, Dustin Johnson at Pebble Beach, Aaron Baddeley at Oakmont, stop me anytime . . .
Through seven holes on Sunday, Furyk was raked first in the all-important Greens in Regulation stat . . . and the minute NBC said that on the telecast, Furyk he turned into my Aunt Sally behind the wheel of a car - all over the place. Furyk, as steady a player as you'll find and a gritty, seasoned veteran started hitting ball to California Club, Harding Park and Pasatiempo. Although he also led the field in scrambling as well, you knew that if he kept doing that, he'd eventually hit the chamber with the bullet in it.

Look at the stats - you really needed to do everything well at Olympic Club to win. Simpson was in the top 18 in every stat: T-13 in driving accuracy, T-16 in greens in reg, T-18 in putting, and T-3 in birdies. Interestingly, he was T-53 in driving distance. Olympic Club proved every bit as thorough an examination of golf as Oakmont, Oakland Hills, and Winged Foot. The only difference is, as member David Tepper put it, "the greens on the Lake are subtle, rather than dramatic. They rely on the overall slope of the property to challenge the golfer."

So - same as it ever was - Olympic gave us nail-biting excitement right to the end and a sterling champion in Webb. Who cares if the so-called "superstar" didn't win and a person some perceive to be flaccid for whatever corporate media-driven reason isn't up to Hollywood or Madison Avenue standards? Maybe those standards and expectations are the problem.

So give a lusty "HOO-WAH! HOO-WAH!" for Webb Simpson . . . just don't do it during the awards ceremony interview or else Mike Davis (new nickname, "The Rock, Jr.") will give you the People's Elbow on national television. After seeing Davis take down that kooky deforestation activist with a resounding thud, Triple H ain't got nuthin' on him!

Despite the intervention of "Jungle Bird" (hat tip to the boys at Awful Announcing for discovering his identity), we'll look back on this Open as Simpson's great coming out party, not a one-hit wonder and, more importantly, be able to look up to him as a terrific role model and ambassador for golf. He'll win all four majors in his lifetime, and make all of golf look good doing it.

Meanwhile, Olympic disappears once more into the mists of history, to reappear later and beguile us yet again with her charms. Merion East, you are on the clock. We know you'll live up to Olympic Club, despite the bar being set particularly high.
News, Notes & Quotes

Former USGA president Frank Hannigan on the '55 Open: "An aberration the rough was absurd. It was the equivalent of driving into a lateral water hazard - one stroke."

The old cost of rough index in the pre-Tom Meeks era was .47 strokes. This year at Olympic Club is was .30.

Graeme McDowell: "The U.S. Open is - my caddie made a great analogy - it's like a really fast, scary rollercoaster that you get on at the time and your not sure if you like it and it's kind of scary. But once it's done and you look back, you realize that you had a lot of fun and you would like to do it again, and that kind of sums up what it's like to compete on the big stage at a major championship.

Jim Furyk: "To get to a tee where the tee box is a hundred yards up and the fairway makes a complete L turn, I was unprepared and didn't know exactly where to hit the ball off the tee. And I took a little bit more of an aggressive route with that 3-wood.

"In hindsight, I like the way Graeme played the hole. He played it 2-iron, 2-iron, and sand wedge. And I don't know what to say, other than there's no way anyone else in the field was prepared for the tee to be that far up. I just didn't handle it very well. And I'm not sure I hit the wrong club off the tee, but probably hit the wrong shot off the tee. And that probably as much as anything forced me to make a poor swing.

"I want to be clear, I really like the way Mike sets the golf course up, I think he's done a great job. But there's always one round where, towards that late in the day, where you grab a hole and it's much different than you would expect it. And there's no way when we play our practice rounds you're going to hit a shot from a tee a hundred yards up unless someone tells you.

"But the rest of the field had that same shot to hit today and I'm pretty sure no one hit as shitty a shot as I did, so. I did the best, the worst job of handling it and I have no one to blame but myself. I should have hit a different shot off the tee and if anything you need to miss that fairway to the right to never to the left. So it makes mine twice as bad."
Since launching his first golf writing website in 2004, http://jayflemma.thegolfspace.com, Jay Flemma 's comparative analysis of golf designs and knowledge of golf course architecture and golf travel have garnered wide industry respect. In researching his book on America's great public golf courses (and whether they're worth the money), Jay, an associate editor of Cybergolf, has played over 420 nationally ranked public golf courses in 40 different states, and covered seven U.S. Opens and six PGA Championships, along with one trip to the Masters. A four-time award-winning sportswriter, Jay was called the best sports poet alive by both Sports Illustrated and NBC Sports writers and broadcasters. Jay has played about 3 million yards of golf - or close to 2,000 miles. His pieces on travel and architecture appear in Golf Observer (www.golfobserver.com), Cybergolf, PGA.com, Golf Magazine and other print magazines. When not researching golf courses for design, value and excitement, Jay is an entertainment, copyright, Internet and trademark lawyer and an Entertainment and Internet Law professor in Manhattan. His clients have been nominated for Grammy and Emmy awards, won a Sundance Film Festival Best Director award, performed on stage and screen, and designed pop art for museums and collectors. Jay lives in Forest Hills, N.Y., and is fiercely loyal to his alma maters, Deerfield Academy in Massachusetts and Trinity College in Connecticut.