Sampling the Best of Golf in Reno & Carson River Valley
By: Steve Habel
A few years ago, my retirement-age parents gathered together our small family and announced they were leaving the hustle and bustle of the Austin area and resettle in Carson City, Nev. There, they opined, they would avoid the traffic and overcrowding that has become a part of life in central Texas.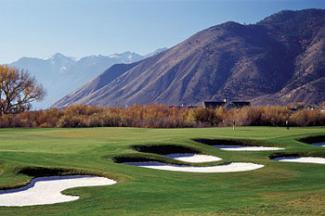 Lakes Course at Genoa Lakes
They could also put down stakes close to the Sierra Nevada Mountains, Lake Tahoe and various-sized casinos where they could while away their golden years pushing buttons on slot machines and sipping free light beer with their peers.

In reality, they wanted to get away from the rest of the family and enjoy a little more peace and quiet. Out of all the places they could have chosen, they settled on northern Nevada, an area where housing prices and the cost of living are comparable to what they were accustomed to in Austin.

So, being a thoughtful child of headstrong parents, I decided it was my duty to head to the foothills of the High Sierras and make sure the area of their dreams suited my folks. The fact that the region is a haven for great golf had nothing to do with my dedicated trek - yeah, right.

I've been lucky enough to take two extended golf trips to Reno and the Carson River Valley since 2012 and, both times, have been wowed by the experience - especially the wealth of fine facilities in both the private and public categories.

My most recent venture, in June of 2013, allowed me to play two residential tracks - the Lakes course at Genoa Lakes Golf Club in Genoa and, quite by chance, the Lakes course at the Resort at Red Hawk in Sparks - which affirmed the notion that the Sierra Nevadas might have cornered the market on giving golfers what they really want, even when they just want to get away.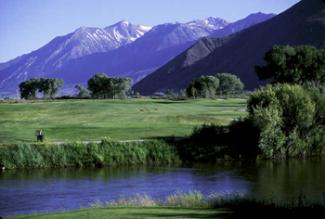 The Sierra Nevadas Provide Backdrop for
Lakes Course at Genoa Lakes
Genoa Lakes on Solid Footing

Genoa is the oldest established town in Nevada. Originally called Mormon Station, it began as a supply town for early settlers in 1851. Situated 18 miles from Lake Tahoe and accessed by driving over a high and scenic mountain pass, Genoa remains a little burg in the middle of a fertile plain amid the Sierra Nevadas.

Genoa is also the home of two golf courses - the Lakes and the Resort - that serve as centerpieces for neighborhoods attracting retirees and second-home owners to the Carson Valley.

The Lakes, designed by former PGA Tour pro Peter Jacobsen and the late golf architect John Harbottle III, opened in 1994. Soon after its debut it was ranked by Golf Digest as among the best new public courses in America.

It's a combination of demanding shot values in an unhurried, panoramic setting, its routing defined by water hazards that are in play on 13 holes. The layout also features heaving fairways that are bordered by well-placed bunkers. This is a golf course that calls for long, straight drives.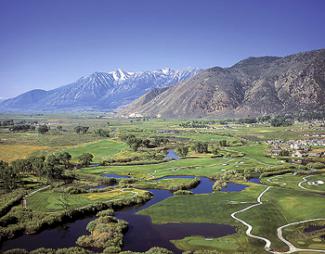 Aerial View of Lakes Course at Genoa Lakes
Harbottle worked as an associate of Pete Dye for a decade before branching out on his own, and Dye's influence can be seen in the Lakes' steep-faced bunkers and a premium placed on accuracy. Harbottle, who died at age 53 at the prime of his career, went one better than the master on many of the holes, adding bailout areas to nearly every greens complex to give options for players of different skills.

Harbottle's thoughtful strategies are seen on many holes, some of which have water situated 100 yards off the tee, while other forced carries requiring a drive twice that distance.

Playing at a par of 72 and 7,359 yards from the tips the Lakes sports a hefty rating of 74 and a Slope of 130. It plays shorter than the yardage as the property is at an elevation of 4,800 feet, yet it's best to take one more club than rely on the thin-air altitude to help propel balls across the track's lakes, willows and wetlands.

Throughout the opening nine, the eastern slope of the Sierras - dominated by massive Freel Peak - is on view from every hole, the course's twists and turns offering vistas in every direction. The home half is quite different as the Carson River crosses the back nine five times.

Genoa Lakes at Sunset.
Great golf courses have stout finishing holes and Lakes satisfies that criterion. The 414-yard, par-4 16th involves a carry over wetlands off the tee, while a lake along the left protects the severely tilted 16th green. The 541-yard, par-5 17th demands a good drive and solid approach as its massive green sweeps to the right and is engirded along the right by a series of deep bunkers; there's a bailout area to the left.

The 449-yard par-4 closer features a drive over a huge lake, which guards the left side of the fairway all the way to a wavy green.

All in all, the Lakes course has a little bit of parkland flavor and a touch of the links, all set in Nevada's mountains. Landing areas are generally wide, although some of sightlines off the tees can be deceiving.

It's a place that exudes charm and class throughout, and - thanks to its recent purchase by Genoa Golf Group IV LLC after a year in receivership - conditioning and attention to detail have improved. Two miles away is its sister Ranch course, a co-design of Harbottle and Johnny Miller.
For more information, visit www.genoalakes.com.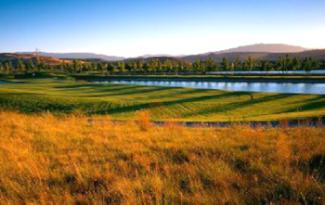 Lakes Course at Red Hawk
Lakes at Red Hawk Takes Doglegs to the Extreme

The Resort at Red Hawk in Sparks is just a 20-minute drive northeast of Reno. It also also has two courses - the Lakes and Hills. I played the Lakes, a 7,140-yard rumble designed by Robert Trent Jones II that winds through the upscale Wingfield Springs community.

The routing by Jones and his design associates contains eight doglegging holes and more than 100 bunkers.

Opened in 1996, the layout involves Audubon-certified and protected wetlands and natural lakes, murmuring springs and mature cottonwoods. Carrying a rating of 73.6 and a Slope of 131 from the tips, the Lakes at Red Hawk is often buffeted by winds whipping though the valley. Water, as one might infer on a course called the Lakes, is a factor on a dozen holes.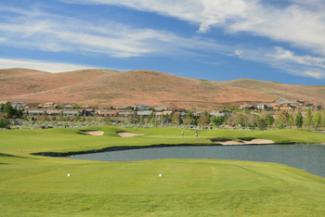 4th Hole at Lakes Course at Resort at Red Hawk
The putting surfaces at Lakes are generally flat, with subtle breaks shaped by the drainage patterns toward the ubiquitous collection ponds. The greens have very few wild undulations, dramatic ridges or quadrants, so if the golfer can get a handle on their speed it's possible to score well here.

Many holes are set up with the most severe penalties along the right. These include the tricky sixth (a 557-yard par-5) and the seventh (a par-4 of 402 yards), both of which curl rightward and punish right-handed golfers who slice.

The 529-yard, par-5 10th is another nightmare for the player who's wild right, with its sharp dogleg and O.B./property lines squeezing the course.

The Lakes course at Red Hawk has been voted the "Best Golf Course in Reno" seven times by the Reno Gazette Journal, so players know they can expect a good test and top-notch conditioning. It's made for golfers who can move shots both ways and keep the ball in play.
See www.resortatredhawk.com for more information.
Steve Habel is a freelance writer contributing Cybergolf news stories, features, equipment and book reviews and personality profiles from his base in Austin, Texas. He also works as an associate editor for Horns Illustrated magazine, a publication focusing on University of Texas sports, and is a contributing writer for Texas Golf Insider, Golf Oklahoma magazine, Tri-State Golfer and ATX Man magazine. Habel's blog (www.shotoverthegreen.blogspot.com) features news on golf and chronicles his many travels, including playing almost 1,000 golf courses since 2008. Habel is a member of the Golf Writers Association of America and the Texas Golf Writers Association.