San Juan Oaks Looks to Grow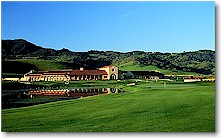 Officials of San Juan Oaks Golf Club near Hollister, Calif., have announced plans for a major expansion. The proposed project would occupy 1,993 acres near the existing club. It would include a 156-home subdivision, a commercial center, a resort hotel, a public nine-hole, par-3 golf course and an 18-hole private club. The developers plan to set aside 1,100 acres for a wildlife habitat, and a 60-acre regional park for trails from the golf club to the San Justo Reservoir.
Before the club can proceed, however, it needs to get a a reading from San Benito County officials on whether the project must conform to the county's new point system. The system gives preference to proposed projects that include community benefits such as affordable and senior housing, preserved land, public parks and other amenities.
San Juan Oaks' vice president, Scott Fuller, told the Hollister Free Lance that the expansion project fits the county's criteria. "Bottom line, we comply under the small-project exemption," which would give the developers enough points within the new system. "There is not a question in our mind this doesn't have to go to a vote."
The county's deputy director of planning, Fred Goodrich, said the project might not require a vote from county commissioners. "I have to take a look at the numbers," he told the Free Lance. The project is appealing to the county because it would receive $300,000 annually in tax revenues. It would also be built with a new waterwater management sewer treatment plant that would treat sewage on-site for re-use irrigating the golf course.
"This is the first time that we will be using the point system and we will have to work out some of the bugs. It will need some find-tuning down the road," said Goodrich. The county plans to review the project by summer 2002.