Sanford Partners with Nicklaus Design to Create Palm Hills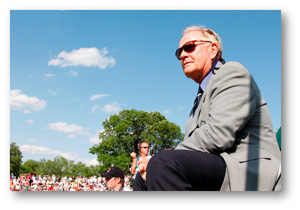 Florida-based golf course architect John Sanford is collaborating with Nicklaus Design on one of Egypt's newest golf facilities. Palm Hills is located just outside of Cairo in Sixth of October City. The course is currently under construction and scheduled to open in summer 2010.
Palm Hills represents the first project in Egypt for Nicklaus Design. Sanford, who is the lead architect on the project, brought in Nicklaus Design to create a unique combination of experience in Egypt. Sanford has created several courses in Egypt, making him one of the leading experts on golf architecture in the region, which made for a perfect partnership with Nicklaus Design.
"Collaborating with Nicklaus Design has been a great opportunity and experience for Sanford Golf Design," said Sanford. "They have provided us with access to their vast resources and insight into their unique design details, as well as bringing the Nicklaus brand name to this growing golf destination. I believe when the course is complete, it will be one of the most unique golf courses in the world, with its ideal location that provides views of the great Pyramids."
Palm Hills, a 27-hole layout that occupies over 275 acres, will become the largest golf course in Egypt. The venue will offer some of the most interesting views in the world, as 13 holes overlook the magnificent Great Pyramids of Giza.
The course, which rests on 100 percent limestone, required heavy earth moving during construction to maximize routing and strategy. The site, which offers 150 feet of vertical change, also incorporates six man-made lakes and a series of creeks.
Sanford has also designed a practice facility with a nine-hole short course. The facility has been designed for golf academies and junior clinics.
Palm Hills is part of "The Club-Golf Spa & Resort," which features expansive views of the Pyramids. The development will include spa facilities and a hotel managed by the Ritz Carlton Hoteliers Company.
Palm Hills is one of seven projects that Sanford is working on or has recently opened in the Egypt. Other designs include Jolie Ville Golf Resort, Taba Heights, Makadi Golf Course, and Hacienda Bay. For more information about the architect, visit www.sanfordgolfdesign.com.