Santee Makes for Affordable Golf Getaway
By: John Torsiello
You don't have to tell a golfer twice where Myrtle Beach, Hilton Head, Kiawah or Charleston is when they're considering traveling to the golf-rich state of South Carolina. But Santee? Well, that might not immediately pop onto their mental radar.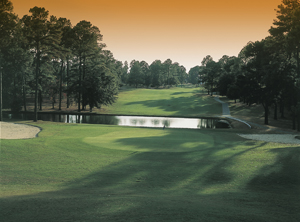 1st Hole at Lake Marion
But it should. Santee is located just off Route 95, about an hour northeast of Charleston. It has become a golfing hotbed in its own right, offering a palatable combination of good to very good courses at affordable prices.

"We draw a lot of people from the northern states, the Midwest and Canada," says Todd Miller, general manager at Santee Cooper Resort, who works out of Lake Marion Golf Course, a well-struck wedge shot from Route 95. "We're busy spring through fall."

You might call Santee blue-collar golf at its best. While the courses do not have the name recognition of those at Kiawah and Hilton Head or play host to professional tournaments as do the great courses of Charleston and Myrtle Beach, Santee's portfolio is nonetheless impressive, and at prices that make a week's stay easy on the pocketbook.

But being not expensive doesn't mean the layouts lack quality. Santee National Golf Club is considered one of the best layouts in the Palmetto State, and courses such as Santee Cooper River Country Club, Lake Marion Golf Course, Wyboo Golf Club, Orangeburg Country Club, The Club at Pine Forest, and Legend Oaks Plantation Golf Club have all been rated highly in various publications.

There are 16 courses in all in the Santee collection, and Santee Golf offers lodging that includes golf villas and inns. There are also seemingly endless dining options in the area, while Charleston and its nightlife, history and beaches are only an hour's drive away.
Lake Marion Golf Course

My buddy, Mark Eucalitto, and I stopped in to chat with Miller and got a chance to play Lake Marion on the way back from a trip to the Lowcountry. We were glad we made a detour. Lake Marion offers rolling terrain and well-placed hazards that put a demand on accurate shot-making and proper club selection. The fairways here are fairly wide and forgiving, although danger lurks if your tee shot wanders too far either way.

It's a very playable course that won't beat you up, which we enjoyed after working our way through several demanding tracks on Kiawah Island and two in the Charleston area. Lake Marion was busy when we visited, in homage to the success Santee Golf has had in promoting the area to winter-weary northerners and Canadians. In fact, the guys in front of us were visiting from Toronto and said Lake Marion was one of the better tracks they played on their journey south.

The conditions were indeed very good, especially for early spring and after an unusually cold winter in the Southland. The rough wasn't up but when the Bermuda off the fairways grows tall it can put a bite in courses like Lake Marion that play relatively easy off the tee. The greens were in great shape and had quite a bit of undulation. Their speeds were on the slow side, which took a bit of getting used to.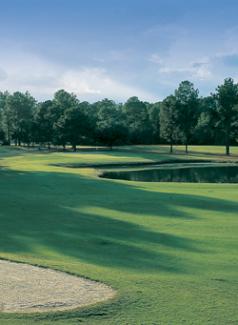 14th Hole at Lake Marion
One of the best holes arrives right out of the box. The par-5 first plays just under 500 yards, but you have to make a decision with your second shot if you bomb a drive. A pond sits about 50 yards in front of the green, which makes going for the putting surface or near it in two very risky. We both laid up to the water, hit wedge in and made easy pars.

The 14th hole is a great par-4, measuring a tad over 300 yards. Water guards the entire right side of the fairway on this sharp dogleg right, and the pond also has to be negotiated on the approach.

We walked off 18, another short par-5, with pars and scores of 77 and 82, which made the long drive back home to Connecticut memorable, at least until we left the 80-degree temperatures of South Carolina for the 40s of New England. Why did we leave?

The average temperature during April in Santee is around 76 degrees, rising during the summer months and falling back to 76 in October, 66 in November and 58 in December, making Santee ideal for an early-spring or late-fall excursion.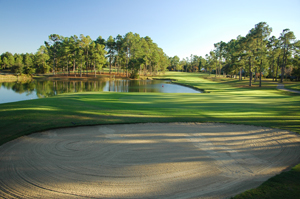 Santee Cooper Country Club 7th Hole
Santee Cooper CC

Santee Cooper Country Club is also located on property and is another solid layout that features tree-lined fairways and water hazards. The course stretches 6,512 yards from the tips but has three other sets of tees. This is also a fun, playable course for golfers of all abilities. The No. 1 handicap hole is the 405-yard par-4 sixth.

The quality of Santee National rivals the best South Carolina courses and its operators pride themselves on its immaculate condition. The routing offers a pleasing blend of traditional Lowcountry holes over somewhat atypical - rolling - terrain. Five strategically placed lakes bring water into play on a number of holes. The course plays 6,858 yards from the tips, with three other sets of tees. Number 18 is a great finishing hole, a 524-yard, par-5 that has a lake guarding the right side of the fairway and green.
Other Stops

This venue has lots of water hazards, native grasses and marshland to complicate navigation. It is selected annually as one of the best courses in South Carolina. Orangeburg Country Club was recently renovated to rave reviews and has views of the Edisto River. The Club at Pine Forest was carved through Carolina pines, live oaks and dogwoods and has a feeling of a true Lowcountry course. Legend Oaks Plantation Golf Club was voted the South Carolina Course of the year for 2010.

Other courses in the Santee portfolio include Foxboro Golf Club, Beech Creek Golf Club, Calhoun Country Club, Indian River Golf Club, the Links at Lakewood, Hillcrest Golf Club, Coosaw Creek Country Club, Shannon Greens Golf Club, and the Players Course at Wyboo.

For further information about golf in the Santee area along with stay-and-play packages, which start from $55 per day, visit www.santeecoopergolf.com or call 800/344-6534.
John Torsiello is an editor/writer living in Connecticut. He has written extensively about all aspects of the golf industry for a number of national and regional publications. He is a regular contributor to "Golf Course Industry," "Lawn and Landscape," "Golfing" and "Fairway Living" magazines as well as various online publications. He has strong, ongoing relationships with industry professionals and has worked closely with course owners, architects, developers, course superintendents and general managers around the country. He has won a number of awards for his writing, including first place from the Turf and Ornamental Communicators Association for a piece that appeared in "Golf Course Industry" magazine.