Santee - Off the Beaten Track & Right off the Interstate
By: Joel Zuckerman
Some of America's best-known golf destinations aren't exactly on the beaten path. Example 1A has to be Bandon Dunes, with its quartet of superlative courses. But part of its allure and charm is its inaccessibility, nearly a five-hour drive from the nearest major airport in Portland, Ore. To a lesser extent, but along similar lines, are Pinehurst, Myrtle Beach and the Monterey Peninsula. All are situated close to secondary roads and state highways, but the major interstates aren't particularly close at hand.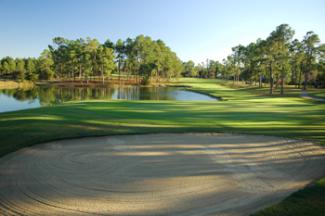 7th Hole at Santee Cooper CC
Which brings me to a lesser-known but equally worthwhile destination in South Carolina. It's something of an afterthought in this golf-rich state, and nowhere near the public's consciousness in the manner of Hilton Head, Kiawah Island, or the aforementioned Myrtle Beach. But tiny Santee - nothing more than a wide spot in the road (and with only about 800 residents, give or take) - offers an impressive range of affordable, easy-access golf. And it's no exaggeration when I report that several of its best-known courses are literally within five minutes of Interstate 95, which is one of the busiest roads in the nation, traversing as it does between Maine and Miami.

In fact, Santee is located exactly halfway between New York and Miami, and while airport service is slightly out-of-the-way (about an hour from either the Charleston or Columbia airports, closer to two hours from the major hub of Charlotte, N.C.), there are probably 50 to 100 million folks in the South, Mid-Atlantic or "Rust Belt" who can make an early automobile departure from home and be in Santee by nightfall.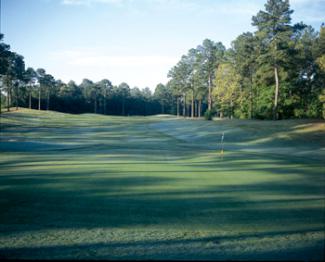 Santee National
Once there they will find no traffic jams, no long commutes between lodging, golf and restaurants, and no sticker shock in terms of pricing of any of the above. Santee offers a simple, no-frills, affordable and a pleasant golf diversion. It may be off the radar, but it's also just off the highway. Off the top of my head, the only self-contained golf destination that pops to mind with similar ease of access might be Kohler, Wis., which is but a few minutes off of I-43, little more than an hour-and-change north of Milwaukee.

But Kohler, great as it is, is prohibitively expensive. Once could spend nearly a week in a Santee lodging for the price of a night or two at the American Club, and one round at Kohler's marquee venue Whistling Straits would buy a week's worth of green fees in this modest South Carolina burg.

Kyle Gregory is the GM at Santee National (http://www.santeenational.com/), and was previously employed as an assistant pro at Kiawah Island's famed Ocean Course. His former and current venue are little more than 100 miles apart via highway, but are galaxies away from each other in terms of glitz, price, prestige and reputation. Never mind the miles-wide difference in green fees - at Kiawah, some visitors don't bother bringing many golf shirts. They choose to outfit themselves in the pro shop, and a 10-minute shopping spree to grab a few shirts, hat, windbreaker and something for the wife, etc., is nothing more than a quick thousand-dollar charge on the old Amex card. Not quite the day-to-day case up in Santee.
"We are a small resort destination, with lots of golf packages driving the business. The packages makes us similar to Kiawah, which also does lots of golf packages, though obviously the stature of the Kiawah courses is much higher, particularly with the PGA Championship coming to the Ocean Course next summer," states Gregory.

"There are seven main courses on the rotation, with a few others further out. Golf around here typically costs $25 to $55 per round, depending on the season, and what I find amazing about the area is the customer loyalty that exists. There are groups that come down from the Midwest or Canada that have been coming here for 10 or even 15 years straight. They must love the price point, the simplicity of the area, the caliber of courses. I would estimate that at least 75 percent of our business comes via auto, as opposed to flying in."

While Gregory is a relative newcomer to the Santee scene, the same cannot be said of Charles "Cholly" Clark, who was born and raised locally and is the original golf impresario in Santee. "When we first got started, Hurricane Hugo came through right when the golf course opened for play in 1989," recalls the owner of Santee National and the golf packaging service called Golf Santee (www.golfsantee.com). "More than a thousand trees came down, and to generate revenue, we moved what we could, and had some very liberal 'free-drop' and OB rules to at least get some play on the course."
Value golf has always been the watchword in Santee. When his business was just finding its legs 20-plus years ago, Clark initially advertised $99 packages for three days, three nights, three rounds of golf and breakfast. He put up billboards where he was sure to capture golfers' attentions - Myrtle Beach - and the bold strategy paid dividends. Rounds increased from 1,800 to 3,000, then 7,000 and eventually 20,000 in just a few short years.

Realizing that the myriad attractions that make Myrtle Beach such a popular destination for golfers, non-golfers and families alike don't exist in Santee - at least not nearly to the same degree, Clark counters that by saying, "We are much closer to the interstate and have better roads."

The outward nine at Santee National is fairly wide open and somewhat nondescript. But the inward nine is far better from a scenery and strategy standpoint, and nestles nicely into the woods. The par-5 yardages look like popcorn on the scorecard - 435, 451 and 454 from the middle markers. Only the par-5 18th checks in at a shade over 500 yards. But with sharp doglegs and bisecting water hazards complicating the landscape, most players will still need three shots to reach the putting surface. There is far too large a gap between the back and middle markers at Santee National - some 700 yards. If you're not willing to play from 6,800-plus yards, then you are scrunched up to 6,100 yards. Management would be well served to set up new tees halfway between the two at 6,400 to 6,500 yards.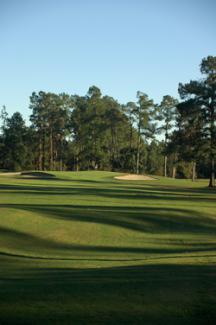 Santee Cooper's 3rd Hole
Pace of play is an issue throughout the region, and rounds are easily 4.5 hours or more. At nearby Santee Cooper Country Club (http://www.santeecoopergolf.com/santee_cooper_country_club.html), we actually managed to get four groups on the par-3 15th hole simultaneously! (A foursome on the green, one on the tee, my threesome waiting a respectful distance behind the tee, and then our other threesome coming up the path to join us. It was quite the party!) Despite the glacial pace, Santee Cooper is another worthwhile venue, the oldest course in the area, dating from 1967, with an old-time country club feel. Lots of water, numerous doglegs and a series of staunch par-3s make it one of the area's upper-tier courses.

According to management, pace-of-play issues throughout the area have plenty to do with the caliber of player attracted to the very reasonable green fees that are Santee hallmarks. The thinking is that beginning or unskilled golfers are unwilling to pay a lot to play golf. Therefore they come to places where they can play for $30 or $40 most of the time, and end up gumming up the works for the folks behind them.
Wyboo Golf Club (http://www.wyboogolfclub.com), a Tom Jackson design, is the newest course in the area, dating from 1999. It's a bit off the beaten track, maybe 20-odd minutes from Santee proper, and accessed through rolling Carolina farm country north of town. However, it is directly across the street from their friendly rival, the Players Course at Wyboo, so those who make the trek can have themselves a 36-hole day if so inclined.

Victor Grubb has been the head professional at Wyboo Golf Club for nearly a decade. "Our challenge is getting golfers to make the drive from Santee, where everything is five minutes away," begins the Charlotte native. "But once they get here, they really love the layout, how fair it is, the peaceful setting, and the conditioning of the course. They also like the fact there are no homes or condos around; it's just a golf course setting."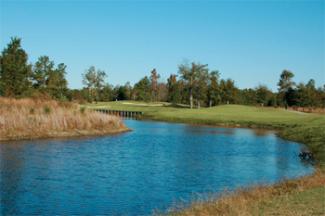 Wyboo Golf Club
Wyboo, at least on the day we visited, had no pace-of-play problems. It's due partially to a layout with minimal hazards and areas to lose a golf ball and, according to the pro, also due to his starters and rangers, who keep play moving briskly. Another advantage at Wyboo is extensive drainage, which is always helpful in an area where long hard rains are far from uncommon.

Celebrity sightings around Santee probably run at a 100-to-1 compared to Kiawah, but famous Tour caddie Fluff Cowan popped in earlier this fall, shortly after working the McGladrey Classic in Sea Island, Ga., about three hours and change further south down I-95. He plunked down his $30 at Santee National, saying he'd been driving by for decades, and finally wanted to stop in.

In that regard Fluff was no different than the hundreds of thousands of golfers who can't help but see Santee from the interstate, take the exit and unwittingly discover one of the Southeast's simplest and most affordable golf pleasures.
Joel Zuckerman, called "One of the Southeast's most respected and sought-after golf writers" by Golfer's Guide Magazine, is an award-winning travel writer based in Savannah, Ga., and Park City, Utah. He has written five books, including the epic "Pete Dye Golf Courses" in 2008. Joel's course reviews, player profiles, essays and features have appeared in more that 100 publications internationally, including Sports Illustrated, Golf, Continental Magazine, Travel & Leisure Golf, Sky Magazine, Golf Connoisseur, Golfweek, Estates West, Millionaire and Golf International. For more of Joel, visit www.vagabondgolfer.com.