Saturday - A Pleasant Diversion
By: Jay Flemma
Editor's Note: Instead of staying around to watch Tiger Woods' march to another Wanamaker Trophy presentation, Cybergolf's Jay Flemma took a detour from Tulsa to visit a Perry Maxwell shrine.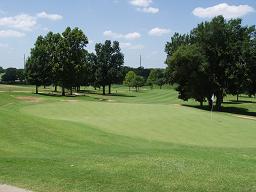 We all know Woods lipped out his putt for a major championship record 62. The putt was two-thirds of the way down before spinning away. That record will have to wait until Pebble. As a result, I made a decision that on paper looked questionable, but which ultimately paid superb dividends in the long run. I decided to forego attending the tournament on Saturday to travel three hours to Dornick Hills Country Club, Perry Maxwell's first golf course and the site of his grave to compare that course with Southern Hills. On the way back, I would stop halfway and explore Oklahoma City Golf & Country Club, another Maxwell design, this one from his time association with Alister Mackenzie.

Why would I do such a thing? When so many would kill for a media credential to any major championship, why would I skip moving day? To understand Maxwell and the tenets of his design strategies, it is necessary to see the architect's progress over time. Who knows when I would get the chance to return to Oklahoma? There was still Sunday for the competition. Besides, as the light of the risen moon left us to reflect on the proceedings, there were simply two inalienable truths: Woods is the greatest frontrunner in sports history and no 36-hole leader in a major at Southern Hills had ever lost.

My old girlfriend Britt was unbelievably finicky. "Come onm" I said, "I'll take you to Angelo & Maxie's for a great steak."

"Well maybe," she replied ambivalently, "but it needs to be cooked perfectly or I don't like it." Okay, note to self: stick to sushi.

Then when we were curling up on the couch I said, "Mmm, you smell great, girl. You smell like strawberries."

She didn't even look up from the TV while muttering, "I don't like strawberries." Boy, flattery will get you everywhere, won't it? Better try flowers and some candy. That can't possibly fail.

"You're going to make me fat," she groused. "I'm training to run a half-marathon."

"That's it, I'm outta here," I thought to myself. But I got as far as the kitchen when the line from the rock song "Reconsider" by Marwood came to mind. "I swear I'll leave, but we both know I won't."

Why? Easy. I'm just like her. Because when it comes to golf courses, they can sit in my lap and make little cooing sounds in my ear all they like and I'll still care less about whether they have a PGA Tour pedigree or a $22-million clubhouse, and more about whether they have solid strategic design features and character-rich greens complexes. So, although by Sunday's end seven majors will have been contested at Southern Hills, I found two other Oklahoma designs by Perry Maxwell that I like more.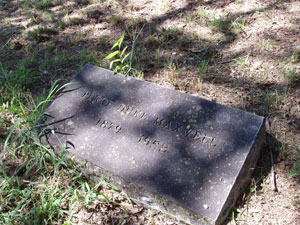 Understand - we are splitting hairs between a fantastic course and a transcendent one, between the outstanding and timeless. There is no question Southern Hills is a triumph of a course and rightfully holds a place in golf history. However, there are many other Maxwell masterpieces too, courses that deserve the same reverence for a different reason.

Dornick Hills Country Club is Parry Maxwell's first golf course. Three hours from Tulsa and 90 minutes from the nearest city of note (Oklahoma City to the north, Dallas to the south), the course is undiscovered by the golf world at large but the game's historians, collegiate teams and ardent Midwest golfers know it is far more than just a hidden gem.

The course is a shrine to Maxwell's memory. He is buried in the family cemetery, located atop a steep hill off the 7th fairway. A prominent NCAA intercollegiate tournament is named in his memory and is one of the premiere college events on the calendar. Most importantly, a few minor changes aside, the course remains largely the same as it did when the 18 holes were finally completed in 1923.

Shortly before her untimely death in 1919, Maxwell's wife, Ray Woods Maxwell, encouraged her husband to study golf course architecture. Maxwell was most enamored with National Golf Links of America (NGLA) and modeled many holes at both Dornick and Oklahoma City G&CC after C.B. Macdonald's template holes. He also invented some templates of his own and they are among the best holes on the property, which tumbles up, down and into the teeth of the most severe rises and drops.
Take for example, the par-3 fourth hole (190 from the tips, 150 from the regulation tees). Many people denigrate severely uphill par-3s, but Maxwell never flinched from making the most severe features of the property integral to his golf holes. Why bulldoze or avoid a terrific natural feature when you can incorporate it into a great hole? Maxwell and Mackenzie are members of the pantheon of the greatest designers because their designs are bold.

Chris Clouser (pronounced "Closer") authored the best work on Maxwell. In his book "The Midwest Associate" Clouser examines some of Maxwell's template holes. "One such hole," he said in an interview for Cybergolf, "is a drive to a plateau, then a drop shot." The par-4 fifth at Dornick is a solid example of both this template and how Maxwell loved to use specimen trees to force shaped shots. The tee shot must travel 240-260 yards and must be center or right-of-center or a large elm with overhanging branches will block the approach shot. The hole turns 90 degrees left and is two clubs downhill to a green set obliquely behind a bunker. It's a heroic shot similar to the tee shot at the 5th at Bethpage Black. If the tee shot is not long and straight, forget hitting the green in regulation.

The sixth hole is one of only three flaws on the golf course. Let's examine all three and get them out of the way. Someone stuck a little tree - as small and useless as the Hinkle Tree at Inverness - right smack in front of the green. Great, we have a bunker in the sky. Sources say the tree may be removed and most agree that it has no use. Next, the first and second hole don't seem to fit with the rest of the course, but they are not as Maxwell originally designed them and now serve to simply get the player to the third tee, where the solid architecture starts in earnest. Finally, the 12th hole is all wrong.

On the tee of this hard-left-bending hole, greenside trees are directly in the center line. Worse still, even from "Position A," the right edge of the fairway, the only play is a hard draw. "I was in the best spot possible," said one participant in the Oilman's tournament, "and I had no shot."
Look, Mona Lisa has no eyebrows (there's a sure bar-bet winner for you). So it's like Britt said to me about relationships, "Nobody's perfect and if they are, then that's their flaw." By the way, when she asked me what I thought her flaw was, I responded that she was perfect.

The rest of the course is fascinating. A short but perilous par-4 appears at seven. A drive and a pitch for most, you can try to drive the green, but water on the right, sand on the left, and uneven lies as you approach the green defend par admirably. The kidney-shaped green features many swales. The eighth green, fronted by bunkers, has a back portion that flows away from the player, testing distance control.

The back nine features equally atmospheric moments. The 11th green, a two-tiered, curvy beast, comes back to the clubhouse so during tournament time spectators have easy access to more exciting golf. The 14th another short but sexy par-4, plays uphill to a heaving green set in a sea of sand. With all the equipment advances, now it can be driven, where in Perry's day it could not, but that leads to more exciting swings - a two or a six? Take your chance, glory or defeat.

The 13th and 15th require shots shaped around a wide variety of trees: pecans, cedars, oaks, elms and many others. The exquisite and unique 16th plays directly to the base of a 40-foot-high cliff with the flag sitting directly on top of this mountain, sarcastically winking at you like a bawdy harlot sitting at the bar, enticing you to come to her. Such a hole would never be built today and the brilliantly used rock face would be dynamited out of existence.
Begun in 1914, Maxwell tinkered with the design until he died in 1952, changing both the sequencing of holes and the routing. While no majors have been contested here, many major champions played in the Maxwell during their college days, including David Duval, Mike Weir, Justin Leonard and Jim Furyk. The PGA Tour held the Ardmore Open at Dornick in the '50s. Many state amateur championships have been contested on these thin and twisting corridors.

Even with all this, the most powerful moment of the day was seeing Maxwell's grave, high on a steep, almost vertical hill just off the seventh fairway and overlooking the hole on one side and the lake of the old "Rod and Gun Club" on the other. It's a difficult climb up the rugged, craggy, almost perpendicular hill, especially in long black pants and wing-tipped shoes. (I always dress impeccably whenever a guest at any private club). The rock is friable and crumbles easily, even under my mere 134 pounds, making footing treacherous. With yardage book in one hand, "Gatorade Rain" in the other, I grasp at whatever I can for support. One foot at a time, I grab long grass here, hug a tree there, and find footholds wherever I can.

Finally, I crest the hill and a singular site greets my eyes. A semi-circle of Ionic pillars topped with a capstone stands sentinel over eight gravestones and one bench. The first, Puritan Holt Woods, was laid to rest in 1931; the last, Herbert Earl Deskins, passed in 1985. Oaks, elms and red buds - a tree with pink blossoms - serenely shade the area. In the third row from the top, there are the markers of the doting wife Ray, and Perry Duke Maxwell next to her, 1879-1952.

What a final resting place; as quiet and moving as one could ever wish. God grant me the same pleasure one day. A wall separates the graves from another portion bordered by a wrought-iron fence, which leads to an expansive vista of the lake.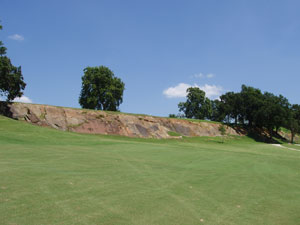 The climb down is harder, both on my legs and on my heart. I must tear myself away from the place of reflection and restful repose. Only Mike Strantz's 11th tee at Monterey Peninsula Country Club (Shore Course), the last hole he ever built, moved me more. It occurs to me that perhaps Mike and Perry are playing together in Heaven today, as though waiting for me to commune with them. It's good to meet you too, Mr. Maxwell. Keep a weather eye on Mike for me; in fact both eyes, as often as you can spare them.

So what did I miss at the tournament by coming here, another "Tiger walk?" Sure he's making history, but many other pens and keyboards will tell that tale. Seeing Perry and his legacy resonating through the decades is more compelling than a Saturday of Woods' death stares and fist pumps. Tiger may be "Who's Now," but who cares "Who's now?" Nobody, that's who! Perry Maxwell echoes through eternity in ways Stuart Scott, Erin Andrews, the chumps in "Chuck and Larry," and Glenn Jacobs (the "mastermind" behind "Who's Now"), refuse to understand. It's not what you do for a living that makes you great, it's what you do for others. Are you working for the game's greater glory, or merely your own?

Similarly, Oklahoma City Golf & Country club is also a triumph. Greens swerve every which way. They are canted side-hill, then away from the player, then back to front. Template holes abound from the par-5 fifth, with a giant knoll semi-hiding the green - which is a punchbowl and sits one club downhill, to the pint-sized par-4 eighth modeled after the "Sahara" hole at NGLA. At a mere 280 yards, it screams to be driven, but sits in an ocean of deep bunkers. The green is hidden behind a hill and the fairway plays directly into the teeth of the hill.

That is the strength of OC G&CC, the fiercest terrain is used to be a plateau that must be challenged off the tee. Holes feature alternate shot requirements; fade off the tee, then draw into the green. The next hole requires just the opposite, keeping the player off balance and preventing him from finding a groove.

After crossing a road, the 10th through 14th play over, along and around a burn as deep, serpentine and ubiquitous as the fabled Barry Burn at Carnoustie. It has no name, but I call it Scary Burn (America has its own Carnoustie!).
Darkness fell as I approached the 16th hole, so I will return to Oklahoma City next May and report further. I gratefully accepted Dornick Head pro Steve Ramsey and Maxwell Collegiate Tournament director Bob Bramlett's invitation to cover the Maxwell for Cybergolf.

Just like Britt may be picky about steaks, I picky about golf courses. Look, Southern Hills is terrific. It's a piece of golf history, there's no question. Run, don't walk to play it. But Southern Hills is a big rib-eye. It's a solid steak, but it has some fat on it (a sameness to a few holes), and you have to like dealing with that to choose it over other choice cuts. That's fine if that is your personal preference.

By contrast, Dornick Hills is a porterhouse with the course itself as the huge, delectable T-bone and Perry's grave as the strip steak portion you get as a bonus. Oklahoma City G&CC is a chateaubriand; hugely impressive in presentation, but much more importantly, the greatest substance of all. The routing is impregnable and fascinating, boldly twisting greens cement its place in the pantheon of not only Maxwell's greatest work, but among the country's greatest courses. Failure to list Dornick and OC G&CC in a list of Maxwell's masterpieces is a colossal blunder. They must be mentioned in the same breath as Southern Hills, Crystal Downs, and Prairie Dunes.

And just as all that talk about food made me hungry, Britt was standing in front of me. Her bag was in one hand, her jacket in the other, floral flip-flops on her long, thin feet.
"I'm hungry. What do you want for dinner?"

Think fast! Think fast! What's the right answer?

"Why don't you pick?" I answered wisely.
Since launching his first golf writing website in 2004, http://www.jayflemma.thegolfspace.com, Jay Flemma's comparative analysis of golf designs and knowledge of golf course architecture and golf travel have garnered wide industry respect. In researching his book on America's great public golf courses (and whether they're worth the money), Jay, an associate editor of Cybergolf, has played over 220 nationally ranked public golf courses in 37 different states. Jay has played about 1,649,000 yards of golf - or roughly 938 miles. His pieces on travel and architecture appear in Golf Observer (www.golfobserver.com), Cybergolf and other print magazines. When not researching golf courses for design, value and excitement, Jay is an entertainment, copyright, Internet and trademark lawyer and an Entertainment and Internet Law professor in Manhattan. His clients have been nominated for Grammy and Emmy awards, won a Sundance Film Festival Best Director award, performed on stage and screen, and designed pop art for museums and collectors. Jay lives in Forest Hills, N.Y., and is fiercely loyal to his alma maters, Deerfield Academy in Massachusetts and Trinity College in Connecticut.