Schmidt-Curley Design's Stoneforest International Country Club Opens for Play
Schmidt-Curley Design has announced that its 54-hole Stoneforest International Country Club near Kunming, China, has opened for play.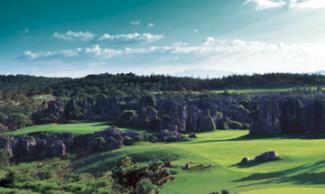 Aerial View of Stoneforest's Leaders Peak Course
The three courses - Leaders Peak, Masters Resort and Yufeng Ridge - feature the Stone Forest as a backdrop. Considered by many a "wonder of the world," these towering, 270-million-year-old karst peaks erupt from the Earth over a 135-square-mile area.
"This is one of the most unique sites ever made available for golf," says firm co-founder Brian Curley. "Great care was taken to preserve the dramatic rock formations and gently nestle the holes among the rugged outcroppings."
Spectacular vistas, rock-strewn fields and dense pine forests abound, punctuated by lakes and open streams that reflect the stony peaks.
"Typically, with a multi-course facility, one would focus on creating layouts with distinct styles," notes Curley. "This site, however, is so astonishing that we did not want to distract from the surroundings with bunkering, or any other architectural elements, that said 'look at me.' We kept all three courses very natural to fit the site; there are subtle differences in each but nothing that jumps out. We wanted the stone to be the show."
Leaders Peak occupies the most heavily-treed portion of the property and can play up to 7,565 yards - a necessity at the mile-high location. Noteworthy holes include the par-3 12th and its "island green" surrounded by stone, rather than water. Although four to five times larger than the 17th at TPC Sawgrass, it is every bit as intimidating as much is hidden from view by rock that rises above the green surface.
Yufeng Ridge starts high above the property with views of all three golf courses and the Yunnan countryside. One of the most scenic holes on the property is No. 8, a par-4 that plays into a massive wall of stone and vegetation. On the back nine, the 18th is a beautiful par-5 highlighted by a risk-reward drive to a fairway split by outcrops.
To slightly differentiate it from its sister courses, Masters Resort has grass-faced bunkers, more colorful landscaping, and greens with greater undulation. Earmarked as the club's "tournament course," standout holes include the par-3 seventh and its green set into a natural low; the uphill par-5 10th playing toward a stone pinnacle backdrop; and the par-5 18th, offering long views to the valley floor below.
Adds Curley: "With their otherworldly surrounds, dramatic elevation changes, and one of the best year-round climates to grow turf, the Stone Forest courses promise to soon be regarded among the world's best."
For additional information about Stoneforest, visit http://www.stoneforestgolf.com/en/index.php. For more details about Schmidt-Curley Design, visit www.schmidt-curley.com or call 480/483-1994.