Schmidt-Curley Unveils Clearwater Bay Golf Club on China's Hainan Island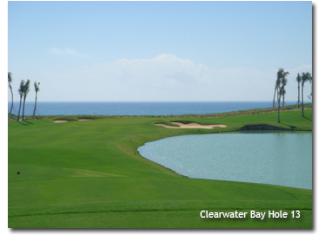 Schmidt-Curley Design has announced that Clearwater Bay Golf Club in Lingshui, China, its first golf course on Hainan Island, will open at the end of March.
Hainan Island, often referred to as "China's Hawaii" for its unblemished beaches, volcanic mountains and tropical vegetation, is one of the world's hottest areas for golf course development. Clearwater Bay is located on the island's southeast coast, adjoining the South China Sea and affording views of the ocean and surrounding countryside.
"We're honored to have Clearwater Bay as our first completed project on Hainan Island," says Lee Schmidt. "Blessed with an idyllic setting, we routed a flowing, natural golf course around clusters of swaying palm trees and along Hainan's renowned beachfront. It's sure to please high- and low-handicappers alike."
The par-72, 7,333-yard layout features fairways of generous width and large, undulating greens. It requires prudent course management, as greens are strategically set at varying angles to the line of play and favor approaches from the proper side of the fairway. The saltwater-tolerant turf, Seashore paspalum, was used on fairways, roughs and greens.
Bunkers differ in size throughout the course and feature rolled-over turf coming midway down their front slopes. Larger bunkers have grassy fingers extending into the sand to give them a classic shape.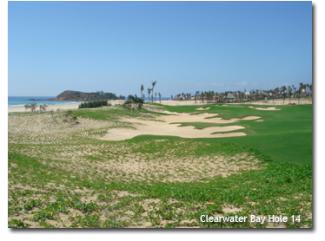 Clearwater Bay features back-to-back par-3s on the back nine. Another eye-catching hole is the 13th, which plays from an elevated tee overlooking the ocean to a green guarded by a lake and large bunker on the right. The 14th sits parallel to the ocean with dunes and native grasses encroaching along the left.
"Holes 13 and 14 create a special atmosphere," says Schmidt, who spent many years working with Pete Dye and Jack Nicklaus before co-founding Schmidt-Curley in 1997. "With waves crashing onto the beach only 50 meters away, players will be hard-pressed to remain focused on making par amid the stunning natural surroundings."
Schmidt-Curley is entrenched in China's booming golf course construction market. To complement its Scottsdale, Ariz., headquarters, the firm has established fully-staffed satellite offices in Haikou, on Hainan's north shore, and in Kunming in the Himalayan foothills.
Clearwater Bay Golf Club is part of a $3 billion resort and residential development project covering approximately 2,500 acres and 7.5 miles of coastline. Another Schmidt-Curley-designed golf course, six hotels, an international conference center, yacht club, shops and more are in various stages of construction. Clearwater Bay is a 40-minute drive from Sanya Phoenix International Airport.