Scotch Missed
By: Tony Dear
Like most of America, Colorado has become obsessed with links golf. But do any of [Colorado's] self-proclaimed 'links style' courses bear any resemblance to a British seaside layout? English golf writer, Tony Dear, has his doubts.
Ten years ago, advertisements in British golf magazines for newly built courses invariably included the phrase, "Built to USGA Specifications." No one had the first clue what it meant, but we Brits sure did like the sound of it. We pictured a classic U.S.-style parkland course with grand old oak trees lining emerald green fairways. The greens, boasting some state-of-the-art, cut-me-as-low-as-you-like bentgrass would have a stimpmeter reading of at least 15, and the course be in such spectacularly good condition the head greenkeeper at Augusta National would have taken one look at the place and fallen to his knees crying, "I am not worthy." We even dared hope for a couple of waterfalls and a funky, hi-tech fountain spewing water 100 feet into the air from the middle of a lake fronting the 18th green.
We expected to find Oak Hill, Oakmont or Oakland Hills, and prepared ourselves for a U.S. Open-type challenge. It didn't matter if we lost half a dozen balls and risked permanent damage to our wrists hitting out of 6-inch-high super-glue rough. Taking on the sort of course that made some of the world's top players look like 36-handicap morons definitely appealed to our more adventurous side. "Bring it on," we said.
Two holes into our U.S. Open experience, however, we discovered overnight rain had turned the place into a quagmire. The "USGA Specification Greens" were no smoother than those at the 20-dollar muni next door and well over half the course was now considered casual water. Worst of all, the grand old oaks turned out to be skeletal saplings that doubled over in a light breeze. Basically, without truck loads of cash and some serious global warming, there was as much chance of building a large-scale American-style parkland course in Britain as there was of building . . . well, a links course in Colorado.
The grass is always greener on the other side, of course (actually, it's browner in the case of links courses), and we can't help wanting what the other man has. But sometimes we've just got to go with what we've got.
I mean, come on. From Denver it's got to be 1,000 miles to the nearest coastline, and where can you find grass covered, gently undulating sand dunes of the type found bordering the ocean in Scotland and Ireland? And before you say the Great Sand Dunes Monument in the San Luis Valley, have another look and tell me those dunes are gently undulating.
Surprising then that one Colorado golf course directory includes advertisements for 10 or more 'links-style' courses and an Internet search for "links golf in Colorado" offers up a staggering 156,132 matches. A similar search for Scotland, where seaside courses are two a penny, gives just 68,477.
"That doesn't surprise me," says Perry Dye, co-creator of Riverdale Dunes, a self-styled links a half-hour north of downtown Denver. "In America, we tend to regard any course that has no trees as a links. I suppose we've kind of redefined the term. The Dunes is absolutely nothing like St Andrews or Muirfield, but 90 percent of Americans would describe it as a Scottish-style layout because there's so little established vegetation."
Built over 1983-84, Riverdale Dunes emerged from an onion field where the difference in elevation between the highest and lowest points was a mere 15 inches. The father-and-son team of Pete and Perry Dye was the obvious choice to build it as only designers with their unique imaginations could have coaxed a course as good as this out of such a featureless and uninspiring landscape.

"My father and I weren't blessed with the best site in terms of topography," says Perry. "But, thanks to deposits from the Platte River, the soil was sand-based and, because the budget didn't allow for tree planting, an exposed layout with a lot of mounding was the best option. Tom Doak, who designed Pacific Dunes in Oregon a couple of years ago, was fresh out of Cornell University and joined our company. We sent him to Scotland for 12 months to study the courses there. He took thousands of pictures and we used a lot of his research when designing Riverdale."

And it shows, to a limited degree at least. There are shades of the genuine article here, especially at the fabulous 9th and 16th holes, both par-5s where rough-strewn banks border the landing areas.

Generally speaking, however, Riverdale Dunes is as American as Bruce Springsteen eating apple pie in the back of a Chevy Blazer. It has bentgrass greens, fairways and tees (it was one of the first public courses in the U.S. to offer bentgrass fairways), possesses numerous manmade water hazards – more TPC of Sawgrass than Ballybunion, and the 18 holes cost a total of $1.7million to construct.

In Britain, only coarse fescues and the occasional hardy bent can survive the salt-laden coastal breezes that sweep in off the North Sea and Atlantic Ocean. The only manmade water hazard you're likely to see is a drinks fountain and, as any golf historian will tell you, centuries-old links courses weren't constructed with the aid of megabuck budgets, detailed technical drawings and fleets of bulldozers. Instead, they simply evolved over millions of years before someone came along one sunny afternoon, leveled off a few dunes to create tee boxes, plonked a few flags in the ground and declared it a golf course. In 1889, Old Tom Morris was handed four guineas by the Royal County Down Golf Club in Northern Ireland and instructed to design a championship-caliber links. Somehow, he crafted one of the world's top-10 courses for the equivalent of about six bucks.

Director of golf, Bob Doyle, concedes Riverdale is more American than it is British. "It's basically an American course with a hint of Scotland. In summer we lose the links feel because we have to water the holes so much to keep the grass alive. It's too green to be a genuine links and the ball doesn't bounce hard and run. I prefer to play it in winter when the ground is a lot harder and the bounce of the ball less predictable."

But so what if Riverdale Dunes isn't really links-style? It justifies its ranking as one of Colorado's top public courses whatever it is and, at just $33 a round midweek (for non-Adams County residents), you'd be a fool not to give it a try.

Another really good course that plays absolutely nothing like a links despite several reviews describing it as such is Heritage Eagle Bend in Aurora. Even though it's soft and lush, defended by a handful of artificial lakes and hemmed in by row upon row of Legoland houses, most reviews talk about "fairways that are unmistakably Scottish in character."

Take it from someone who's actually been to Scotland and even played golf there, Heritage Eagle Bend couldn't be more unlike a links course if it tried. Just because the fairways are a bit bumpy in places doesn't make it Scottish.

Don't believe me? Well maybe Arthur Hills, the guy who designed it, will convince you. "We built holes that would fit the land. We definitely didn't try to make it look like a British seaside course." And Hills' co-designer, Chris Wilcznski, says much the same, "Eagle Bend was built to take advantage of the natural features. It wasn't our intention to make it look like or play like a links," he says.

So don't expect one. It would look totally out of place in Scotland and is pretty much your typical American course. Treat it as such and you won't be disappointed. In fact, you'll have a great day playing some of the area's most attractive and challenging holes.

If you're still looking for that Scottish experience without incurring $2,000 worth of flights, accommodations, green fees, haggis and whisky, you should head for Steamboat Springs where you'll find the magnificent, city-owned Haymaker Golf Course. Keith Foster beat off the challenge of Rees Jones and Jim Engh to land the much sought-after contract and spent $2.5 million turning a hay meadow into a course that on a drizzly day with the faint shrill of bagpipes in the air, could just about be mistaken for the majestic King's Course at Gleneagles. It's a beguiling mix of heathland and lush American parkland and, yes, there's even a suggestion of linksland despite the fact it's surrounded on all sides by mountains and there's no sign of any ocean lapping up against the edges of the fairways.

Its beauty lies in its simplicity. No doubt Foster had all the paraphernalia associated with modern golf course construction at his disposal, but you go away thinking he didn't actually use any of it. It's a simple, unpretentious track that makes superb use of the natural contouring and surely offers one of Colorado's most enjoyable rounds.

"It's about as natural a course as you'll find in this country," says superintendent, Bill Whelihan. "Keith only moved about 250,000 cubic yards of earth and introduced mounding to only five or six holes. The rest of it was virtually untouched."

Now that's how you build a golf course.

There's plenty more supposed links-style courses out there, but I'm guessing you won't find anything remotely linksy about them. Haymaker's natural setting may be as close to the Auld Country as you get in Colorado in fact. But why, when you've got some of the most gorgeous courses in the world right here on your doorstep, would you want to spend so much money to go and play in the rain?

Aaghh, who needs links golf anyway?

This story originally appeared in the August 2002 issue of Colorado Avid Golfer Magazine.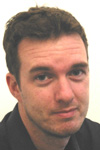 Tony Dear has been writing about golf for 11 years. A former assistant club pro from Sussex, England, Tony started out as a freelancer in 1992 before taking a staff writer's job at Fore!, a magazine based in Peterborough. As the magazine's chief instruction writer, it was Tony's job to compose instructional articles aimed at a youngish readership whose letters to the editor suggested they often got confused by technical jargon and theory. Tony bought his simple approach to teaching golf to the magazine, helping boost sales by 10,000 issues. As a result, he was nominated within the company and nationally for Young Writer of the Year awards.

From there, Tony moved 20 yards across the Emap UK office to join Today's Golfer. There, he was soon promoted to a senior editorial position, focusing on equipment, and became a significant part of a team that saw sales figures double within the magazine's first 12 months.

After three years at Emap UK, Tony was dragged kicking and screaming across the Atlantic by his American wife ('not really, I love it over here') and, after short spells in Phoenix and Denver, wound up in Seattle in May 2003. He recently moved to Bellingham in the far northwest corner of the far Northwest of the U.S. and became a father to a son on whom he has already staked £5 for the 2029 Open Championship. At present, he is freelancing for a number of print and online publications back in England including Today's Golfer, Golf World, Bogey, The Open Championship Magazine and Casino.com. He is also a contributing editor for Denver-based Colorado AvidGolfer.

Recent features include a look at Colorado's self proclaimed 'links' courses, an interview with Suzy Whaley, with whom he played nine holes ('and got soundly thrashed') and a 64-page instruction supplement for Today's Golfer.

Tony has authored three books in the last five years and been nominated for several specialist and young writers awards. 'Although I've never actually won one,' he admits. He is a member of the Northwest Golf Media Association and the Golf Travel Writers Association based in London.