Scotland: Where Golf is Part of the Social Fabric
By: Jeff Shelley
I let the dog out of the back of the Volvo and trudged - still sick with the flu (but not the Swine variety) - with Stella in tow. And I mean tow. She was hauling my sorry butt to the lake, one weary foot clomp after another.

Ailing from a bug I got in Scotland, the Birthplace of Golf, and emotionally akimbo because my wife left for 3 ½ weeks a mere 36 hours after my return, I followed Stella's wagging black tail toward the water. I was alone after almost too many social interactions for this noted curmudgeon over the previous 10 days. I was, as I like to say, "peopled-out."

The day was Seattle-brilliant, which, for those of us in the know, is about as good as it gets. You know it's going to be special in these parts when the thermometer reads 70 degrees at 7:30 a.m. That means the mountains will be out.

We burst through the metal gates at Magnuson's dog park and meandered to the 140-foot-wide rocky entry for pooches into Lake Washington. There was no one around. Just Stella and me, along with little fish fry poking through the shimmering surface; a silent, slow-moving water-skier a mile off in the distance; ducks cruising past with minimal interest - smug and fed at this early hour.

I was home. I survived Scotland and a friendly, bantering band of golfing compatriots to this. What a lucky guy.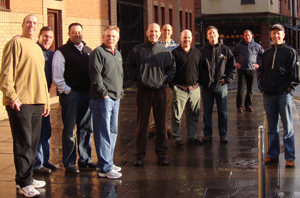 Our Gang on a Glasgow Street
The Trip

We arrived in Glasgow via Heathrow. We enjoyed a riotous, joke-filled sendoff at SeaTac Airport before a hassle-free trip - abetted by a beery and, thanks to Adam, a member of our group, a series of jokes too blue for the family dinner table. In other words, a great start to our 10-day adventure.

My first impression of Glaswegians - as I was forewarned by our club pro, tour guide and a native of the Isle of Skye, Craig - is that they're a dour sort. He warned us to NOT - under any circumstances - call ANYONE British in Scotland's biggest city or we'd be in for a "Glasgow Kiss": a forehead shot from a friendly Scot to your ignorant American nose.

With 2.3 million people in the city and surrounding areas, Glasgow contains 41% of Scotland's population. It has all the attendant woes and attributes of a big city. Besides good suds, outstanding Scotch (what else would it be?) and block after block of ancient buildings, Glaswegians have access to the Boogie Bus, a shocking-pink brothel on wheels that tourists occasionally find parked on a downtown street.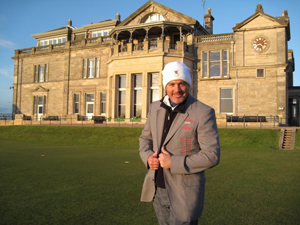 Half Pint & His Winner's Jacket
"Carnastie"

Accompanying Craig's warning about Glaswegians was that the first course on the trip - Carnoustie - was the toughest in Scotland. Double-aces here, mate, and thanks for setting up not one but two rounds at this hellish layout.

I almost wish I would've pissed off a Scot before playing Carnoustie as I might have exorcised an angst-filled edge that came too early on this sojourn, which, as a golf writer, was a line item on my life's bucket list. This course, a regular part of the British Open rota presumably for its nefarious nature, may well be the world's most spiteful test of golf.

In high winds, which blasted our faces the whole round despite playing fairways that curled in different directions, Carnoustie makes a golfer re-think his love of the game.

It didn't help that I had a caddie with a troubled sense of direction. During our first round he said "Left"; he meant AIM left instead of the ball GOING in that direction, which is the usual read. By the third hole of Day 2 I'd had enough of the ball going the wrong way so asked about his instructions. I found out he was dyslectic.

Not abetting scoring low were winds that whipped upwards of 40 mph (which turned out to be some of our most benign conditions - at St. Andrews gusts reached 60 mph) is ball-eating gorse, deep and sinfully hidden bunkers, meandering "burns" (so named because that's how your ass feels when your ball lands or pitches into one), and other pitfalls.

At the conclusion of our second round my caddie pointed out where Jean Van de Veldt committed his famous faux pas in the 1999 British Open. Improbably, the surprisingly consistent Frenchman - at least in this tournament - arrived at the 72nd hole needing only a double-bogey six to win the championship and claim the exalted "Champion Golfer" tag at no less a test than Carnoustie. Fatefully, Van de Velde chose a driver off the tee and put his ball right of the burn, luckily finding land. Rather than laying up safely and hitting the green with his third, Van de Velde went for it with his second shot, one of the toughest approaches in the game. His ball drifted right and hit the grandstands beside the green before bouncing 50 yards backwards into knee-deep rough.

On his third, Van de Velde's club got snagged on the downswing and his ball flew into Barry Burn - which fronts the putting surface - on the right side of the green. He then removed his shoes and socks and gingerly stepped through shin-deep water as he debated whether to try to extricate his ball (What was he thinking?!). Wisdom - though this term is very inappropriate by this time - took over and, after taking a drop, he hit his fifth into a greenside bunker. Van de Velde blasted to within six feet of the hole and made the putt for a triple-bogey seven, dropping him into a three-way playoff with Justin Leonard and Paul Lawrie that Lawrie would win.

Later, Van de Veldt returned to the scene of the crime and signed his name on the concrete siding of the burn. My caddie, a bit too gleefully, pointed it out. Again, what was Van de Velde thinking?!

Regardless of the course's perniciousness, Carnoustie had a few high points:

• Meeting a 50-year member who one of our caddies later described as argumentative. I found him a kindred spirit.

• Two lucky guys in our group - "Coop" and Sean - were serendipitously assigned the Ben Hogan Suite, a space that must command tens of thousands in pound Sterling when the Open is held here. Knowledgeable golf fans will recognize Carnoustie's famed Rolex clock on the hotel behind the 18th green. Though they paid the same room fare as the rest of us, Coop and Sean stayed in the 1,500-square-foot suite right below the clock. They luxuriated in three bedrooms and matching bathrooms with bidets and showers; several flat-screen TVs; and other comforts not found in my and my roommate Mike's cubicle. The party that night was loud and boisterous, and it was all hosted by the Wee Ice Mon, courtesy of Sean and Coop. For a live view from the Hogan Suite, visit http://www.angusahead.com/VisitAngus/Webcams/carnoustieWebcam.asp.  

• Before we met the rest of our group at a pub for dinner in "downtown" Carnoustie, Mike donned a gray jacket with some cryptic lettering on the front. Turns out it was the jacket that goes to the champion of his family golf tournament, with the winner's name sewn beside the year of victory. Coupled with his shaved head and a dark turtleneck under the coat, Mike, who soon become known as "Half Pint" for his smaller beer orders - which of course he would double to keep up with the crowd, looked like Telly Savalas. As we walked down the street on a sunny and calm evening - the most pleasant weather on our trip, two local toughs stopped and started laughing at him. Threatened, I circled around in a defensive posture while Mike entertained the sots, trying to decipher what they were saying. Turns out they thought he looked like Rumpelstiltskin in one of the "Shrek" movies, jabbering incomprehensively and howling as they walked away. (As a side note, Half Pint retained the vaunted jacket a week after returning to Seattle for the 2009 family tournament.)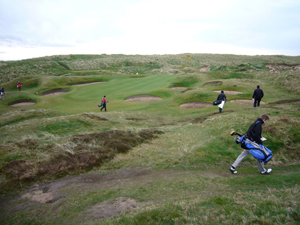 Royal Aberdeen
Royal Aberdeen

Next up on our docket was this well-established club north of Glasgow. Founded in 1780 (as the Society of Golfers at Aberdeen) and the sixth-oldest course in the world, it was startling to realize that golf was played on the club's original layout a mere four years after the United States of America was founded. Walking through the uber-traditional clubhouse one sees many historical references that reflect Royal Aberdeen's place in golf. On these dark-hardwood walls hang glorious old photos and paintings, many originals that have been reprinted in golf-history books. Particularly intriguing to me were late-1890s' typewritten instructions to the club's board from James Braid on a plan for a remodel of the championship Balgownie course, the one we played. Not only did Braid take home five Claret Jugs as the British Open champion, he "modernized" other antiquities such as Carnoustie, Gleneagles, and Royal Musselburgh. Like the eminent architect Donald Ross, he even has his own golfing society (http://www.thebraidsociety.com).  

Elsewhere on the grounds is the Silverburn course, which is where Royal Aberdeen's ladies play. In late October 2008, the members decided they wanted to reduce the 4,021-yard, par-64 Silverburn to nine holes to make way for a new driving range. The plan, recommended by the club's current architects, Martin Hawtree and Son, will not take place until after Royal Aberdeen hosts the 2011 Walker Cup Matches. The Aberdeen Ladies Golf Club clubhouse is close to Silverburn's first tee. Aberdeen Ladies' silver division players pay higher subscription fees than their bronze counterparts because they are permitted to play the Balgownie links, while the female players with higher handicaps - presumably called the "Bronzies" - are restricted to the shorter course.

On the day we played, Royal Aberdeen's loop layout - out through the dunes and back along an exposed plateau - found the wind helping on the front nine but decidedly not on the back. Holes 10-18 were at least four shots harder and the zippy zephyrs off the nearby North Sea, with oil platforms pumping up thousands of gallons of crude from the seabed every day, were flecked with a harbinger of things to come, rain, which drenched us over the final four holes.
Murcar Golf Links

Situated just to the south of Royal Aberdeen is this enjoyable course. Unlike its prim and proper neighbor, Murcar has a distinct "rural" tinge, reminiscent to me of places like Sage Hills Golf Course in remote Eastern Washington. A relative babe in the woods with a 1906 opening date, this Archie Simpson design along the North Sea, with a later remodel by Mr. Braid, features the usual terrestrial humps and bumps endemic on Scottish links.

Golf balls tend to carom into unsuspecting - and usually unsavory - places at Murcar, a knack that led Scottish author Allan McAllister Ferguson to note: "I had the distinct feeling of playing golf inside a pinball machine." Not a bad description.

Murcar's members, many of whom served as our caddies - a situation repeated elsewhere on the trip - were down-to-earth blokes. The locals were reticent when discussing their more illustrious neighbor, but when they asked where we were going next and were told Cruden Bay, they scoffed: "Too many blind holes." Aye lads, you're right.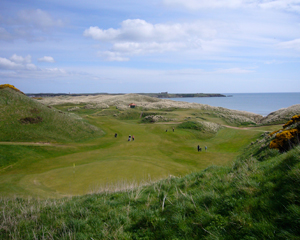 The Views at Cruden Bay
Cruden Bay

The "blind" holes at Cruden Bay are because the place boasts one of the wildest dunescapes on the golfing planet, with towering grassy heights and deep dells chopping up one crazy quilt of a golf course. From many tees you can see for miles, taking in a beautiful and sandy - but weather-wracked and ultimately forlorn - beach, the blue-chilled North Sea, and Slains Castle, an edifice erected in 1597 by none other than the 9th Earl of Erroll, mere feet from cliffs that cascade 200 feet straight down to the crashing sea. This was the place where Bram Stoker drew inspiration for his best-known tale, "Dracula." Apparently, it's also one of the most popular international destinations for suicides.

There's evidence - the club has possession of an old ballot box inscribed "Cruden Golf Club 1791" - that a nine-hole course preceded the current layout that opened in 1899 as a recreational adjunct to the Cruden Bay Hotel, which debuted that same year. Crafted by none other than by Old Tom Morris of St. Andrews, with help from Archie Simpson, the course was unveiled during a two-day tournament won by the famed Harry Vardon, the only player to win six British Open titles.

The course was redesigned in 1926 by Tom Simpson and Herbert Fowler, though many of Old Tom's greens remain in use today. Though some of the guys thought the greens on the par-3s were "tricked-up" and, yes, "blind," which they certainly are, I was enamored with the place. I've visited and/or played nearly a thousand golf courses around the world, and for my money, Cruden Bay is right up there with the most spectacular I've ever dug a divot from.

With 150-foot elevation changes, tight and side-sloping fairways, continuously impressive vistas, wildly rolling topography, an unceasingly broad spectrum of shots, and a damned interesting history, Cruden Bay is a must-play for anyone coming to Scotland.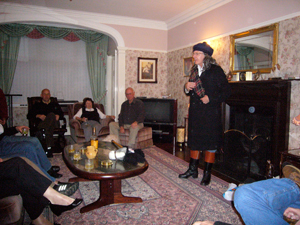 Kilted Poet Ian at Lorraine's House
The "BBQ"

Abetting the good vibe later that night was a barbeque hosted by the parents of one of our Seattle club's assistant pros. Lyndsey Devenish was raised right across the street from Cruden Bay Golf Links. After showing bright promise as a junior, she was recruited by the University of San Francisco for the women's golf team. Upon graduation she played a year on the Futures Tour before opting to work towards Class A certification with the PGA of America.

Her parents, Ian and Lorraine, own a hotel and are two of the finest hosts I've ever had the pleasure to meet. Their spread for us included fish, sausages, steak, chicken, salads, breads and goodies too numerous to recount. Ian was still cooking after we had sat down to eat. The Scotch and beer flowed, and the stories rang throughout their classical house as the rain blew against the huge picture windows overlooking the course. A friend of theirs - and a Cruden Bay member and local historian, wove tales about the ill-fated Cruden Bay Hotel, which during its heydays served tourists taken to this remote outpost by the Scotland Railway Company. The railway was closed to passengers in 1932. Seven years later, the hotel was requisitioned as an army hospital and never reopened following World War II.

Following dinner, Ian informed us of a special guest, who arrived soon after in a kilt and "riding" a kid's horse. He said he was a bit rusty, but had no problem reciting Robert Burns' classic poem, "Tam O'Shanter." Like a popular troubadour, this gentleman wowed the crowd, even though we had nae clue how to translate the burred narrative of Scotland's favorite son.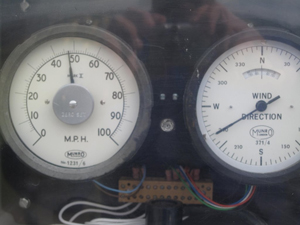 Anemometer at Old Course
Off to St. Andrews

The most amazing thing about this burg of 16,000 is that the only games in town are the University of St. Andrews, founded in 1413, and golf, which originated here at around the same time. Nearly 600 years later, these two components are still what drive this place hard by the east coast of Fife.

Oh yes, dating from medieval times until the Reformation, St. Andrews, named after Saint Andrew the Apostle, was the ecclesiastical capital of Scotland. So I suppose there are still some non-university and non-golf folks who come to visit the ancient cathedral, which is now in ruins.

Yet the main draw is golf, and the city's most telling legacy is how deeply imbued the game is for St. Andreans. Sure, there are the retail golf shops - from early-day club-maker Laurie Auchterlonie's place to St. Andrews this and that, but the Royal & Ancient Game is simply part of a six-century tradition that is still going strong, crappy economy be damned.

The first of two rounds here for four of us was at Jubilee (the other eight played the New Course). Built in the late 1800s as a 12-holer, Jubilee was later expanded in 1905. Between 1938 and 1946, further improvements were made under the supervision of Willie Auchterlonie, the Open champion of 1893 and Laurie's brother.

It became clear during our round at Jubilee that the weather nae be our friend anytime on this particular golf trip. Before we trudged over to Jubilee's clubhouse and, while waiting on the leeside of the R&A's clubhouse, an anemometer on the building's wall surged to 60. Buoying our spirits was that we'd heard Arnold Palmer was in town and that "The King" was going to tee off at 9 that morning.

We were actually lucky to get a tee time for the following day at the Old Course as the Royal & Ancient Golf Club of St. Andrews was holding its Spring Meeting, one of its two annual sessions. Normally the Old Course is closed for R&A competitions during their semiannual meetings. As part of the event's pageantry, Palmer was asked by the members to be the guest speaker.

Lo and behold, the white-haired, now-stooped legend showed up on time for a round of golf with the R&A's captain and another club official. Palmer announced to the crowd, at least to those close enough to hear him over the thunderous winds, he would play as long as they accompanied him. Fully engulfed in wet-weather gear more suitable for a hike up Mt. Everest, Arnie dutifully banged his drive down the fairway. His partners weren't so lucky. The R&A captain hooked two drives clear across the adjoining 18th hole out of bounds. Though visibly sagging, he managed to get his third ball into fair territory. The other R&A potentate only lost two shots after slicing his drive across a fence.

Apparently, Palmer's gallery wasn't very hearty as he was seen being carted from the course after six holes. It was that kind of a day for all of us. (At Jubilee, I asked my caddie, a 3 handicapper, what he'd shoot on a day like this. He said, "I would nae be out here.")

On the way over to Jubilee you pass by the Himalayas, the most famous putting course in the world. There, despite the poor weather, was a full field of mostly women putt-putting around a greatly undulating sward dotted by mini flagsticks. The "greens" are spread across a goodly expanse, with the "holes" separated by massive mounds. Needless to say, there's not a flat putt to be found. These St. Andrews women are serious about the game; it was quite evident there weren't any "gimmes" to be had.

Perhaps the epitome of that wild and woolly day came at Jubilee's 8th hole, "Eden's Edge," a 369-yard par-4 whose green butts up against Eden Estuary. With gusts peaking at five dozen miles an hour, the bunker and beach sand being cast about stung our faces as we tried to putt out. I was happy to turn my back on that green with a bogey.

At about this time in the trip I came to a clear understanding that my upright, sidesaddle putting style was worthless in high winds. The technique is fine on fast greens, but in weather like this . . . I felt like an RV trying to drive across Kansas in a tornado. My best hope would be to duplicate what happened on the par-5 12th at Jubilee. After cleaning my ball and re-marking it in preparation for a 10-foot birdie putt above the hole, the wind started rolling it toward the cup before I addressed it. Sadly, it stopped 10 inches short, preventing me from a once-in-a-lifetime birdie and one of the best non-shots of my life.

Later that night I began nursing my various physical woes. John, a member of our group who's also the doctor for the University of Washington athletic teams, administered first aid for a huge blister on the bottom of my foot and a torn ligament in my right elbow from trying to hack out of the gorse in an earlier round. Also on our trip was my dentist, Rick, who thankfully didn't have to repair any broken teeth, and Eric, a former collegiate tennis champion who has since converted to golf.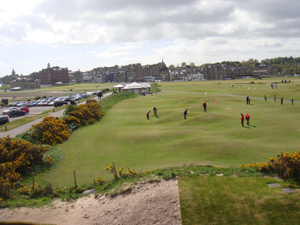 Looking Across the Himalayas to Downtown St. Andrews
The Dunvegan

During our stay in St. Andrews our digs were the Dunvegan Hotel (http://www.dunvegan-hotel.com). The proprietors of this historic hostelry are Jack and Sheena. Jack's from Texas and Sheena is a Scot. The couple bought the place in 1994 and have hosted golfers from around the world ever since.

The rooms are nice and clean, and the hotel allows golfers to store their clubs on the ground floor near the entry door. No need for a car here: just put your bag on your back and trundle a block and a half to the Old Course.

What makes the Dunvegan special is the small pub - the Golfer's Corner Lounge Bar, which offers big windows overlooking Laurie Auchterlonie's shop and welcomes in whatever sun is shining that day. The food is good and the drinks are stiff. The walls are chock-a-block full of photos of famous golfers, with Sheena posing right next to each one of them. I swear this woman has had her picture taken with all the greatest golfers in the past 25 years: Tiger, Ernie, Mickelson, you name it, and there's Sheena with a great big grin in a close embrace with each star.

Paula Creamer celebrated her 21st birthday here, and Lorena Ochoa was toasted for her Women's British Open title at the Old Course in 2007. No less a skilled imbiber than Sam Torrance has called it "the perfect 19th hole." There was a rumor floating around that Arnie would be stopping by after his abbreviated round. Sheena sat in the stool closest to the door for almost an hour, eagerly anticipating his arrival. Alas, "The King" never came.

Clementine

Before he left Seattle for the airport one of our guys, Jack, was asked by his young daughter to take her favorite stuffed animal along with him on the trip. Jack said sure. Thus it came to pass that Clementine, a small and somewhat well-worn horse, had his picture taken sipping a Guinness, sitting on the railing of the Swilcan Bridge, and generally living a golfer's dream without ever having to swing a blasted club for the entire week and a half. Oh, the stories he could tell . . .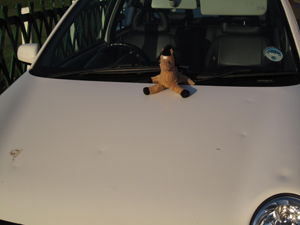 Clementine on the Dented Car
Ye Old Course

I had three goals when playing this, golf's quintessential course. They were: get off the first tee, hit my drive over the Old Course Hotel (now a windowless outbuilding) on the Road Hole (the 17th), and par No. 18. I succeeded on all accounts. That said, the rest of my round was a laborious and by now flu-riddled toil. My young caddie - who kindly came down from Edinburgh to loop for me the second day at St. Andrews - was aghast at my performance. I don't blame him.

Luckily, I had a caddie while the others in my foursome were left to fend for themselves as there weren't enough to go around. In an apparent cost-cutting move, the St. Andrews Links Trust slashed the number of loopers in golf season 2009 from over 300 to 150, so the demand now outweighs the supply.

We were sandwiched in on the only "open" day available to the general public at the Old Course during the R&A's Spring Meeting. Our round, huge surprise, was played in feral conditions. I must've changed clothes five times in 18 holes, donning and removing a heavy-duty, hooded water-resistant coat and a second pair of rain pants whenever the skies darkened and the deluges began.

One of the guys in my foursome, Doug, actually noted on his scorecard the changing conditions. Doug gave me a photocopy of his notes, which read: Hole 1 - "Hard wind"; 2 - "Slow play"; 3 - "Hard rain"; 4 - "Sun, less wind"; 5 - "Hard wind"; 6 - "Much more wind" . . . 13 - "Sun, rain." The wind, which Doug generously described it as "hard" and "less," howled virtually the entire time.

With all of its shared putting surfaces and the close proximity of tees and greens, the Old Course is a bit of a shooting gallery. Everyone - especially the caddies - are good about yelling "Fore!" But when hollering into heavy gales those shouts aren't always heard. Oh well, of the five or six balls that dropped in on us none of them made personal contact.

Our foursome - of which I was the "captain" - teed off in the late morning while the other eight played three hours later. After our round, Charlie and I trekked to the Jigger Inn, an adjunct of the Old Course Hotel. There in this circa-1850s' building we warmed up with a few overpriced Scotches and beers while waiting for the other two groups to come through. We talked about our kids and grandkids, rehashing the trip and looking forward to getting home.

On our way back to the Old Course, we strode down the street bordering the 18th fairway. Charlie stopped in his tracks and started laughing. "Perfect," he said. I walked over to see what he was talking about. He pointed to a small, white subcompact car, obviously the vehicle of a permanent resident as its body was marked nearly everywhere by golf-ball-sized dents from wayward shots taken by the thousands of golfers from near and far who flock to this place, golf's holy land.