Sea Pines' Heron Point by Pete Dye Co-stars with Harbour Town Golf Links
By: David Wood
It's not easy for a golf course residing next to a superstar on every serious golfer's bucket list. However, the Pete Dye-designed Heron Point is poised and ready to share equal billing on the marquee with famed Harbour Town Golf Links. Just like Brooks had Dunn and Jordan had Pippen, Sea Pines Resort on Hilton Head Island has a classic duo with, not one, but two Pete Dye masterpieces.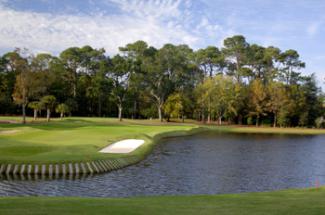 The 4th Hole at Heron Point
The Palmetto State is special to Dye, as he says, "Harbor Town made my career." That was 40 years ago when the iconic 18 opened to much fanfare and just in time for a nascent PGA Tour event called the Heritage Classic. Arnold Palmer staged one of his patented final-round charges for the inaugural victory and the Lowcountry destination was launched as a golfer's "must visit" locale. Heron Point ups the ante even higher.

Opened in 2007, Heron Point features knotted hardwoods, lagoons and salt marshes teeming with wildlife. Like Harbour Town, Mother Nature provided a great palette for Dye's design prowess and imagination. The site was once occupied by the former Sea Marsh course, a circa-1960s George Cobb layout that, by all admissions, wasn't up to snuff to fully test the modern golfer and technological advances of equipment. Rather than simply renovate Sea Marsh, Sea Pines officials elected to give Dye carte blanche to create an entirely new golf course using the existing routing.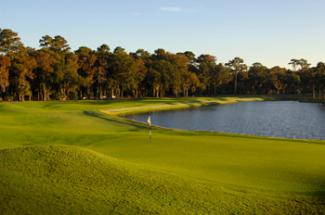 No. 18 at Heron Point
At 7,000 yards from the tips, Heron Point is a fusion of short and long holes. It can play considerably shorter if needed via six sets of tees on each hole, but length has little to do with the layout's overall strategic repertoire. Golfers will be challenged by a cadre of risk-reward holes, fairways that move toward and away from hazards, and Dye's ubiquitous mounding and swales framing target areas. The 18 is replete with his now signature (and ball-repelling) railroad ties edging greens and bunkers. Playing a Dye course demands a plan of attack; his creations almost smack of outdoor chess.

Dye also added lagoons and reshaped existing bodies of water; high scores lurk in the form of lateral hazards most everywhere. On four holes with water guarding the greens, alternating board and grass walls create conspicuous bulkheads, dramatizing the peril. Isn't there always a hint of menace on a Dye creation? Even more striking, a mixture of sand, mulch and limestone surfaces, as well as a variety of grasses, creates a vivid tapestry.
It's grand fun to try and match wits with the diabolical master of course design. Sure, you'll want to play where the Tour stops annually, but glorious Harbour Town has a co-star in Heron Point demanding attention as well.
Sea Pines has excellent summer rates for its two Dye layouts and the Ocean Course - a classic design (and Hilton Head's first golf course) completing the trifecta of golf offerings. "Ultimate 36" includes play on any two layouts starting at $155 (per person). "Ultimate 54" features play on all three courses for $370 (per person). Summer rates go through September 18, 2011.
For more information about the courses or golf packages, visit www.seapines.com or call 866/561-8802.