Sedgefield Ready for Wyndham Championship this Week
When McConnell Golf purchased Sedgefield Country Club in Greensboro, N.C., in early 2011, its new owner recognized significant improvements to the longtime host site of the Wyndham Championship - which starts Thursday - would be necessary in order to help restore the club to its former glory. Numerous, well-publicized upgrades were made prior to the 2011 Wyndham, while others are ongoing.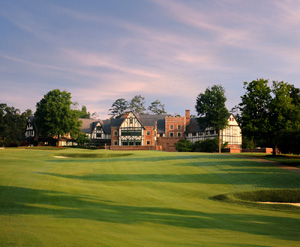 Sedgefield Country Club
Most significantly, with an eye on having Sedgefield's Donald Ross-designed golf course ranked among the state's top 10 within the next five years - and preventing the club's maintenance staff from having to worry about hot weather and its effects on bent grass greens every summer - McConnell Golf CEO John McConnell decided to convert Sedgefield's green complexes to the more heat-resistant grass strain Champion Bermuda.

McConnell said the decision followed considerable research and after his company sought the advice of its maintenance supervisors and Sedgefield's advisory board. Golf course architect Kris Spence oversaw the nearly half-million-dollar project, which included enlarging the second green in the back for a better pin position and modifying the front of the 17th green. Spence also added bunkers around the greens on No. 5 (two new bunkers back-right and one front-left) and No. 15 (behind the green) to better reward great shots and penalize bad ones on the tournament's two par-5s. The bailout area left of the 15th green will now feature heavy rough rather than a closely mown area.
When defending Wyndham and 2012 U.S. Open champion Webb Simpson returned to Sedgefield for media day in late June of this year, he rolled a few lengthy putts across the club's ninth green toward his most recent pair of silver trophies. Simpson unwittingly offered the crowd in attendance a taste of what may be in store for the field in the 2012 tournament by stroking his second putt all the way off the front of the green.

"With Bermuda greens, Sedgefield becomes one of the great golf courses on the PGA Tour," said Simpson. "It's going to be really a good thing for the tournament. As a player we love things that are challenging. [Sedgefield] was difficult before. Now it's going to be even more difficult. I think it's safe to say that the days of 20-under par are over. I've always loved Sedgefield, but I'm really looking forward to playing the Wyndham on the new greens."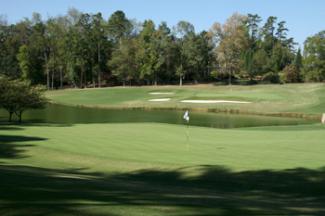 Sedgefield's 16th Green
In addition, two-time Wyndham Championship winner and 2012 Ryder Cup captain Davis Love III said he was equally pleased about the decision: "Changing the Sedgefield greens to Bermuda grass is great news for the members at Sedgefield, but it's also great for the Wyndham," said Love. "I thank Mr. McConnell for having the vision and leadership to make this change. The new greens will allow the course to be played the way Donald Ross intended most of the year. I look forward to playing Sedgefield's new greens."

Champion Bermuda grass greens are emerging as the go-to choice for many of the country's finer warm-weather golf clubs such as Seminole in Florida. After McConnell reached the decision to transition the club's greens in the months prior to its 2012 PGA event, he sent golf course superintendent Keith Wood to Juno Beach, Fla., to visit venerable Seminole and see what major champions like Ernie Els and Graeme McDowell had been raving about.

"Just to see what the top of the bar was," said Wood. "This is what the best of the best looks like, so I can get that mental picture in my head and try to reproduce that as I'm moving forward. What I noticed about [the Seminole] greens was that they are receptive to very good golf shots out of the fairway. You can get the ball to sit where you wanted to and stay. But if you miss, and you have a chip shot around the green, it was really, really dicey.
"That's the way we want it to play [at Sedgefield]. It's the architecture around here. We want these green surrounds to stand out and have balls rolling off the green if somebody hits a bad shot, whereas before, with the bent grass in August, someone could drop-kick a 5-iron and it's going to stop close to the pin."

Wood echoed Simpson's belief that the days of nearly everyone in the Wyndham field shooting a low score are over. And he made assurances that the new greens are in tip-top shape for the 2012 Wyndham Championship even though the greens reopened just two weeks before the tournament.

"This very first year - and this is coming mainly from conversations I've had with others superintendents that have switched to Champion. During the first year when you open [the greens] are the best they're going to be, because they are so new they're going to be so firm and they haven't had a chance to develop any sort of thatch or grain issues," said Wood.
"Everything is going to be just absolutely perfect. I am anticipating this year being one of our best years as far as the putting quality on the championship, without a doubt."

Wood was not even concerned during a two-week stretch during the middle of the summer in which temperatures around North Carolina's Triad consistently hovered around triple digits. "This is the first time I've not been afraid of a heat wave," he said. "With Bermuda grass, you can get rough with it when it's growing in the summer. With bent grass, you have to hit it with kid gloves.

"You better make sure it's really soft punches and that you make sure you're doing things exactly right or you're going to kill it. It's so nice to play offense. With that bent grass we're always playing defense."

For additional information about Sedgefield Country Club, visit www.mcconnellgolf.com.