Serenity Boosts the Golf Appeal on Lake Tahoe's California Side
By: Steve Habel
Part of the appeal of golf is the chance to enjoy nature, escape the rat race (even for just a few hours) and revel in the one-on-one challenges of the game. Attaining all those goals can sometimes be thwarted by encroaching neighborhoods and people. More time can be spent dealing with issues off the course, even when you're on it.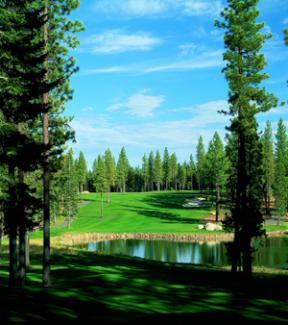 The 6th Hole at Coyote Moon
One of the nation's great places to "get away from it all" for golf is the northern Sierra Nevada mountains of California near the northwest edge of Lake Tahoe, North America's largest alpine lake.

Two courses here, Coyote Moon Golf Course in Truckee and, farther north of the lake, Grizzly Ranch Golf Club in the sleepy burg of Portola, offer a wonderful combination of sublime golf, serenity and serious "wow" factors.

Both courses are among the offerings of Golf the High Sierra Vacations, whose tagline hits the nail right on the head - "Refuse to be limited in a region with no natural limits."

Coyote Moon Flies under the Radar

It's easy to think there's nothing else going on in the world but the fairways and greens ahead when playing Coyote Moon, situated just northwest of Truckee's main street. Built on a site replete with rolling hills and rocky outcroppings, lined by tall pines and accentuated by Trout Creek as it forks into the Truckee River, Coyote Moon is as isolated as it gets.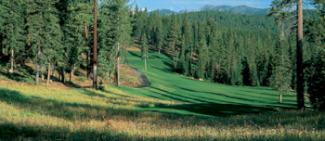 Coyote Moon GC
Designed by former PGA and European Tour player, Brad Bell, and opened in 2000, Coyote Moon seems worlds apart from civilization. The course sits on 250 acres of secluded up-and-down terrain without a house in sight; that's right - there is no residential component at Coyote Moon.

Bell fully utilized the natural setting while employing at many junctures the snowcapped Sierra Nevadas as a stunning backdrop. Grass mounds enhance each hole and native tall grasses and wildflowers are scattered throughout; it's not unusual to see deer, hawks and coyote during a round here.
Playing to a par of 72 and 7,147 yards from its back set of four tees, Coyote Moon is rated 74.4 with a Slope of 139 from the tips. And even though it sits at an elevation of about 5,700 feet, the course plays difficult (at least until one really knows the lay of the land) because of its terrain and many elevated greens.

Despite having six par-4s of 430 yards or more, Coyote Moon does not demand length as much as it asks for a great all-around game. Six of its top seven holes by handicap are two-shotters, including one that's really long (the 472-yard 17th) and another relatively short (404-yard fifth).

The 441-yard par-4 fourth winds over a native area and passes a lone, tall pine on the right that narrows the landing area. The fairway cants to the left, making approach shots to the back-to-front sloping green a testy proposition. At just 404 yards, the fifth moves hard right to left in the landing area, but two pines at the elbow dampen any chance for trying to cut the corner and shorten the hole.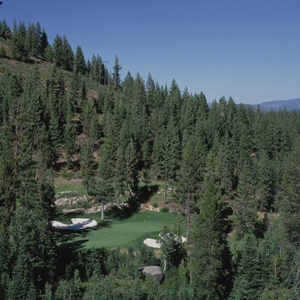 No. 13 at Coyote Moon GC.
Try to take advantage of the opportunities at the 527-yard par-5 seventh - whose green can be reached with two solid strokes, and the 173-yard par-3 eighth, which can be attacked but also must not be taken for granted. The 519-yard par-5 12th offers another chance to gain a shot or two on par, but take plenty of club on the approach which plays up to a green ringed by outcroppings.

If there's a signature hole at Coyote Moon, it's likely the 227-yard, par-3 13th, which drops some 200 feet from tee to green to an all-or-nothing putting surface bordering the creek.

The 314-yard par-4 14th is tempting to try to fly off the tee, but the trees along the left catch shots that are anything less than perfect; it's best to use an iron to the narrow fairway and go for birdie with a wedge.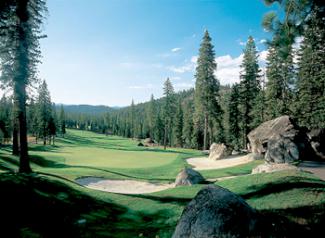 The 12th Green at Coyote Moon GC
The final two holes illustrate Coyote Moon's penchant for taking something away and giving it right back. The 17th plays a little shorter because of its raised tee, but the landing area is narrowed by a large pine at the left. The putting surface is tiered and exposed to the wind, making precision here vital.

The closer stretches just 341 yards, but the fairway ends at about 230 yards and the three-tiered green perches in the shadow of the clubhouse.

Coyote Moon is a Certified Audubon International Cooperative Sanctuary because of its adherence to wildlife and habitat management, water conservation and reduced chemical use and safety.

Coyote Moon is a jewel in the High Sierras, praised by those who've played it and virtually unheard of among those who haven't. It's consistently rated as one of the top courses in the western U.S. and has been ranked by Golfweek magazine as the 15th best course in California.

Golfers enjoy Coyote Moon because it offers mountain golf with large doses of forgiveness. Each hole is different and the views alone are worth the trip, even if you aren't playing golf. But where's the fun in that?

For more information, visit www.coyotemoongolf.com.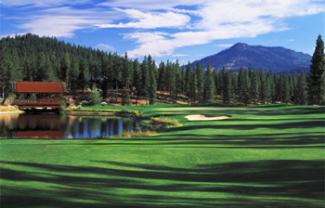 The 18th Green & Surrounds at Grizzly Ranch
Cupp Gets it Right at Grizzly Ranch

Grizzly Ranch, built as the centerpiece of an opulent second- and vacation-home community in the Western Sierra Feather River Valley where the Sierra Nevada and Cascade ranges meet, takes the notion of seclusion to an even more extreme than Coyote Moon.

Located about an hour's drive north of Truckee through some of the same mountain passes that pioneers trekked en route to the Bay Area, the course was originally planned as an exclusive, members-only facility, a notion sidetracked by the economic recession and - to be quite honest - reality.

Designed by Robert Cupp, Grizzly Ranch opened in 2005. The par-72 course is carded at 7,411 yards from its back set of four tees, where it's rated 74.9 with a 140 Slope.

Cupp, a former president of the American Society of Golf Course Architects, knows how to optimize a chunk of ground for golf and doesn't move a lot of dirt in order to seamlessly fit the design and natural surroundings. Here, he made great use of Mother Nature's canvas, routing a course that lets the mountains have the first and last words.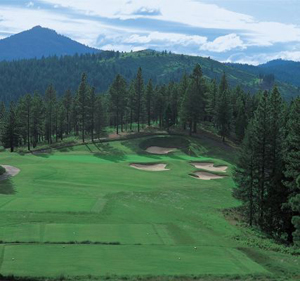 The Par-3 14th at Grizzly Ranch
"There are scenic views everywhere you look," Cupp said of Grizzly Ranch. "It's one of the most beautiful sites I've ever worked on."

He wound the layout over the site's gently rolling slopes, incorporating stately ponderosa pines and native wetlands (all preserved) to give golfers a venue that's as visually striking as it's fun to play.

Creeks and ponds affect 11 holes, and most of the layout curls through pine-walled valleys. It seems you're always aiming at a distant, majestic peak here. "Part of the fun and the challenge designing the course at Grizzly Ranch was using contour as a strategy and encouraging the right shot selection," Cupp noted.

Grizzly Ranch, which sits at 5,000 feet above sea level, boasts a wonderful mix of long and short holes. Seven of the 10 two-shotters play 430 yards or more, but there are also two short par-4s with risk-reward opportunities.

Given all the above, Grizzly Ranch's best set of holes is likely its four par-5s, two of which stretch 640 yards or more. The first, the 640-yard third, requires two strong shots to reach the optimal lay-up position. From there, a short approach is played across a small wetland.

The 517-yard par-5 seventh allows a chance to reach the putting surface in two. The green here is designed to accept a driving shot from the fairway, but it's relatively small and has a false front at the right corner.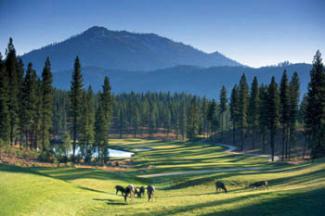 No. 9 at Grizzly Ranch
At 649 yards, Grizzly Ranch's 12th might be the longest par-5 most golfers will ever play. The second shot is played along a creek that borders a left-side landing area and then crosses before the green, which is smallish and guarded by three bunkers.

The final hole is also a par-5 - this one at 570 yards - that is as thought-provoking as it's beautiful. The challenge off the tee is to avoid the creek along the right of the landing area, a test complicated as the hole turns slightly to the starboard side. A lay-up results a short approach to a green resting next to a covered bridge, a flowing waterfall and the seemingly omniscient creek.

New for the 2013 season are Grizzly Ranch's "play and stay" packages utilizing the onsite Wolf Tree cabins. The two two-bedroom and one three-bedroom cabins offer luxurious accommodations and are the perfect way to spend a little extra time at Grizzly Ranch.

The winner of 11 "best-new" course awards and one of the top courses in California, Grizzly Ranch beguiles with shot variety, welcome elevation changes and just a tad of the treachery that often characterizes alpine golf. Cupp has done some magical things at Grizzly Ranch, and it's worth the trip to get in a round - or four or five.

For more information, see www.grizzlyranchgolfclub.com.
Steve Habel is a freelance writer contributing Cybergolf news stories, features, equipment and book reviews and personality profiles from his base in Central Texas. He also works as a contributing editor for Horns Illustrated magazine, a publication focusing on University of Texas sports, and is a contributing writer for Golfers' Guide and Golf Oklahoma magazine, Texas Links magazines and Golfers Guide. Habel's main blog (www.shotoverthegreen.blogspot.com) features news on golf and the Longhorns, and another (www.checkinginandplayingthrough.blogspot.com) chronicles his many travels, including playing more than 600 golf courses since 2008. Habel is a member of the Golf Writers Association of America and the Texas Golf Writers Association.