Several Mornings in Maine: A Down East Golfing Tour
By: Crai S. Bower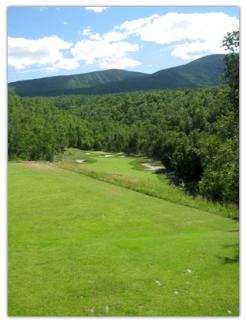 Photos of Sugarloaf by Crai Bower
It is 5 a.m. The summer sun hits my pillow, pushing me toward a Maine ritual as common for me as steamed lobster and black flies: early morning golf at Bath Country Club. I usually tee off at 5:30, just as the maintenance crew enters the parking lot. By 8 I've paid my greens fee and am driving back along Route 29 to Phippsburg, a town founded over 400 years ago. In six years of completing this routine, I've never once encountered displeasure about "sneaking on" in at dawn's early light.
Not that every story of Maine golf comes sanguine as a boiled seabug, (Mainer speak for lobsters). I've joined local threesomes who invite as much conversation as I'd expect from the granite outcroppings that shape the course. And a few courses, regardless of prestige, fastidiously guard their "members" tee times, making early golf difficult. Yet overall, golfing in Maine is fantastic, especially when you consider the state's other aesthetic virtues and that the top five courses in the state are within three hours of each other.

Samoset Resort Golf Club lends an ideal excuse to venture into the heart of mid-Coast Maine. The course stands as the state's top public coastal course; i.e., don't miss it. Samoset wastes no time bringing the ocean into play, as the 227-yard par-3 third requires a carry over Penobscot Bay to an elevated vernal amphitheater surrounded by a ring of coastal pines. The par-5, 503-yard fourth presents more risk-reward play, taking a left turn downhill to a well-bunkered peninsular green that appears to flow right out onto the Rockland Breakwater jetty.

Many of the other holes meander through wetlands, demanding accurate approaches from very soft fairways. Though the early holes offer impressive marine distraction, the 545-yard 14th is the hidden gem at Samoset. The apparently banal par-5 that involves two blind shots leads to a lovely little green that spills effortlessly into the sea.

Playing Samoset twice is enticing, but set aside time for visiting the Rockland-Camden area. Though the summer traffic crawls, due to local allure and drivers en route to Down East destinations, pausing in Camden to grab chowder and a lobster roll is essential.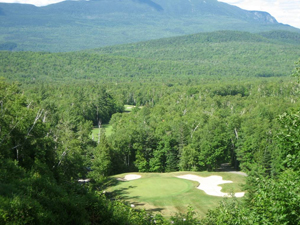 I leave my double soy chai at Zoot Café, where talk is of a great white shark sighting in Boothbay, 30 miles south, and stroll down narrow Main Street to Cappy's Chowder House for lunch. The sun appears briefly before retreating behind another ominous cloud.

After lunch, I meet my family and board the Heron, a 65-foot schooner built by captains Nigel Bower and Bonnie Schmidt. We tour the bay, passing the Indian Island Lighthouse, and watch the seals lounge on Robinson's Rock. Unfortunately, it's a stormy day so Captain "Twig" only unfurls the main and the jib. My seven- and three-year old boys delight in the tempest, slipping on the deck intentionally in imitation of their heroes on "The Deadliest Catch."

We're chilled as Alaskan crabbers when we enter Primo, one of those obscurely located, exceptional restaurants that usually appear when a top urban chef decides to eschew the city for simpler living. We "catch" an amazing "pan-roasted local wolf fish with a lobster-cardamom risotto-grilled baby artichokes and a preserved lemon sauce," and a few bottles of Oregon pinot noir (New England wine? uh, no).
The next day I play Brunswick Golf Club, a local favorite. Established in 1886, Brunswick is among the oldest courses in Maine, its fairways wind between mature balsa pines and the smell of balsam surrounds you. Though less challenging or majestic than Maine's premier courses, Brunswick is full of real Mainers, complete with stoic attitudes and missing "Rs." Several holes please this wilderness-loving golfer, especially the pair of front nine par-5s that mirror each other and the par-3 couple, both over water. The ninth, a 90-degree par-5, also crosses a pond as it heads steeply uphill to the historic clubhouse.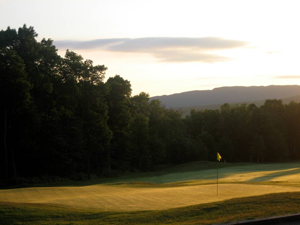 Quintessential wilderness golf awaits the visitor at Maine's one-two punch, Sugarloaf Golf Club and Sunday River Golf Club. I only have time to play one of these two revered courses, both are on Golf Digest's "100 Courses You Can Play" list. I chose Sugarloaf, about three hours from Portland, because another top-five track, Belgrade Lakes Golf Club, resides exactly halfway.

Belgrade Lakes, a Clive Clark design, begins with a 50-foot elevated tee that lures your eye away from the landing area and towards the forests and lakes in the distance. Though water comes into play on several holes, including the 174-yard par-3 fifth - which demands a full carry over the hazard, there are also intimidating dry streambeds of granite boulders. Belgrade Lakes is as fair a test as you will find anywhere and the vista that greets you as you walk the 18th fairway reveals why inland Maine is as stunning as the coast.

Sugarloaf Golf Club has received the consensus No. 1 rating in the state ever since Robert Trent Jones Jr. designed it in 1985. Famed for Jones's "String of Pearls," among his favorite holes in the world, the entire track leaves me breathless, and not simply because the course rises and falls with the severity of an Atlantic tide during a solstice moon.
Like Belgrade Lakes and then some, Sugarloaf leads you in search of breadcrumbs, only this time Hansel and Gretel have dispatched golf balls to the forest floor. The course, narrow and unforgiving, will frustrate the mid-handicapper who hasn't stowed a black bear's lair worth of balls in his bag. Shot-making is at a premium, as the turns and twists demand 3-woods off the tees as often as drivers. The 563-yard par-5 second serves as a prime example. One of two dual doglegs, a brook crosses the second-shot landing area. There are no mental gimmes on this 18.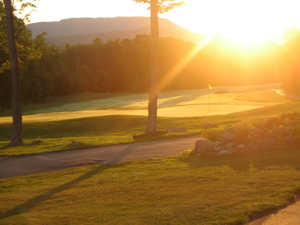 Bobby Jones wanted to run the first pearl, a 334-yard par-4 10th from its 100-foot-high precipice to a green tucked in behind the raging Carrabassett River. Environmental concerns left the green on the tee box side, but the drama of the hole lost nothing. The 216-yard par-3 11th does cross the water; it also climbs to a tee 13 stories high. One's drive hovers with the broad-winged hawks before lighting, hopefully, on the green. You won't have more fun on two holes anywhere. The remaining seven holes run with the river's current, many demanding carries. Mentally exhausting as Sugarloaf is, arrive early because a second round will be jumping up at you like a landlocked salmon.

I collect my kids from the putting green (there is a private club feel here in that junior golfers are encouraged to play), grab a snack in the new clubhouse and scurry off to watch the moose migrate through the bog behind the condo check-in center at the ski resort.

The next morning we head down the mountain toward home and the Kennebec River in Phippsburg. We pause at the Woodsman Café where Diane serves a no-frills Woodsman Breakfast including eggs, tea, hash browns and blueberry pancakes for six bucks. Locals and visitors alike step up and order, as running conversation spreads like forest dew.

Spending time with Mainers is one of the great sports of the region. Diane ribs strangers and regulars alike, all by name, since you order at the counter and she calls out your food.
Tomorrow morning, I'll head to Bath Country Club again, as the mist rises over the marsh carry on the 185-yard 16th. I'll make the usual turn onto Route 29, looking across the road to Bisson's Center Store, where the men whose families span many more than three Northwood generations already congregate on the store's steps, hot coffees in hand.
The Details

Bath Country Club
207.442.8411
www.skipworkplaygolf.com
Greens Fees: $30-45

Samoset Resort
207.594.1431
www.samosetrsort.com
Greens Fees: $45-110

Cappy's Chowder House
1 Main St. Camden
207.236.2254

Zoot Coffee
31 Elm Street, Camden

Heron Schooner
Rockport, Maine
207.236.8605
heron@midcoast.com
Afternoon sail rate: $36, Under 12 $18

Primo
2 S Main St, Rockland
207.596.0770
www.primorestaurant.com  

Belgrade Lakes Golf Club
207.495.4653
www.belgradelakesgolf.com
Greens Fees: $85-110

Sugarloaf/USA Golf Club
1.800.THE LOAF
www.sugarloaf.com
Greens Fees: $80-120

The Woodsman
Main St. (Route 27), Kingfield
207.265.2323 
Crai S. Bower publishes 50-plus articles a year in over 30 publications. He has written about golf in Alaska Airlines Magazine, Journey, Travesías and Travel.MSN.com, among others. He received the 2008 Northern Lights Award for Excellence in Canadian Travel Journalism. He contributes "Destination of the Month" for aaajourney.com and is the travel commentator for NPR affiliate, KUOW. For more details about Crai, visit www.FlowingStreamWriting.net.