Shadow Wood Country Club Recognized for Environmental Excellence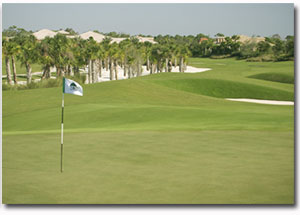 Shadow Wood Country Club in Bonita Springs, Fla., has been designated as a "Certified Audubon Cooperative Sanctuary" by the Audubon Cooperative Sanctuary System, the educational division of Audubon International. The golf course is the centerpiece of Shadow Wood, the traditional country club community in The Brooks, with two championship golf courses as well as a third course in Shadow Wood Preserve, the master-planned community in South Lee County being developed by The Bonita Bay Group.

Kenyon Kyle, CGCS, director of golf course operations, led the effort to obtain sanctuary status on the courses, which are being recognized for environmental stewardship by Audubon International. Shadow Wood Country Club is the 77th course in Florida and the 592nd in the world to receive the honor.

"Shadow Wood Country Club has shown a strong commitment to its environmental program. They are to be commended for their efforts to provide a sanctuary for wildlife on the golf course property," said Shawn Williams, staff ecologist for the New York-based Audubon Cooperative Sanctuary Programs. "To reach certification, courses must demonstrate that they are maintaining a high degree of environmental quality in a number of areas," explained Williams. These categories include: Environmental Planning, Wildlife & Habitat Management, Outreach and Education, Chemical Use Reduction and Safety, Water Conservation and Water Quality Management.
"The Brooks and Shadow Wood Preserve have been developed and maintained with a strong emphasis on environmental stewardship," said Kyle. "This certification recognizes the intelligent and dedicated team that I am fortunate to work with on a daily basis."
Assisting Kyle in obtaining sanctuary status were Trevor Brinkmeyer, Shadow Wood Golf Course superintendent, Eric Ruha, Shadow Wood Preserve superintendent, Monica Clauss, administrative assistant, and Juan Ramirez, I.P.M. specialist.
The Shadow Wood Sales Center is located at the entrance to Shadow Wood east of U.S. 41 on Coconut Road in The Brooks in Bonita Springs. For additional information, call Brooks Realty at 866/814-3863 toll-free or visit www.ShadowWood.com. The Shadow Wood Preserve Information & Sales Center is located at 7111 Shadow Creek Blvd., off U.S. 41 between Alico and Corkscrew roads. For additional information, call 866/814-3967 or visit www.ShadowWoodPreserve.com.