Shaq, the Track & a Few Who Hack
By: Elisa Gaudet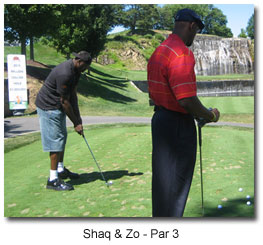 No doubt New York and New Yorkers have a love affair with sports. In the "City That Never Sleeps" there is plenty of love for golf.

Alonzo Morning and Shaquille O'Neal hosted a charity golf tournament at Trump National in Westchester, N.Y., to benefit Alonzo Morning Charities. Shaq, whose golf game has been more elusive than his baby Suri, finally stepped up to the tee. Shaq defends, "My swing is a work in progress."

Shaq, born and raised in Newark, N.J., and the son of an Army supply sergeant, has always been aware of the importance of charity work. The graduate of LSU was quick to respond to the victims of Hurricane Katrina. The 7'1'', 325 pound center has won four NBA championships and was part of the gold-medal-winning 1996 Olympics U.S. Men's Basketball team.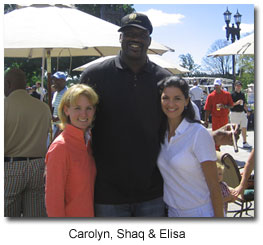 Although he now resides in Miami, he also has a home in Orlando where he counts Tiger Woods as his neighbor. Shaq has been called a lot of things: MVP, Shaq Diesel, Superman, M.D.E. (Most Dominant Ever), Officer O'Neal (after completing training to become a Miami Beach police officer), the Big Baryshnikov, an All Star and now he even has a golf title. When asked about his game, he said, "My swing is not as bad as Barkley's. However, they do call me Tiger 'No Good' Woods. I hit the ball 550 inches."

Between his basketball career and other activities, completing his MBA and becoming a police officer, little time is left for golf. But he feels once he retires he will spend more time golfing.

So how do you fit a giant with golf equipment? Shaq plays with custom Callaway clubs and has his own kind of golf shoe. Perhaps Foot Joy has not gotten around to making men's size 22 spikes yet. Chi Chi Rodriguez is his favorite golfer and golf, as with his many other accomplishments, is, in Shaq's words, "just adding pages to my encyclopedia."
At a different tournament across town, perhaps it was Fred Funk's clinic at the driving range that unleashed the greatness in these guys. Marquis Jet "Super Studs" foursome – including Apprentice contestant Kwame Jackson – were the winners in a celebrity tournament, adding yet another award to the display at their swank Manhattan office.
Saratoga Race Course in Saratoga Springs, N.Y., is a one of the most famous tracks in horse racing. Opened in 1863, the oval has been the site of the Travers Stakes since 1864, the oldest major thoroughbred horse race in the United States. Saratoga is widely considered the most beautiful race track in North America and was named among the "Top 20 Venues of the 20th Century" by Sports Illustrated. The Travers Stakes, now in its 138th year, is where thoroughbred racing's most elite meet to watch and bet on the "Sport of Kings" biggest names. The entire area is steeped in history and Victorian grandeur; after all it was the Battle of Saratoga which marked the turning point of the American Revolution.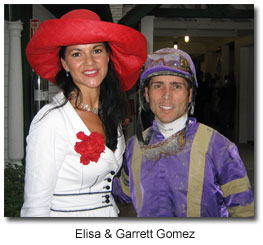 A regular at the Travers, Garrett Gomez is one of the top-10 jockeys in the country. It is hard to imagine, but this 5'4" 114-pound jockey plays to a 7 handicap. Sure enough, Gomez has game. He started golfing in 1990 because a lot of other jockeys, including good friend and fellow jockey Jerry Bailey, were into the sport. When asked about the correlation between golf and riding, Gomez believes it is the competitive spirit to strive for perfection in something that, no matter how hard you practice, you can never achieve perfection. "Even though we are small in stature, jockeys are fit, lean and athletic. Pound-for-pound we are the fittest athletes in the world," said Gomez.

His favorite course is Riviera and his dream foursome includes M.J, Tiger and his wife. Gomez's Triple Crown of golf: "August, Medina and Winged Foot . . . with Tiger."


Elisa Gaudet brings a wealth of entertainment and golf experience to Cybergolf. Elisa has spent the past several years in the golf industry in the U.S., Latin America and Spain. She worked for the PGA Tour and the Tour de las Americas before founding Executive Golf International, a golf marketing company that works with clients to develop strategies using golf as the medium. Often referred to as the Maria Bartiromo (a business analyst for CNBC) of golf, Elisa says: "Golf, as a marketing tool, has been around for years. It's amazing how many new ways companies can align their brand with the golf market to reach their target audience. Our goal is to create alliances and establish cross-border relations." Elisa also worked in the entertainment industry for over 10 years, including five in Los Angeles as a model and actress. She can be seen at many celebrity golf events and often gets the inside scoop from PGA Tour players. For more information about Elisa, visit her websites at www.onthelip.com or Executive Golf International www.execgolfintl.com.