Shattuck Golf Club To Improve Under New Management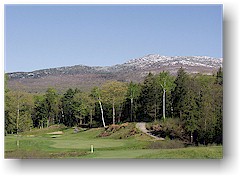 With 18 championship holes at the foot of Mount Monadnock in New Hampshire, Shattuck Golf Club was rated the "Best Course in the State" in 1996 by Golf Digest. Now under new management, the course has opened for the 2002 golf season.
Sterling Golf Management, Inc., a reputable golf course management company based in Newton, Mass., has taken over the facility and is moving toward purchasing the course. Top-notch personnel are already on the job to assure that all patrons are pleased with the operation. Superintendent Paul Lautner and his staff are working diligently on the maintenance of the course while Dean Helm, PGA golf professional, is responsible for managing the clubhouse and the club's instructional programs.
Sterling Golf Management (SGM) has been operating and maintaining courses in Massachusetts for 10 years. The facilities it manages include Newton Commonwealth Golf Course, Franklin Park Golf Course in Boston, Chelmsford Country Club, and Sassamon Trace Golf Course in Natick. SGM also supervises the maintenance programs at Brookline Golf Club at Putterham Meadows and the Fore Kicks Golf Club in Norfolk. The company's owner and president, Kevin F. Osgood, oversees the entire operation, making frequent site visits and hiring quality staff to provide the utmost in customer satisfaction and meticulous course conditions.
Concentrating his efforts on "controlled growth," where the company takes on only one or two golf courses a year, this will be Kevin's first venture into actually owning a course. "I was captivated by the majestic views and the natural beauty of the course design," he declared when asked why he chose to purchase Shattuck.
Designed by Brian Silva of the renowned architectural firm of Cornish, Silva and Mungeam, the course opened in 1991 and was rated by Golf Digest as the No. 1 public course in New Hampshire every year from 1993 to 1996. Since then, this gem of a target layout had lost almost all of its luster. But with a methodical maintenance program, the course will undergo a total reconditioning.
Plans are underway to improve playability by cutting brush to enhance sightlines on holes and to decrease the number of bunkers in non-strategic areas, without significantly altering the architect's original intention. Also planned are new tee complexes and the moving and rebuilding of at least two greens.
SGM's excellent reputation in the golf industry has rejuvenated interest in the course. Since word got out about Sterling Golf Management's involvement, the company has been inundated with calls from people who play the course two or three times a year.
Even though there is no major highway access to the area, the region has become a popular destination. With Mount Monadnock's extensive trail system, and a summit offering spectacular panoramas stetching into all six New England states, it's the second most-climbed mountain in the world after Mount Fuji in Japan. The area is also popular for its many lakes and abundance of small country inns and bed and breakfasts. Though Shattuck Golf Club will continue to attract tourists, it will rely mainly on golfers from Jaffrey and neighboring towns for much of its business.
Unlimited golf passes are available through a prepaid greens-fee program. The passes are being purchased by many regular course patrons. An added benefit of the passes is SGM's offer of two complimentary rounds of golf at three other courses it manages. Although the passes are selling fast, there's a feeling that some golfers may be waiting to see how things evolve at Shattuck before committing to a full season. But veterans of other SGM courses who've played Shattuck are thrilled with the arrangement. Not only do they know Sterling Golf will keep the course in great shape, but these Season Permit holders can enjoy two free rounds of golf at one of New Hampshire's best courses.
To keep abreast of what's happening at Shattuck Golf Club and other courses under Sterling Golf Management's umbrella, visit its website at http://www.sterlinggolf.com.