Shaughnessy - Arthur Vernon Macan's Crowning Achievement
By: Tony Dear
Give it waist-high rough and pencil-thin fairways, then bury elephants under the greens and make the surfaces harder than tooth enamel, and you can turn a pitch-and-putt reserved for total beginners into a monster with a slope of 155. Trick it up and scores will obviously soar. There's nothing difficult about making a golf course difficult.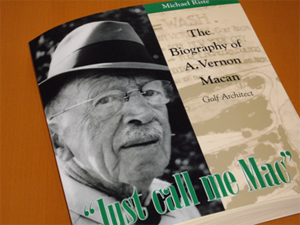 Cover of Mike Riste's new Book
Set 156 of the world's best players loose on the fifth shortest course on this year's PGA Tour, however, a course whose greens were systematically flattened 40-odd years ago, whose fairways are an exacting but not unreasonable 27 yards wide and which have been softened by a little early morning rain, and you can expect some pretty low scores. That those players, almost to a man, should compliment the course and yet average 73.04 on an ideal day for scoring such as what happened in the opening round of the 2011 Canadian Open ("this is as easy as it's going to play," said Rickie Fowler) speaks volumes for its design and set-up.

Woody Austin wasn't the only player singing Shaughnessy Golf and Country Club's praises Thursday. "It's nice in this day and age when the best guy doesn't win on a regular basis - it's usually the guy who putts his butt off that wins - to play a golf course where you know who is playing the best," he said after recording a 2-under 68 to finish the day a stroke behind leader Kris Blanks.

"This is the way a national open should be," said Ernie Els, who also shot 68. "It should be played as tough as possible on a very stern test." Els's compatriot and Masters champion, Charl Schwartzel, was similarly approving at his press conference on the eve of the Canadian Open. "It's just a difficult golf course," he said. "It's not tricked up, just difficult."

Shaughnessy, five miles south of downtown Vancouver at the mouth of the Fraser River, was Arthur Vernon Macan's crowning masterpiece. Irish by birth and a well-educated lawyer, Macan immigrated to British Columbia in 1912 and, with the knowledge he had gained from observing Ireland's great golf course construction boom in the first decade of the 20th Century, became a golf course architect working on 55 courses in British Columbia and across the border in Oregon and Washington State.
In his exhaustive biography of Macan, 20 years in the making and reviewed by Cybergolf's Dr. John Wagner (http://www.cybergolf.com/golf_news/the_biography_of_a_vernon_macan_just_call_me_mac_by_michael_riste), golf historian Michael Riste says Macan stuck rigidly to his 12-strong set of design principles throughout his 50-year career. "Mac's goal was to design courses that were fine tests of golf and, at the same time, full of character and originality," Riste says. "He always said that while knowledge, imagination and artistry all played a very important part in designing a course, the architect also needed to apply common, or horse, sense."

Macan was approached by Shaughnessy's board in 1957 to design a course on Musqueam Indian Band property. He had first inspected the site in 1925 but deemed it unsuitable as building there would have exceeded the club's budget. With sufficient funding now available for leasing the land, course construction and the designer's fee ($100 a day, plus living and traveling expenses), Macan spent two days trudging the 162 wooded acres with a notebook and contour map.

"Mac then retired to his favorite easy chair with a bottle of his country's finest to design Shaughnessy in his head," says Riste.

Construction of the new course did not come without difficulties, however. On the club's board was a gentleman named Dewitt Matthews who had moved to Vancouver from Toronto and was familiar with the designs of Canada's great architect Stanley Thompson. Matthews fancied himself a bit of a golf course guru and was quick to involve himself in Shaughnessy's creation from Day 1, a major inconvenience to Macan, whose second design principle stated that, "The architect should operate free from all interference from the members."
Matthews became so involved he managed to persuade the board to have the greens seeded with a new and untried mix formulated by a Lithuanian agronomist named Hermann Veertinow, who was based at the University of British Columbia. "This poa annua mix was totally untested," says Riste.

"Veertinow had absolutely no experience of golf or golf course maintenance and, perhaps not surprisingly, the greens were a disaster." Macan, who had always advocated the use of Merion B-27, a Kentucky bluegrass developed in the 1940s by the USGA Green Section and Department of Agriculture, had to reseed the greens in the first year.

"He almost quit because of Matthews," says Riste, who quotes Macan in his book as saying that Matthews set up as a sort of "Messiah from the East where all wise men come from." "He is a dangerous type," Macan added. "The less I have to do with him, as far as business is concerned, the better I will be pleased."

Eventually, the club lost patience with Matthews who, to Macan's delight, was relieved of his position on the board. The course was ready for play in 1958, and the club eventually moved from its original home between 33rd and 37th Ave on Oak Street, four miles east of the new location, in 1960.
Macan considered Shaughnessy his best work with exactly the right number and sequence of par-3s, -4s and -5s, as well as his best-ever set of greens. On the fifth hole, he believed he built something that bore comparison to a certain hole at Augusta National, a course he admired greatly. "This hole is not dissimilar to the 13th at the Masters where more tournaments have been won and lost than at any other hole on that adventurous course," he said.

Macan had adhered to his principles as closely as possible, and in observing Principle No. 8 in particular - "The center of the fairway is not necessarily the correct place for the tee shot to finish. The design of the hole must give an advantage to the player who places his tee shot in the correct position on the left or right side of the fairway" - he had built the region's first central fairway bunkers.

"A bunker in the middle of the fairway 250 yards from the tee will give the more powerful professional something to think about, while weaker players and women will not be able to reach it," Macan wrote shortly after the course opened. "The Old Course at St Andrews is plastered with central trapping. They invariably accentuate the need of accurate placement of the tee shot, and increase the necessity of using your head as well as your clubs."
Riste relates that Ben Hogan's clinical conquering of the sixth hole at Carnoustie in the 1953 Open Championship, when he had ripped his drive to the left of the fairway bunkers and walked off the green with a birdie in each round, had a profound effect on Macan. "He liked the idea of placing fairway bunkers such that good players could take the narrower line off the tee to give themselves a big advantage," says Riste.

But no matter how highly Macan rated his course, or how willing he was to offer an explanation for some of its more unconventional elements, Shaughnessy proved controversial from the beginning. The fairway bunkers weren't terribly popular, and the greens' major contouring, as well as the occasional front-to-back slope, came in for a good deal of criticism.

"He was a bump-and-run player," says Riste. "But the members weren't. They played the game through the air and liked to see the green hold their lofted approach shots. Macan thought that took the adventure out of the shot, and made it too much like a mechanical operation. The result became a mathematical certainty, he said."

The members remained unconvinced, however, and immediately after Macan's death in 1964 they hired Geoffrey Cornish to develop a long-term plan for the course. "The members wanted to make changes but, I think out of respect for Macan, they didn't do anything until after he had died," says Riste. "Remember, Mac was the secretary of the Pacific Northwest Golf Association (PNGA), a former B.C., Washington and PNGA Amateur champion, and was very well-known and admired in the Pacific Northwest."

Nothing changed before the Canadian Open came to Shaughnessy in 1966, however. Sadly, because the tournament came two years after his death, Macan didn't get to hear what the professionals thought of the course, but that's probably just as well as they really didn't like it. In fact, the players complained bitterly about the course, saying the fairway bunkers were ill-positioned and the greens too severe. Don Massengale won the tournament shooting four rounds of 70 to beat Chi Chi Rodriguez by three strokes. They were the only two players under par.
"The pros were used to playing in Arizona, California and Florida where the courses usually had much more width and bigger and flatter greens," says Riste. "They didn't see many courses like Shaughnessy."

The professionals' reaction was the final straw for the club, which bought in Norman Woods, who had worked for Stanley Thompson but who Macan had regarded as nothing more than a construction foreman, to build flatter greens and take the fairway bunkers out. Woods built 13 new greens in roughly the same positions as the originals, removed the fairway bunkers and added new elevated tees.

Macan's routing remained intact, however, and it is for this reason that Riste believes he would actually be fairly happy were he to see the course today. "The routing and length of the holes are pretty much the same, and many of the original bunkers are still there," says Riste. "Yes, the greens are much flatter, and he'd obviously like to see the central fairway bunkers put back. But Mac would understand about the greens needing to change. When he built them, greens were very slow so you could put in a few wild contours. But as the surfaces got faster, greens obviously needed to get flatter."

As for the tees, Riste says that when Macan built the course, tee boxes were cut with gang-mowers, which meant they had to be built a certain way. If he'd had the sort of tee-cutting mowers that are available today, Riste is certain Macan would have built the same type of tees as Woods.

Despite the changes, Riste thinks that when PGA Tour players compliment the course this week (as they did in 2005 - the last time the Canadian Open came to Shaughnessy), they are paying that compliment not only to course superintendent Robert Barr but also to Macan, albeit subconsciously.

"It's never too late for a designer to be recognized as one of the best," says Riste. "Robert Trent Jones said Macan would have been as prominent an architect as Donald Ross, Alister Mackenzie and Stanley Thompson had he worked on the East Coast. Maybe this week, he'll get his due."
Tony Dear is an Englishman living in Bellingham, Wash. In the early 1990s he was a member of the Liverpool University golf team which played its home matches at Royal Liverpool GC. Easy access to Hoylake made it extremely difficult for him to focus on Politics, his chosen major. After leaving Liverpool, he worked as a golf instructor at a club just south of London where he also made a futile attempt at becoming a 'player.' He moved into writing when it became abundantly clear he had no business playing the game for a living. A one-time golf correspondent of the New York Sun, Tony is a member of the Golf Writers Association of America, the Pacific Northwest Golf Media Association and the Golf Travel Writers Association. He is a multi-award winning journalist, and edits his own web site at www.bellinghamgolfer.com.