Shim Wins U.S. Junior Amateur
By: Rob Duca
There were two stars that dominated this year's U.S. Junior Amateur Championship. The first was 17-year-old South Korean Andy Hyeon Bo Shim, now living in Duluth. Ga., who pulled off the greatest final-day comeback in tournament history. The second was the nine-year-old Golf Club of New England course, a diabolical design of 7,175 yards in Stratham, N.H., where disaster lay in wait on virtually every shot.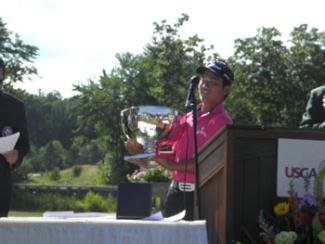 Andy Hyeon Bo Shim Accepts U.S. Junior Trophy
Shim, a relatively unknown junior who did not have a particularly high ranking and whose biggest previous victory was the Georgia State Junior, stunned the heavily favored Jim Liu in the 36-hole final by erasing a five-hole deficit in the afternoon round. The turnaround was especially shocking because it came against Liu, who was playing in his fourth U.S. Junior Am and looking to join Tiger Woods and Jordan Spieth as the only multiple winners of the championship in its 65-year history.

Liu had won the 2010 Junior Am at age 14, surpassing Woods as the youngest-ever victor. He had been the dominant player all week, sharing medalist honors with Shintaro Ban of San Jose, Calif., and Nicolas Echavarria of Colombia and winning his first five matches with relative ease. The Junior Am, like the U.S. Amateur, is a grind, with two rounds of stroke-play qualifying and then demanding players win six match-play bouts over four days - including a 36-hole final - in order to hoist the trophy.

Liu hadn't won a competition of any kind in two years, but when he took a five-hole lead after the opening 18 the only question in most observers' minds was when he would secure the win. None of his matches had reached the final green, and this one didn't figure to, either.
But it was a week of upsets, with many prominent names falling by the wayside. Beau Hossler, the 17-year-old who led last month's U.S. Open midway through the third round, was eliminated by Andrej Bevins of Elk Grove, Calif., in the third round of match play; a three-putt from four feet served as his defining moment of the week. Last year's runner-up, Chelso Barrett of nearby Keene, N.H., missed qualifying for match play by a stroke after triple-bogeying the 16th hole in the second round. Andy Zhang, the 14-year-old from the People's Republic of China who was the youngest qualifier in U.S. Open history this year, headed home following the first round of match play.

Liu became the final victim in what was something of a David vs. Goliath final. Shim has only been in the United States for three years. He moved to Georgia for the golfing opportunities. His father, Jae Fil, has been his only coach. He didn't even begin playing golf until age 9.

His comeback began on the first tee of the afternoon round when Liu, who has been working on swing changes, hooked his drive into the woods. The resulting bogey sliced Shim's deficit to four holes. And Liu's problems off the tee were only beginning. He missed the fairway left on the first four holes, and then drove it so far left on the fifth that no one could find it. He wound up shooting 5-over 41 on the outward nine.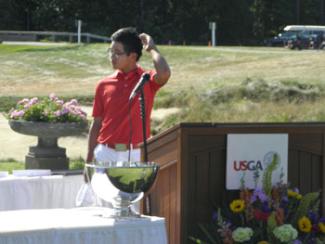 A Dazed Jim Liu
Meanwhile, Shim was doing everything right. He birdied the third hole and then drove the green on the 287-yard fourth, making a 10-foot putt for eagle. Four straight pars followed by a 30-foot birdie effort on the ninth completed a front-side 32 and allowed him to win seven of nine holes. He also won the 10th with a 15-foot birdie to go 3-up. By that point, even Liu, his shoulders slumped, knew it was over. It officially ended with a 4 & 3 triumph for Shim.

Shim certainly attracted the attention of college coaches during the week, which wouldn't be difficult considering more than 100 were patrolling the fairways seeking prospects. And they were easy to spot, with each outfitted in their school's particular colors. Coaches from big-time programs like Texas, Stanford, LSU, Arizona State and Florida shared the course with those from Liberty University, Clarion University and Keenesaw State. But because Shim is home-schooled and lacks high-school credits, college is currently on the back burner. Besides, as he pointed out, "I like golf more than school."
Which brings us back to the Golf Club of New England course: It was the first time the USGA has come to New Hampshire, and it selected an Arnold Palmer-designed layout that was brutally difficult. Nearly every hole includes a forced carry over some sort of hazard, whether off the tee or on the approach to a green. Thick fescue guards the narrow, rolling fairways and frames many of the bunkers, while dramatic elevation changes make club selection problematic.

Many matches were decided at the memorable 17th, a slightly downhill par-3 of 187 yards. From the tee, the slender green looks like a pencil, and players had to take a deep breath before hitting a shot that had to reach a target fronted by water and a steep rock-faced embankment; too much club, and a pair of back bunkers awaited.
There are similar hazards to be negotiated on seven of the final nine holes, creating all sorts of drama and intrigue.

Weather also played a role during the earlier portion of the week. Oppressive humidity and temperatures that nearly reached triple digits were the story during stroke-play qualifying. That made the performance of Joo-Young Lee of Hilliard, Ohio, especially impressive. Lee has been battling mononucleosis for three months and endured severe cramps during his third-round match, which he somehow managed to win.

"I honestly don't know how I did it," Lee said afterward. "What's in orange juice, vitamin C? I drank a lot of that stuff."

There were other stories that can only happen in junior golf. Vincent Whaley of McKinney, Texas, and Nicolo Galletti of Pleasanton, Calif., didn't know each other before coming to New Hampshire. By the time they met in a third-round match they had become friends. So they made a bet: the loser would caddie for the winner in the quarterfinals. After being defeated 2 & 1, Whaley happily lugged Galletti's bag and helped him advance into the semifinals.
Of course, Shim's comeback was the biggest story. Or maybe it was Liu's collapse. Whatever your outlook, the Granite State's first USGA championship will be long remembered.

For complete scoring, visit www.usga.org.
Rob Duca is an award-winning sports columnist who wrote for the Cape Cod Times for 25 years, covering golf, the Boston Red Sox, the Boston Celtics and the Boston Bruins. He is now managing editor of Golf & Leisure Cape Cod magazine and has written for a variety of other publications, including Sports Illustrated, the Boston Globe, Yankee magazine and Cape Cod Life.