Shooting Stars: Club Pros Like Kevin Roman Keep PGA Spirit Alive
By: Jay Flemma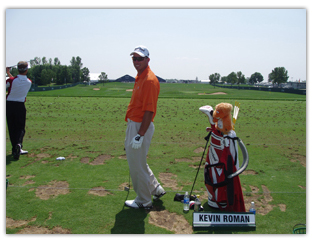 Kevin Roman on the Practice Tee
You have to admire the PGA of America for letting 20 club professionals play in the final major of the year. Such altruism recalls the glory of the NCAA Championship where every conference champion got an automatic bid and then - surprise! - a tiny "directional" school topples mighty Basketball U. in an upset for the ages. Similarly, the club pros provide exciting moments on one of golf's grandest stages, the PGA Championship.
"The club pros are the backbone of the profession and the sport," said Philadelphia sports writer Mike Kern. "Remember, if Tom Watson wasn't on tour he'd be a club pro. It makes just as much sense to have them in the PGA field as it does to have the qualifiers that make it into the U.S. Open field," he concludes earnestly. "They bring a down-home spirit to the tournament that we don't see any other time of the year.

Kelly Elbin, director of communications for the PGA of America agrees. "Not only are many of the PGA club professionals outstanding players, players that are experts that deserve a chance to showcase their outstanding talent, they maintain their excellence as players while juggling a huge obligation to their members. By qualifying for a major championship, their members live vicariously through them, and share in the joy the players feel. It's a great honor that the player, members, and community can get behind and celebrate with great pride."

Kevin Roman, head pro at Cherokee Town and Country Club in Atlanta, has not one but two communities celebrating his remarkable success in qualifying for the year's final major. Not only is the membership of Cherokee celebrating his achievement proudly and publicly, but his childhood hometown of Utica, tucked cozily in the snowy Mohawk valley of central New York, has awakened, and is gathering in homes, restaurants, bars and clubhouses to cheer on their homegrown favorite.

"It's been in all the papers, from Syracuse to Albany, and every club - private and public - has been buzzing about it," exclaimed Theresa Stennato, a public golfer from Utica. "You can bet that when we see him on the telecast, the city will ring with the cheering. They'll hear us all the way to Winged Foot."
Roman's story is one that any player growing up in every small town across the country can rally behind. He taught himself golf as a teen at Twin Ponds Golf and Country Club, a Utica -area muni that would make Caddyshack's "Bushwood" look like Oakmont. With a set of clubs, inestimable drive and the fearlessness to make a dream come true, Roman became the greatest golf prodigy the region has seen in a half-century.

Even with no formal training, no coach, a short season and no practice because of many months of terrible winter weather, Roman quickly grew into the best player in central New York had seen since Ed Furgol rose to prominence in the 1950s. Cut to 20 years later and, after surviving a playoff at Twin Warriors Golf Club, Roman is playing practice rounds with major champions.

"From the day I met him, I knew Kevin Roman was different. He had the drive, talent and fearlessness to succeed as a pro golfer," said a visibly impressed Hank Furgol, Roman's former boss at Utica's Valley View Golf and Country Club. "Kevin won the Utica City Amateur as a 17-year-old, a junior golfer," explained Furgol. "His poise and confidence were only matched by his ability and his work ethic. Other kids practiced, but Kevin figured out how to get better and better."

Furgol knows a thing or two about scouting young talent. He's the nephew of Ed Furgol, the 1954 U.S. Open winner, and the son of well-loved pro Hank Furgol Sr., a kindly, generous man who ministered Utica public golfers' swings with the same reverence and patience as a devout priest would with a penitent. Roman, a wavy-haired blond with a fearless attitude and no-nonsense approach to practice, was one of Furgol's favorites because he was a student of the game in every way.
"I actually taught myself the game from books," Roman reflected. "I was looking for something to do one summer and was really impressed with the story of Ben Hogan. Here's a guy who was nearly killed in a terrible car crash, but not only survives but comes back and wins majors."

Roman was downright mesmerized by Hogan, (and to a lesser extent Bobby Jones), and bought every book by and about "The Iceman" he could find. "I love reading the stories from golf history about Hogan and Jones. Not only were they great fun - but they also taught me the swing. I read Hogan's book on the Five Fundamentals, and it's been my guide ever since. I started reading it when I was 13 or 14, and it was the only instruction - formal or informal - that I had for years." So Roman would study late into the night, practice ceaselessly on the range and then go and play until he couldn't see the ball any more.

Those were heady, halcyon days. They were days when junior leagues were scribbled on sheets of legal paper and posted with thumbtacks on corkboards in grimy, ramshackle starter's huts; where adults in dirty shirts played gin rummy in between snarling at players who dared disturb the game for such niceties as paying for a day ticket to play the course. The AJGA Tour didn't exist, there were no organized golf camps, and the $100,000 a year Leadbetter Golf Academy was over a decade away. Roman grew up the old-fashioned way, he earned it, rising through the ranks of munis and goat tracks.

"I would just go out and practice, working on being fundamentally sound in each of the five core positions - halfway back, top of swing, halfway down, impact, and halfway through - and then I'll see which one might be out of tune and I'll readjust and hit more balls."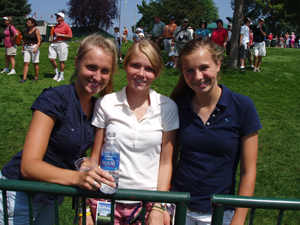 Three Young Kevin Roman Fans
That's a grit and determination Hogan would have admired. He also would have been grateful that his book accomplished exactly what it was written to do - produce a player with rock-solid ball-striking, steely tenacity and mental toughness.

At 17, Roman won the Utica City Amateur as a junior golfer. He won the title three more times in four years before turning pro in 1990. Big win continued to follow big win. He was medalist in four local U.S. Open qualifiers, won two PGA Assistant's Championships, and won the Central New York PGA Open.

His watershed moment came when he qualified for the 1993 U.S. Open at Baltusrol. "That's where I hit the biggest shot of my life," Roman recalls fondly. "We were at Old Oaks Country Club in Purchase, N.Y. It's an old Tillinghast design - he's my favorite architect by the way, he and Pete Dye - and I had carded a 71-70."

Roman found himself in a sudden-death playoff: 13 players for six spots. "We went off 7 and then 6. I went in the second wave," he recalls. "I hit the fairway off the tee, then hit a 6-iron on the green, and was 50 feet away, but I was on same line that I was on earlier in the day."

What happened next was that moment of glory every kid dreams about from the time he was playing for hot dogs and Cokes. With one smooth stroke - with that simple mantra of trust your line - Roman nailed it: center-cut, front-door, game over.
"I started running across the green while the ball was halfway there because I knew I made it. I was going to the Open," he exclaimed joyfully. "That shot dictated the rest of the rest of my life."

It was an end to one part of his life because Roman achieved a life-long dream, but it was also a beginning. Playing in the U.S. Open legitimized his career even more than his already sterling amateur record ever could. Now the top clubs in the country were aware of his talent, his drive and his successes. "Not only did I get to play in the biggest tournament - why I play golf in the first place - but it opened a lot of doors for me. It fulfilled my competitive desire and also helped me grow into the role of a PGA professional. The two work side by side. Te better a player I become, the better a professional I become. Being a PGA professional means succeeding in both of those roles - player and teacher."

Roman had a rough time at the Baltusrol Open. He had a lot of fun: he played practice rounds with defending champion Tom Kite and eventual British open winner Justin Leonard, but the frenetic pace of the national championship drained him and he scored poorly, 81-84. Still, he learned an important lesson about tournament preparation, and has spent this week at Hazeltine more conservatively, despite the demands made on his time by his members, who are celebrating with cookouts and parties. "I'm gonna treat it like I was playing at home. This time I'll pace myself and not wear myself down."
Roman is still practicing diligently though. He hit the range each day, even after short loops around Hazeltine with Camilo Villagas, reigning Masters champion Angel Cabrera, 2003 U.S. Open Champion Jim Furyk, and 2007 U.S. Open champion Geoff Ogilvy. He does the "circle of death" putting drill, trying to make 100 three-footers in a row. "I do it every day before I got out and play," he explains. "It usually takes me 20 minutes, but a few days ago it took me forever. I'd get to 70 and miss," he says, a tight-lipped grimace on his face.

It's that grit and determination that helps him work out the problems with his game on his own. He's never had a coach, not even now. "I grew up a one-plane swinger. It gave me strict fundamentals; happily I've eliminated searching for things to do in the golf swing, and keep it simple. The most important thing between now and then is I no longer hope to play well, I expect to play well."

'It's so hard for a club pro, especially one that's not on the circuit. It can be intimidating," Hank Furgol explained. "But Kevin is a 41-year-old kid - he's relaxed and comfortable out there. He loves it. He has a good time, laughs, doesn't get nervous, and has raw talent. He's a tenacious competitor. He'll never take a loss standing still. He'd fight you to the end, and usually come back and beat you."

That's the kind of attitude that catapulted Roman to the top. Spirit is three-fourths of the remedy, and that fearless, never-give-up attitude helped him survive yet another playoff to get into the PGA Championship, this time five players for the last five spots at Hazeltine. And while the clubs pros have had only limited success in this tournament since the PGA Tour split from the PGA of America in 1968, staring down Tiger and the rest of the touring pros is a job few were built for; Roman is one of the few. After all, Hogan trained him. The Iceman would be proud.
The ABCs of Kevin - Did you Know?

* He was valedictorian of his high school class at New York Mills and a basketball star who averaged 30 points a game. As they play eight-minute quarters, that's almost a point a minute.
* His three favorite course are Sawgrass, Kiawah Island (Ocean Course), and Bethpage Black. "Day in and day out Sawgrass plays different due to the wind. It never will bore you and it will always will challenge you. Plus, I love the golf atmosphere there. When you drive in you know you are there for golf. The first time I played there was about 1990. I played pretty well, I shot low-70s.

"As for Kiawah, I like to be tortured; I want to play the hardest courses I can find. It doesn't bother me if I shoot 90, if that's the best I can do. It tested every possible shot, my imagination, and my mental toughness. It made me think all the way around. Also, I love heavy winds. It makes me focus better. I play better in tougher conditions. I'm more target-oriented from a visual standpoint. That's why Twin Warriors was so tough. There were no targets to hit at in the desert.

"Bethpage Black is great: straightforward, good solid golf, no tricks, just golf your ball. I like No. 5. The hole feels like it goes two ways in one hole. The tees shot plays fade off the tee, draw into the green. I love alternating shot patterns and I guess that's why I like Sawgrass, because so many holes do that - like 14 and 15: tee shot one way, approach the other."

* Kevin's caddie now is Matt Klejka, who caddied for him in local Open qualifiers in Atlanta.

* His best official round was 62 at Cherokee, the course record, but he had unofficial scores of 60 at tiny Twin Ponds, the New York muni where he grew up.

* He's played in five BC Opens, but never made the cut. Once he missed by one.

* He and his wife Donna have two dogs - Papillons named Peaches and Pebbles. Tease him about this. Those are names for gerbils.


Since launching his first golf writing website in 2004, http://www.jayflemma.thegolfspace.com, Jay Flemma's comparative analysis of golf designs and knowledge of golf course architecture and golf travel have garnered wide industry respect. In researching his book on America's great public golf courses (and whether they're worth the money), Jay, an associate editor of Cybergolf, has played over 220 nationally ranked public golf courses in 37 different states. Jay has played about 1,649,000 yards of golf - or roughly 938 miles. His pieces on travel and architecture appear in Golf Observer (www.golfobserver.com), Cybergolf and other print magazines. When not researching golf courses for design, value and excitement, Jay is an entertainment, copyright, Internet and trademark lawyer and an Entertainment and Internet Law professor in Manhattan. His clients have been nominated for Grammy and Emmy awards, won a Sundance Film Festival Best Director award, performed on stage and screen, and designed pop art for museums and collectors. Jay lives in Forest Hills, N.Y., and is fiercely loyal to his alma maters, Deerfield Academy in Massachusetts and Trinity College in Connecticut.