Silva's Red Tail Still the Best Public Track in Massachusetts
By: Jay Flemma
Everyone from Bostonians to visitors in Bean Town for the 2010 Deutsche Bank Championship loves "Boston's Favorite Son of Golf," architect Brian Silva, as much a hero to locals as knuckle-baller Tim Wakefield.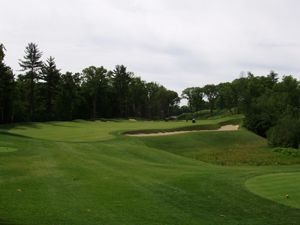 Red Tail's 1st Hole
In the past 10 years golf in the greater Boston area has flourished. Hometown architect Silva is one important reason why. He not only builds interesting designs and has proven himself as a master of several different genres of course design, Silva focuses on tenets championed by C.B. Macdonald, Seth Raynor, and Charles "Steamshovel" Banks. His greatest public work is still Red Tail Golf Club in Devens, just 30 miles from downtown Boston and a mere drive and 8-iron from Lexington and Concord, where valiant minutemen fought and died to shape the destiny of the free world.

Free spirits still abound as Silva has created a bold modern design inimitably Silva, yet combining strategic waste bunkering and hazards to create a neo-classic masterpiece. Most importantly, at $95 in high season and with $50 twilight rates, it's not only the best public course in the state, but affordable as well.

Opened in 2003 to widespread acclaim, every hole is memorable - there are no weak holes or holes that seem forced or over the top. Contoured, slick slivers of greens guarded by fiendish drop-offs into Donald Ross-like collection areas defend par well on the short par fours and frequently feature what one Red Tail course ranger described as "Sunday pin placements every day." Finally, as every round at a Silva course is also a lesson in classical golf architecture features, players will negotiate punchbowl greens, saddle greens, modified Redans and hazards turned perpendicular to the line of play in the manner of Silva's idols, Seth Raynor and C. B. Macdonald.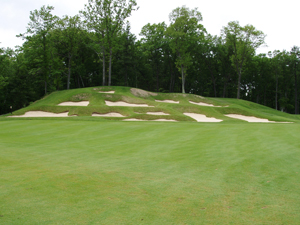 The Mighty Green Monster Bunker Complex
While many architects wish to offer an easy warm-up at the first, Red Tail demands crisp contact and concentration on the first drive of the day - an intimidating cross-bunker cuts obliquely across the fairway and must be carried to reach the landing area. Further, the shot plays over a natural hump, adding elevation to the challenge. Fade off the tee, but draw into the green, the player is required to exact various shot shapes right out of the gate.

The second features an original Silva design signature, the "Green Monster bunker," a veritable pancake stack of multi-layered bunkers guarding the left side of the landing area of this dogleg-right par-5. (Two other examples of a mountain-like Green Monster stack of bunkers on top of one another are found at the par-5 ninth at Links at Hiawatha Landing and the par-5 fourth at Silva's private version of Red Tail, Black Rock Golf Club in nearby Hingham.)

The third is a modified Redan par-3 which plays uphill to a deep green. Take enough club to reach it as the fairway slopes severely to the right and shots short or right will result in an awkward uphill 40 yard pitch to the putting surface. Players can take advantage of Silva's intentionally designed "kick slope" short and left of the green to bounce the ball onto the green and use the hole's natural contours to feed the ball to the hole. (There is another "secret slope" on the left side of the seventh green as well. "Shh…don't let the secret out too much," Silva says with a grin).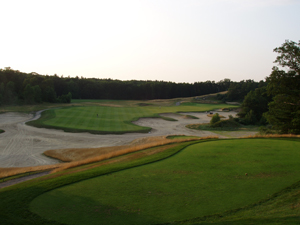 The 17th at Red Tail, Annually Boston's Favorite
Silva loves punchbowl greens (see also No. 11 at Hiawatha Landing) and gives us two at Red Tail. The first is at the uphill, yet reachable par-5 fourth. Better players can use the green's natural contours to spin the ball to the day's hole location for an eagle try.

The par-5 10th is listed as the hardest hole on the card and may live up to its reputation. Bending hard left, climbing uphill all the way and lined by trees on both sides that make the playing area particularly narrow, it's the only time you feel the trees might encroach a bit close to the playing field.

The beautiful par-3 11th plays from an elevated tee to a raised green set at the base of a steep hill. Shots short or right will either find a penal bunker or require a 40-50 yard uphill chip to a small green. Again, Silva leaves one side clear for short-knockers to bump and run their way safely to the green.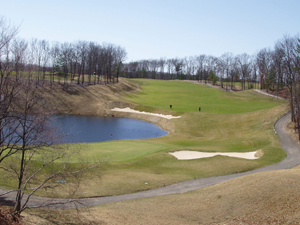 Red Tail's Closing Hole
The finish is creative and memorable. After a beautiful drive from an elevated tee at the 400 yard 14th, the approach is uphill to a saddle green, more steeply sloped than its front side sister. No. 17 is the most popular hole with the players. From an elevated tee box, the cape-style hole begs for a long drive cutting the corner on this dogleg-right. However, shots short or right find a waste bunker that looks straight out of Pine Valley or World Woods. "I deliberately made the contours round and did not provide a target off the tee because the challenge there is for the player to choose the right line" notes Silva. The hole is a strategic masterpiece and has been repeatedly voted the best hole in the greater Boston area.

Finally, the 18th is a reachable par-5 for the long hitter who can carry the crest of a hill, but the second shot will be played from an uneven lie (at best) to a green fronted by water. The entire fairway slopes toward the hazard, so even third shot approaches with wedges need to be precise. A front-right pin position often suckers in greedy, imprudent players and could hang a round-crushing big number if played carelessly.
Players of all skill levels equally love Red Tail for its beauty, fairness and inexpensive price tag. While swinging a "speed stick" in the parking lot of Pinehurst at the 2005 U.S. Open, Boston pro James Driscoll took time to offer public golf travel tips. "I played Red Tail in the New England Amateur one year and all the players loved it. It's more modern than many of the old Donald Ross courses and it's in great condition. I especially liked its cool design features. It has great character."

A registered member of the Audubon International Signature Cooperative Sanctuary, Red Tail features diverse flora and fauna, including deer and the red-tail hawks for which the course takes its name. Ever the historians, locals are as equally proud of the site's heritage as the former site of the Fort Devens military base as they are of the rich colonial pedigree. General George Patton taught tank maneuvers on course land and before construction was allowed to start, the course was thoroughly searched for old munitions. Several old shells and hand grenades turned up. In fact, the storied history of the site and the need to protect the environment actually had a positive affect on Silva's design as he was not allowed to remove the slab foundations of the old fort housings, so holes Nos. 2 though 8 and 10 were built over the top of these foundations.
Luckily for Silva, he was able to use the natural flow the fairway followed over these subterranean structures to fit the shot shaping requirements he had designed for the holes. Two great examples are the draw receptive fairways at 8 and 10. "How about that!" Silva beams. "I was forced into certain parameters by site considerations and environmental limitations and it came out great. I probably would not have imagined that hole had the outside factors not been imposed on my work."
For more information, visit www.redtailgolf.net.


Since launching his first golf writing website in 2004, http://www.jayflemma.thegolfspace.com, Jay Flemma's comparative analysis of golf designs and knowledge of golf course architecture and golf travel have garnered wide industry respect. In researching his book on America's great public golf courses (and whether they're worth the money), Jay, an associate editor of Cybergolf, has played over 220 nationally ranked public golf courses in 37 different states. Jay has played about 1,649,000 yards of golf - or roughly 938 miles. His pieces on travel and architecture appear in Golf Observer (www.golfobserver.com), Cybergolf and other print magazines. When not researching golf courses for design, value and excitement, Jay is an entertainment, copyright, Internet and trademark lawyer and an Entertainment and Internet Law professor in Manhattan. His clients have been nominated for Grammy and Emmy awards, won a Sundance Film Festival Best Director award, performed on stage and screen, and designed pop art for museums and collectors. Jay lives in Forest Hills, N.Y., and is fiercely loyal to his alma maters, Deerfield Academy in Massachusetts and Trinity College in Connecticut.