Silva's Remodeled Deerwood Meets the Test of Members & Mother Nature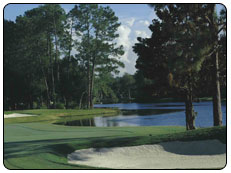 Hurricane Frances blew through northern Florida the week of September 6, and Rocky Staples, general manager of Deerwood Country Club in Jacksonville, couldn't believe his eyes. "I rode the course on Wednesday night [Sept. 8] and there wasn't a drop of standing water anywhere," Staples said. "Not even in the catch basins! We had 10 inches of rain in 48 hours, and we could've played the course right then. A year ago, we had to close after rains that exceeded one inch."
This was music to the ears of architect Brian Silva, whose complete make-over of Deerwood CC had been unveiled to members on September 3. Drainage was a primary focus of Silva's work [good thing, because another serious storm, Ivan, is expected hit Jacksonville the week of September 13].
But Staples and his membership are even more enamored of the golf course itself. Not one blade of grass survived Silva's renovation. With 18 new greens, 18 new tee complexes, and an entirely new bunkering scheme, Deerwood is – for all intents and purposes – a brand-new golf course.
"The work Brian did here was spectacular," said Staples. "We sold the first three tee times to our members at auction. They absolutely love it. There are not enough superlatives to describe the job Brian did here. This a completely new golf course and I've not heard a single negative comment."
Silva's extensive restoration work in Florida – at storied venues like Seminole in North Palm Beach, Mountain Lake Club in Lake Wales, and The Everglades Club in Palm Beach – peg him as one of the nation's leading interpreters of classic course design. But the refurbishment exercise at Deerwood proved far more sweeping than interpretive.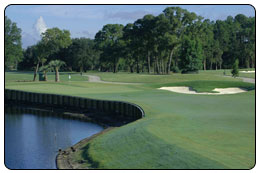 "At Deerwood, we 'renovated' with a capital R," says Silva, a partner with Uxbridge, Mass.-based Cornish, Silva & Mungeam. "With all new greens, tees, turf, irrigation and drainage, we essentially created a brand-new golf course within the previous corridors of play. But we've also made far better strategic and aesthetic use of this property, especially its existing water features.
"This was the first gated community in Florida and, in terms of the housing components, it's one of the most comfortable, spacious real-estate master plans I've seen. However, the original course was built on a limited budget. The club felt quite strongly that a 'new' course – one that took optimum advantage of what remains an excellent piece of North Florida terrain – would position the club best in a highly competitive market."
Deerwood typifies an emerging trend in the Southeast whereby established facilities, most of them private, "tear down" completely and start from scratch by building new golf courses, with new designers, and newly "branded" products. At Deerwood, Silva tore down and completely made over a 1961 George Cobb layout. The project was akin to Silva's work at yet another exclusive Florida club, Card Sound Golf Club in Key Largo, where the architect completely re-imagined and pumped healthy doses of vintage design sensibility into a 1960s-era golf course.
Working closely with longtime Deerwood superintendent Dave Amirault, Stuart, Fla.-based TDI International broke ground on Jan. 5, 2004. The grand reopening festivities took place, right on schedule, over Labor Day weekend. The price tag: under $3 million.
"I have to admit, while I thought the site was nice when I first saw it, I realized during construction that I had under-appreciated its potential," Silva says. "In many areas, we hit beautifully clean sand that allowed us to shape and drain the course to a greater, more effective degree than we had anticipated."

The changes at Deerwood are so extensive, it's difficult to point to any one change – but the new 8th may be the most striking. The green on this par-3 was shifted some 30 yards to the left, transforming a drab hole into a short-but-thrilling par-3 with a putting surface perched at water's edge.

Silva is also proud of the new 7th, a par-5 that is reachable in two. "This is another hole where we moved the green closer to the water to create more drama," he says. "What's more, the new green has a lower, right-rear pin position that one can reach by playing off the roll through the center of the putting surface – a la the shot played to the left-rear pin on the 16th at Augusta National."

Silva has earned a national reputation for infusing his original course designs – Red Tail GC in Devens, Mass. (GOLF Magazine "Top 10 New Courses You Can Play" in 2002); Black Creek Club in Chattanooga, Tenn. (host to the 2005 USGA Mid-Amateur Championship) – with the visual and strategic trappings of classic design. Indeed, he was named GolfWorld magazine's Architect of the Year in 1999 for his work at two Massachusetts originals, Waverly Oaks and Cape Cod National, both of which ooze vintage sensibility.

Though it's technically a renovation, the Deerwood project is tantamount to original design. "We started over," Silva says flatly. "This is a new golf course from the first tee to the 18th green, and everything in between. New drainage scheme underlying the entire course. New irrigation system. The works.

"Overall, the course does what we set out to achieve: It can now be read from the tee – and it tells players something other than 'hit it down the middle.' When it reopened, folks familiar with the old design hardly recognized the place, which, from the club's perspective, was the whole point."

With original designs and course restorations underway from San Antonio to Boston, Chicago to Palm Beach, Cornish, Silva and Mungeam, Inc. is one of the nation's busiest course architecture firms. Two thousand and four also saw the re-opening of two more Silva redesign: Brookside Country Club in Canton, Ohio., and the Ross-designed Mountain Brook Club in Birmingham, Ala. He recently finished a restoration of Seth Raynor's Everglades Club in Palm Beach and will embark on a remake of San Antonio Country Club in 2005.

CSM's attention has also swung to Chicago where Silva's partner, Mark Mungeam, oversaw the renovation/preparation of the North Course at Olympia Fields Country Club for the 2003 U.S. Open; Mungeam's work continues there, on Olympia Field's South Course. On Chicago's North Side, Silva will break ground this year on a new upscale daily-fee in the suburb of Forest Preserve, on the bluffs above Lake Michigan.