Simple Twist of Fate Brings Ballyhack Golf Club to Life
By: Jay Flemma
Blame it all on a simple twist of fate - Bob Dylan

I couldn't possibly have been going in the right direction, could I? I had gotten off the exit ramp for downtown Roanoke, Va., but after passing a modest skyline I got diverted into duplexes, the crumbling back lots of an industrial factory and power plant, and finally into dusty, sleepy streets that time seemingly passed by. Pass the auto parts store and the hippie coffee shop, and hang a left at the old church; when I get those for directions, I know I'm in trouble, because I get lost in my own office.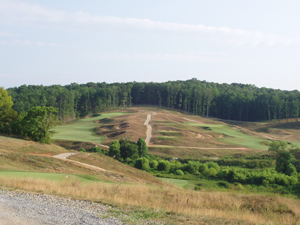 Left To Right - 1st Hole, 6th Tee & 5th Green
at Ballyhack
Still after a few backtracks, a flash thunderstorm which made me hours late getting on the road, and a disarming D.C. blonde who made me even later, I finally arrived at the swinging iron gate of Ballyhack Golf Club under an impenetrable ink-black sky. No moon or stars illuminated my rustic ranch-style cabin that night. All I could see in the darkness was the rugged outline of a high mountain ridge silhouetted against the sky. I felt like I was alone on the range, with just the coyotes for company.

That is until I saw the advertisement for spa and salon treatments next to my bed . . . but we'll get to that later.

Part cowboy ranch, part mountain course and part moorland links, Ballyhack finished a strong second last year to Bandon Dunes's Old Macdonald in the major best new course rankings. Ballyhack certainly deserves much of the accolades it receives from the general golf community as well as the close-knit fraternity of golf course-architecture connoisseurs because it is a cunning design over a fearsome piece of property. It explores old school design concepts, (like many found at National Golf Links of America), while being visually stunning so as to also appeal to all the "looky-loo" raters who mistake beauty for design.

It was a good crop of courses that opened last year, the best since 2006, which saw both Ballyneal and Bayonne open, and there are striking similarities between that year's competition and last year's race. In both cases, Tom Doak won with an indisputable timeless masterpiece: Ballyneal in '06 and Old Macdonald in '09. Both courses are instant classics, the height of the craft of golf course architecture as it exists today, and faithful reproductions of links elements and conditions.

But the runner-up both years was also a course of great architectural importance and regional significance. In '06, rather than hiring a big-name architect as he had in the past, course owner-turned-architect Eric Bergstrol rocked the establishment by designing an Irish links course by himself. He trucked in 7 million cubic yards of sand to do it, but his linksy, hilly and well-routed Bayonne decimated the vapid Liberty National in a head-to-head battle of Jersey landfill courses. It was the welcome surprise of the rankings. In '09 Lester George accomplished a similar feat at Ballyhack.
The Man with Two First Names

"George Lester?" my girlfriend Britt chirped puckishly. "He has two first names!" Mind you, this is the same girl that called a pro tour player, "Brent Sneakers."

"I thought he had two last names," replied her friend Sherry, who is just as much of an irreverent wag. Nevertheless, the golf world is starting to know Lester George because he's riding a hot streak of late.

Right now, Doak is the reigning undefeated, all-belts-unified, heavyweight champion golf course architect of our generation. Doak took the crown and scepter with Pacific Dunes and hasn't looked back. But since the mid-90s, as the pendulum of golf design swung back from the penal school of design to the strategic, three other men emerged to battle right behind Doak - George, Jim Engh and Mike Strantz. All three blend bold visuals with ancient U.K. architectural strategies: George and Strantz focusing a little more on elements found at National than their Colorado counterpart.

Sadly, we lost Strantz, another indisputable genius, to oral cancer in 2005. But it's a great compliment to George to say that major portions of Ballyhack are reminiscent of two Strantz classics: it looks like Tobacco Road but plays like Royal New Kent.

The course is Strantzian in both scale and statement. With the exception of the narrow 11th, all the lines and contours of the course are enormous. Playing corridors are sometimes as much as 80 yards wide off the tee (and 120 yards wide in the case of the gargantuan second fairway), yet split fairways and fiercely contoured greens place on emphasis on strategic planning and execution off the tee, accuracy on the approaches, a creative short game, and putting. Moreover, the topsy-turvy property gives the course a rustic and rugged character that sets Ballyhack apart from other courses.

George burst on to the national stage of top-flight golf architects with his widely-acclaimed Kinloch Golf Club near Richmond. He is also riding the crest of a tidal wave of praise for his restoration of the Old White Course at the Greenbrier Resort, which is now a PGA Tour stop. Now Ballyhack is his magnum opus to date. It is also a labor of love six long years in the making.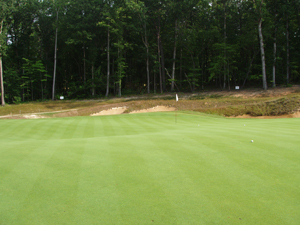 Thumbprint in No. 3's Redan Green
Adds Extra Dimension
In 2003 George thought his search for a truly great piece of land for his dream course was over. The 370 acre parcel - which is bisected roughly in half by Pitzer Road - tumbles down the feet of the mountain ridge and around a ravine called Saul Run on the east side, and meanders around a wetlands and through a barranca on its west side, good terrain for golf, if a little severe. But the land wasn't for sale.

"I had my eye on the property for quite a while, but when I found out I-73 was planned to run through there, I thought I had no chance, so it was off my radar for a while."

However, fate smiled on George. Good things happen to good people, as they say, and in one of life's quiet little coincidences that have deafening repercussions he met the owner of the land completely by accident, through his other passion in life: classic cars.

"I thought I knew all the collectors in my area. Then one day a friend of mine invited me to go with him to see the collection of a fellow named Ed Nunnelly, who only lived 10 miles from me," explains George. "I thought I knew all the collectors in my area, so I went. When he asked me what I did for a living and I told him I was a golf course architect, he said, 'I have the prettiest piece of land in the Roanoke area for a golf course…' "

It was the same site: Twist of fate number one. The next day, it was announced that I-73 would be routed several miles away: Twist of fate number two.

Seizing the opportunity, George contacted Nunnelly immediately, telling him he'd have a contract in his hands that day. Nunnelly replied that George was too late. He had two other contracts in hand. Nunnelly told him to make him a better offer or convince him the property should be a golf course.

"That afternoon I put a contract in his hand and told him, 'We both know that should be a golf course. Anything else would ruin it.' Then I went fishing in New Orleans."

A day later, Nunnelly accepted George's offer over two more lucrative offers: Twist of fate number three. Game, set, match: Golf wins.

So with that chance meeting as his impetus, Lester George conquered the golf landscape in Virginia more convincingly than John Smith took the Commonwealth in the 1600s.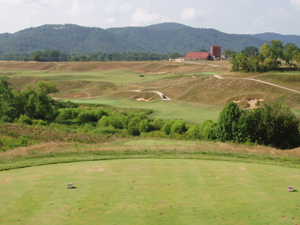 Diagonal Hazard off 6th Tee
No less a personage than Ran Morrissett, one of the nation's preeminent experts on golf architecture, wrote in his GolfClubAtlas.com review, "Now at the end of a second Golden Age of golf course architecture, Ballyhack emerges as the finest course to have been built in Virginia since the Cascades."

It's possible Ran underestimated. Ballyhack makes a good argument to be called number one outright, at least by golfers who prefer strategic golf over penal golf, links elements over parkland design. It's also undoubtedly one of the top courses in the DelMarVa region. (Baltimore Country Club's Five Farms is number one in my rankings.)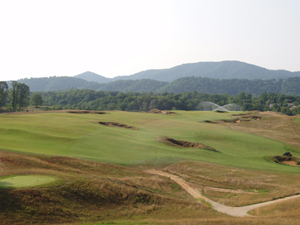 Pot Bunkers in 2nd Fairway a Factor off Tee
Doak Scale: Better than 7, just under an 8 - An 8 is described by Tom Doak as "One of the very best courses in its region and worth a special trip to see. Could have some drawbacks, but these will clearly be spelled out, and it will make up for it with something really special in addition to the generally excellent layout." Ballyhack seems a perfect 8, except for being unwalkable. If you want to try, walk the front and take a cart for the back.

My Ratings (all ratings out of 7)

Design: 5-1/2 - 6 stars (The course loses ½ star for being unwalkable)
Natural Setting: 5-1/2 stars
Conditioning: The day I played it, it was biscuit-brown in high summer. Tries to play fast and firm, but since it's built on clay, it gets soggy after torrential rains.

Overall: 5-1/2 - 6 stars

The course occupies 190 of the 370-acre plot, with the front nine filling the eastside parcel and the back nine on the west side. The 7,294-yard course (from where it's rated 76.6 with a slope of 155) looks eminently natural as George and Bill Kubly of Landscapes Unlimited only moved about 250,000 cubic yards of earth, a nominal amount.

"Most of the earth moving was for the irrigation pond at the end of the driving range," jokes PGA head professional Jonathan Ireland. "We moved a bit to make landing areas on two holes and that was pretty much it."

On the average, the course sees only about 40-50 rounds per day

Surprisingly, the name "Ballyhack" is not a golf play on words like most Bally-named courses. ("Bally" is Irish for "Place of" - hence "Ballyneal" is "Place of Neal.") But this portion of Roanoke was called Mt. Pleasant. They were going to cal the course "Fountainhead," but a little old lady who knew nothing about golf told the owners the place was called Ballyhack. It also sounds golf-related, perhaps for "Place of throwing everything at them including the kitchen sink," so it stuck.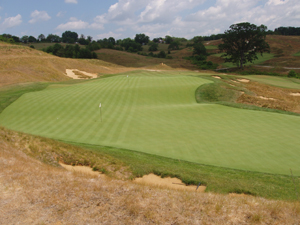 Double Green on Nos. 13 & 15
On the Course

The first four holes at Ballyhack are all-world. They are flat-out perfect 10s. Like National Golf Links of America, Ballyhack eschews the tired doctrine of having a few easy holes to warm you up. Ballyhack comes out swinging with a hole that can hand out a seven or eight. Its green is not a false front, but a false half! Depending on which side you come up short, you'll either have a 40-yard pitch or 70-yard pitch back to a sliver if green wider than it is deep. It is eerily similar to the opener at Strantz's Royal New Kent, which also opens with a 50 to 60-yard walk of shame for those who come up short. Some might say it's overdone, but is National overdone? Only if you are cursing George's name after leaving one short, like I did. I love the hole, but if we were indoors I would have peeled the paint with what I growled about Lester and his parentage.

The second hole is equally breathtaking, so my ire evaporated immediately. Three pot bunkers pepper the middle of the fairway diagonally: the furthest away on the left, the nearest on the right; but the further right you play the further from the green you end up and the more uneven your lie. The green is a gorgeous "Lion's Mouth" with the bunker in the center and the wings of the green curving around it. It is also perched on the ridge so as to be a skyline green. Finally, the back-left slopes away from the player, adding further interest and peril to the hole.

The minute I saw the third hole I knew it was a Redan. I just didn't see its false front or thumbprint in the back half until I - once again - watched my ball roll back down the green into the fairway. I was cursing Lester again, when I noticed the thumbprint feature in the back half of the Redan.

At first I blurted out something angrily, wondering what kind of idiot would put a thumbprint in the back half of a Redan before I realized why he did it and why it's both brilliant and sublime: I don't think there's another green like that anywhere else in the world. It's ingenious, daring and one-of-a-kind. Moreover, it blends great old-school strategies. That's the definition of a truly great golf hole.
There are rumors that people think it's too severe or quirky and that it might be changed. They are just mad it's both difficult and doesn't look like anything they have seen before. While No. 2 is my favorite hole at Ballyhack, three is the best hole. It's so perfect, it belongs in a museum. Lester and (co-owner) Vinny Giles: Don't you dare change it. It's one of the greatest holes in golf the way it is.

The par-4 fourth features a staple of the George design repertoire: a split fairway. A huge hog's back in the fairway kicks balls left or right. While the right side might need more room on right - that side drops sharply into creek called "Saul Run" - it still works well as the hazard cuts diagonally in front of the green.

The par-4 fifth, called "Fortress," can't be called a links hole as it climbs sharply up a hill, but it's still fun to lay siege to the gates. Once again the tee shot needs to be carefully placed because deep pot bunkers pepper the middle of the fairway. Then it's straight uphill for the approach. If you come up short, you have a long pitch.

The next three holes explore a different style of terrain, a moor with a wetlands meandering through. The short par-4 sixth is the first hole you've seen before. The wetlands cuts towards you diagonally from the left-hand side, however, the jagged nature of its edge - coupled with an aiming bunker just right of the green - make it much easier to pick a line off the tee than if it were a smooth curve and a clean backdrop. No. 18 at Sawgrass is perhaps the best example of this use of the "doctrine of deception" or use of optical illusions to make the golfer think more carefully. There is a smooth curve and no trees or bunkers to give the golfer a point of reference, so he must carefully judge his line to his abilities. No. 17 at Red Tail - consistently voted the best public golf hole in Massachusetts - is another good example. At Ballyhack's sixth either bash a driver with a hint of a draw at the bunker, or lay back to the right side of the 90-degree turn in the hazard.

After the interesting uphill par-3 seventh and the strong par-4 8th hole, with a meandering creek bisecting the fairway and a ridiculously long and uphill climb from the eighth green to the ninth tee box, the front side closes with a showstopper of a par-5. An immense and fiercely undulating fairway rumbles "straight back home to the silos" along Pitzer Road. A long bunker and hog's back ridge split the fairway into parallel upper and lower sections, one well below the level of the other.

In an inspired twist of routing, George placed one set of tee markers for the par-5 10th hole at the far end of the practice range, then curved the hole like a scimitar around bunkers and a stand of trees. A true three-shotter for most players, it's a tranquil and idyllic start to the back nine.

No. 11 is the only hole I don't like. Short but sharply uphill, the hole is a bit of a crapshoot as the narrowest fairway on the course severely cants away from the player and toward a cliff edge. From the middle tees, which are placed at the worst angle, you can't fade a drive because you start the ball at a hazard from which there is no recovery. However, drawing the ball risks the shot running out into the same hazard. Intermittent rocks peppering the edge of the cliff make the hole even wackier. You have to either try to drive the green and risk a double-bogey or lay back with a middle-club off the tee and pitch up.
The rest of the course is one fascinating hole after another. After the excellent par-4 12th, which rumbles through the rugged swale that traverses the back nine, we come to the centerpiece of the inward nine's routing, the immense double-green at the par-3 13th and par-5 15th.

Originally George thought to design a large lake near the 13th green that would also wind around 14 and part of 15, serving as both a hazard and as water for irrigation, but he couldn't work around environmental restrictions with a wetlands area on what is now 15.

"I realized that the wetlands area actually worked well as a hazard on its own, and when we found other wells that gave us more water than we expected, I knew I could move the irrigation pond, and so I got the idea for the double green," explains George. He then looped holes 12-17 in a Figure 8 with the double-green as the crossroads. "By crisscrossing those holes in a Figure-8, the player to faces many different wind directions in that span of holes. It makes the back nine really interesting, especially coming down the stretch in match play," George concluded.

A thumbprint in the middle of the double-green divides it into two smaller sections, so the long par-3 13th is even harder as the target is narrower than the sheer size of the green indicates from the tee. No. 14 is a great curving, uphill par-4 with a barranca cross-hazard cutting across the fairway. The green is set in its own little dell.

I'm of two minds about the 15th. Again, George gives us a split fairway. You see the green straight in front of you from the tee box, but the traditional way to play the hole is to slug a driver to the fairway curving far to the left, then lay up short of the wetlands, then pitch to a green fronted by a deep bunker. However, George also built a slim pod of a fairway straight toward the green called "Short Porch." You hid a hybrid or mid-iron to this landing area, then a longer club such as a fairway wood or hybrid around a tree and over the wetlands and bunker to the green.

It's similar to one of Engh's "trap doors and hidden staircases," a different way to get to the green, and one the locals especially like. It is a lot of fun to play "Short Porch," but most people also think that the risk might outweigh the reward and that playing a short club, then a longer club into the green, is a little gimmicky. First, it's like playing a par-3, then another longer par-3: first you hit one small target then your reward is a longer, tougher target golf shot then the previous shot. Worse still, if you miss the short porch you're screwed, because then you have no other shot than to play back to the other fairway from a ghastly lie.

This highlights one of the indisputable truths about Ballyhack: if you get out of position on the golf course, the penalties are severe. Still, the hole underlines one of the other great indisputable truths about it as well: Ballyhack combines fun golf shots with things you'll see at no other golf course in the country.

No. 17 is a textbook example of a great "short" hole. The enormous oval-shaped green is fronted and flanked by deep bunkers. However, a "Y-shaped" spine divides the green into three smaller greens in one. While the 18th doesn't really summarize much of what you saw during the rest of the round, the player gets the satisfaction of crushing one closing drive into a wide fairway where the right side is blocked by one of only three specimen trees on the course. The approach is to an enormous and well-contoured triple-plateau green to close out the round with a bang.

Generally Speaking

Ballyhack has excellent sweeping horizontal movement to the fairways, great vertical movement in the land with its wild undulations, and outstandingly contoured greens. Those are the cornerstones of a truly great design. George boldly and wisely routed the course to play right into the teeth of the most severe natural features, ensuring that Ballyhack would have a rugged, wild character all its own, unlike any other course you've played, although some well-travelled golfers might see some similarities to other excellent rugged courses like Tobacco Road or Royal New Kent.

The terrain is so severe it plays much longer than the yardage on the card. It's a murderous trek, in some places sending the walker well out of his way just to get to place where a well-placed bridge might make more easily accessible. In spots, it is certainly a mountain golf course.

"I was not going to sacrifice extraordinary vistas and golf holes for the walking aspect. I know walking is an important aspect of the game but sometimes the land is screaming for certain tee and green locations, explained George. "Having played other great national private clubs such as Sutton Bay and Sand Hills, and seeing carts at both of those locations, I felt like the only way to do that site justice was to pick the best 18 holes and it happened that it had to be a riding course." In Ballyhack's defense, there is talk about adding bridges at a later date. It was more important to get the course open, not tie it up with a long permitting process for a few bridges that could be added later.

Ballyhack is extremely difficult for bogey golfers, with a 146 slope from the middle tees, 153 from the long tees, and 155 from the tips. Moreover, there are plenty of optical illusions and greenside contours that require approach shots to be properly planned and executed. You can't just take dead aim at a flag because if you miss by even a few feet the wrong way, you could end up 70 yards away. And if you're not in Position A at Ballyhack, you might find yourself in Position X, fighting for a bogey. But like National, that's part of the beauty of playing a course designed in the links tradition.

Architecture fans and well-traveled golfers will love Ballyhack. "Looky-loos" will love how cool it looks and the great vistas across vast expanses of the property. Pros and casual golfers may hate it as "too tough, too weird."

Most importantly, Ballyhack shows exactly how versatile Lester George is as a designer: one minute he wins awards with a parkland gem like Kinloch, the next he polishes an ancient masterpiece like Old White Course to a high shine, and the next he gives us some thing as wild, haunting and enchanting as Baskerville Hall at Ballyhack. He has both breadth and depth of knowledge and talent, a terrific combination for a golf course architect. He has arrived, and he's making noise.

Hold the Grapefruit

I can't close this article without a self-indulgent laugh at this howler of an advertisement that was by my bedside table in the rustic lodge:

"Salon del sol" with locations in Richmond and Midlothian!

SPA PEDICURE - 60 minutes

Revitalization starts from the ground up. Soak your feet in an exotic mixture of Caribbean plant ingredients and fresh grapefruit bits to improve the condition of nails, cuticles and feet. A warm hydrating seaweed masque [sic] is applied to smooth and moisturize. Continue to escape while your feet and legs are revived with a hot stone massage.

Okay, so let me say this out loud, so I have it straight in my head. Hey you! Rugged cowboy of a golfer! Why don't you and all your friends come and test your game on our Tonka-tough course! Climb all over hurly-burly mounds and huge dunes. Play out of sinkhole bunkers. Survive unconquerable Ballyhack.Toast your round with a frosty cold beer, and have a brontosaurus burger or a stegosaurus steak cooked over an open flame, while staying in lodging decorated like a dude ranch complete with skeleton longhorn skulls . . . and then soak your tired feet in grapefruit juice and rose petals!

I eat grapefruit . . . reluctantly . . . like when I'm on a diet. It's bad enough then, so soaking my feet in it will be right out. How about a Jacuzzi instead? Or maybe horseback riding? Something more in tune with the setting?

For more information, visit www.ballyhackgolfclub.com.


Since launching his first golf writing website in 2004, http://www.jayflemma.thegolfspace.com, Jay Flemma's comparative analysis of golf designs and knowledge of golf course architecture and golf travel have garnered wide industry respect. In researching his book on America's great public golf courses (and whether they're worth the money), Jay, an associate editor of Cybergolf, has played over 220 nationally ranked public golf courses in 37 different states. Jay has played about 1,649,000 yards of golf - or roughly 938 miles. His pieces on travel and architecture appear in Golf Observer (www.golfobserver.com), Cybergolf and other print magazines. When not researching golf courses for design, value and excitement, Jay is an entertainment, copyright, Internet and trademark lawyer and an Entertainment and Internet Law professor in Manhattan. His clients have been nominated for Grammy and Emmy awards, won a Sundance Film Festival Best Director award, performed on stage and screen, and designed pop art for museums and collectors. Jay lives in Forest Hills, N.Y., and is fiercely loyal to his alma maters, Deerfield Academy in Massachusetts and Trinity College in Connecticut.