Small, Yet Perfectly Formed
By: Tony Dear
Museums needn't be housed in vast halls with giant stone lions at the entrance to be great. One of the best I ever visited, the Haus am Checkpoint Charlie Museum, started life in a two-room apartment on Friedrichstraße in central Berlin. It detailed the rise and fall of the Berlin Wall with such great detail, insight and sensitivity it had me gripped from start to finish. Three of golf's finest repositories are similarly compact. And yet, within their limited space, they display a wealth of treasures every golf buff should make the effort to see.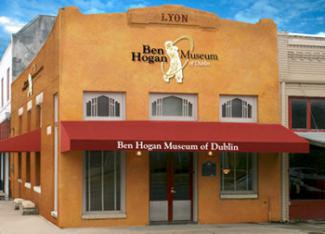 The Ben Hogan Museum
On August 14th 2010, 108 adventurous Texans played nine holes of golf over a cow pasture on the outskirts of Dublin in the Lone Star State. The temperature got up as high as 107 degrees and the terrain was so rough some took to the "course" in Jeeps or 4x4s. One group of ladies rode on horseback.

Onlookers might have supposed a party had gotten a little out of hand and, fueled by adult beverages, the guests had spilled out into the sunshine and decided an impromptu game of golf was in order. But that wasn't the case. The participants had good reason to be out there, their apparent folly actually a sign of community spirit and devotion to one of their city's most famous sons.

Eighty-one years before Dublin's inaugural cow pasture tournament, the land on which Clay Estes's cattle now roam, had been the Dublin-De Leon golf course, a nine-holer with sand greens that closed in 1942 when just about everyone who played there went to war. But the rather unkempt course that had taken 28 men just three months to build has a unique place in the game's history as it was here that, in August 1929, a 16-year-old Ben Hogan won his last tournament before turning professional.

Hogan spent his early childhood years in Dublin where his father, Chester, and grandfather, William, owned a blacksmith shop. The family moved 100 miles northeast to Fort Worth when Ben was nine, but he would return to Dublin-De Leon occasionally to play the course.

The 100-plus Hogan fans who braved the heat in pursuit of a much sought-after trophy a local artisan had crafted out of wood taken from the old oak tree that shades the sixth tee were there to raise funds for the Dublin Historical Society, whose intention was to build a museum dedicated to their hero.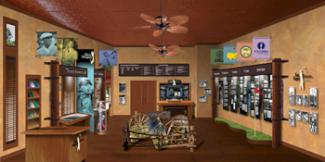 Inside the Ben Hogan Museum
The Society had been speaking about a museum since the late 1990s, but members were not confident their version of the Hogan story would do the man justice. "We were looking for a way to tell it in a unique and credible way," says Karen Wright, the executive director of the Dublin Economic Development Corporation, secretary of the Dublin Historical Society and author of the book "The Road to Dr Pepper, Texas: The Story of Dublin Dr. Pepper," which chronicles the rise of the world's first Dr. Pepper bottling plant and the only one that used cane sugar throughout its existence (1891 to January 2012).

In 2009, however, Wright met Robert Stennett, the executive director of the Ben Hogan Foundation. "A friend of mine whom I hadn't seen for a long while came into the office and suggested I come out to the car to meet her son," says Wright. "It was Robert, and we immediately struck up a conversation about how best to bring the real Ben Hogan to the public, and how the museum might become a reality."

Stennett introduced Wright to Lisa Scott, who had founded the Ben Hogan Foundation in 2007 and whose grandmother was the sister of Hogan's wife Valerie. "Lisa didn't want anything with her great-uncle's name on it to be commercially-oriented," says Wright. "She wanted it to be dignified, and she gave the museum her blessing. Lisa's encouragement has been essential to the development of the museum."

The Ben Hogan Museum opened on August 13th last year - exactly 99 years after Hogan was born - and is housed in 1,000 square feet of space in the Lyon-Prim building on E. Blackjack St. in the heart of downtown Dublin. A doctor's office, saloon, dress shop and bank over its life, the corner-lot building had been donated to the Historical Society in 1991by Grace Prim Lyon, daughter of the Dublin Dr. Pepper Bottling Company's founder, Sam Houston Prim.

Among the museum's many attractions are storyboards that give an illustrated overview of Hogan's remarkable career, with special focus on 1953 - the year he won the Masters, U.S. Open and Open Championship - and a re-creation of his family's blacksmith shop where the young Ben Hogan would hang out and learn all about forging metal, lessons he would use when establishing the Ben Hogan Golf Company, whose meticulously-made clubs bore the same level of precision as the "Hawk" himself.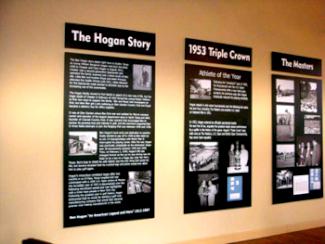 The Exhibit Honoring Ben Hogan's Magical 1953 Season
For Wright though, the most special item in the museum's collection is some video footage from the 1980s that shows Hogan talking with Ken Venturi, Ben Crenshaw and some Texan golfers about his contribution to the game. "Mr. Hogan talks about how he hopes he gave more back to the game than he took out of it," says Wright. "Oh good grief. That man gave the sport so much, and yet his modesty and insecurity kept him from ever really knowing or accepting how much."

At seven months, the Ben Hogan Museum is surely the youngest golf museum in the world. As for the oldest, most would assume either the United States Golf Association's impressive collection at Golf House in Far Hills, N.J., or the British Golf Museum in St. Andrews holds that distinction. But actually, the British Golf Museum opened only 22 years ago and the USGA's was predated by the James River Country Club Golf Museum in Newport News, Va., by five years. Governed by a board of trustees and owned by a trust, rather than the club itself, the James River CC museum takes up roughly 2,500 square feet of the clubhouse and, besides documenting the club's origins, possesses a good many valuable items from the game's past.

The museum was a gift to the club from one of its most prominent members, Archer Huntington, whose stepfather Collis P. Huntington was the driving force behind the incorporation of Newport News, a railway magnate, and founder of the Newport News Shipyard and Dry-dock Company, which now operates under the name Huntington Ingalls Industries and has built 70 percent of the U.S. Navy's current active fleet.

Archer Huntington was a philanthropist who not only established the world-famous Mariners' Museum in Newport News but also the Brookgreen Gardens in Myrtle Beach, S.C. and the Hispanic Society of America. He was a lifelong benefactor of the American Academy of Arts and Letters, located in the Upper Manhattan neighborhood of Washington Heights, and though not a golfer himself was very interested in the history of the game and how it took hold in the United States.

Among his museum's most valuable artifacts are what is thought to be the world's oldest identifiable club (circa. 1764-65) - a putter made by Leith's Simon Cossar; three clubs used by Bobby Jones during his 1930 Grand Slam; a magnificent diorama of the Old Course at St. Andrews; the world's largest collection of long-nosed wooden drivers; a featherie ball dating back to 1790; and the clubs (driver, brassie, driving iron, lofter, mashie, niblick, and putter) Harry Vardon used to win the 1900 U.S. Open.

These are the highlights of what is an outstanding collection, most of which, says volunteer curator William Cogar, is actually kept in climate-controlled storage. "We recently reopened after a year-long renovation, and I have only just begun working on a complete inventory of our artifacts," he says. "But I'd estimate only 10 to 15 percent of our entire collection is currently on display."

Because it is part of the clubhouse at James River Country Club, the James River CC Golf Museum is not technically open to the public, sadly. Arrangements can be made for enthusiasts, however, and a number of functions are held every year which give non-members access to the museum. "If you add the attendance at these functions to the number of golf historians who request admission, I'd say we get 25,000 visitors a year," says Cogar.

That's a number that directors of the B.C. Golf House in Vancouver, British Columbia, can only dream of right now. About 3,000 visitors a year pass through the entrance to the University Golf Club's original clubhouse building, and it has taken 20 years to reach that figure. The driving force behind the renovation of the building is highly-respected golf historian Mike Riste, profits of whose biography on course designer A.V. Macan, published in 2011, are helping to pay for the museum's new roof. The south-facing side was replaced in 2009, the west-facing last year. The north and east sides remain unimproved.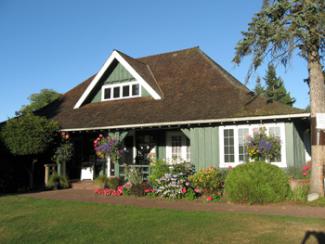 B.C. Golf House Facing the 17th Hole at University GC
The speed at which these upgrades are happening is a clear indication of how financially demanding it is to maintain a venture of this sort and size. And if Riste, along with the similarly devoted Dick and Harry White, hadn't made a Herculean effort to gain possession of the building and then bring it back to life after it had fallen into a state of disrepair following a decision by the group of Vancouver businessmen that owned the facility to update the course and build an entirely new clubhouse, it would most probably have been demolished long ago.

One look at what Riste found on a cold November evening in 1988 when he entered the 3,500-square-foot building for the first time after obtaining the keys from the University's Endowment Lands and Forest Office would have been enough to dissuade anyone with even an ounce less of determination. "The walls were covered with mold, and there was junk all over the place," says Riste. "There was no heat or light, and you couldn't escape the horrible stench. I remember thinking we might have taken on an impossible task."

But with help from the local golf community, plus building-material donations from 33 area companies, the old abandoned clubhouse eventually attained a glory it hadn't formerly known, and the B.C. Golf House opened in May of 1989.

The museum's highlight is surely a 1790 track-iron, but there are also 18 fascinating collections and displays showing the history of golf, primarily in British Columbia. The museum also recently acquired a large gift from Stan Leonard's daughter that includes several items of memorabilia associated with her father, a three-time winner on the PGA Tour between 1957 and 1960. "We will be creating a display that acknowledges Stan's outstanding performances at the Masters," says the museum's Executive Director Barrie McWha. "Stan had four top-10 finishes at Augusta National between '55 and '60, which is more than any other Canadian. Mike Weir has one besides his win in 2003. And we will also be dedicating a room to the golfer who was surely the province's best-ever."

Another venture the museum is developing is providing hickory clubs to golf facilities celebrating their centenaries. "We will be providing Qualicum Beach Memorial GC and Royal Colwood GC on Vancouver Island, and Vernon GC with hickory sets for their events next year," says McWha. "And with 44 other courses in B.C. that are 80 years old or more, we are entering an era when such events may become common. We also host about 15 hickory club events a year ourselves."

To build a great golf museum, no matter the size, a little start-up capital is very useful, as are a few unique items you can't find anywhere else. The most important ingredients though are always a love for the subject and an eagerness to bring the icon and the legend to life.

Just ask Michael Riste or Karen Wright. "We could never have established the Ben Hogan Museum without the help and encouragement of Mr. Hogan's Family and the Ben Hogan Foundation," says Wright. "But the cornerstone of this museum is the Dublin Historical Society's passion for and dedication to preserving our history and telling the story of a great man that is so worth telling."
Here are some of their larger counterparts:

World Golf Hall of Fame - St Augustine, Fla.

Opened: 1974 in Pinehurst. Moved to present location in 1998.

Size: 75,000 square feet including IMAX theater - 35,000 dedicated to exhibition space.

No. of annual visitors: Not declared, but 350,000 according to Wikipedia.

Future plans (based on responses from Director of Communications Travis Hill, and Director of Research and Collection Andy Hunold): "We are excited about the Inductee Exhibits for the Class of 2012. We will be featuring an outstanding array of items from all five inductees, including Masters' trophies from Phil Mickelson and Sandy Lyle, the clubs Hollis Stacy used to win the 1984 U.S. Women's Open, and books and photos from Dan Jenkins and Peter Alliss. In the long term, we will continue to feature inductees from each class and celebrate members with special exhibits like the current "Bob Hope: Shanks for the Memory" and "Nancy Lopez: Pride, Passion & Personality."

Number of exhibits: "Between our two Special Member exhibits, Shell Hall, the Trophy Tower, the Front and Back 9 sections and the Member Locker Room, we display more than 2,500 items on the museum floor."

Notable items: "The Bob Hope and Nancy Lopez special exhibits have resonated with our visitors. We have guest books set up in each exhibit, and have filled dozens with passionate messages from fans from all over the world. The Member Locker Room is a special place, full of unique items that give people a sense of who these great players really were. Guests enjoy discovering things like the almonds in Gary Player's locker and the Barbie doll in Nancy Lopez's locker. It's a can't-miss exhibit for any golf fan."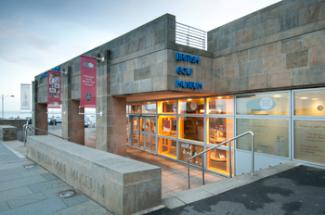 British Golf Museum at Dusk
British Golf Museum - St. Andrews, Scotland

Opened: 1990

Size: 5,000 square meters (54,000 square feet)

No. of annual visitors: Over 60,000

Future plans (responses from Director of Museum and Heritage Angela Howe): "This year we are creating an area within the museum that will focus on learning activities for our younger visitors. There will be a strong emphasis on interactivity and the area will be suitable for hosting school groups."

Number of exhibits: 16,000

Notable items: "The most popular objects are the collection of 10 bronze grips made by Tico Torres (drummer and percussionist with rock band, Bon Jovi), which include the hands of Jack Nicklaus, Arnold Palmer, Gary Player, Greg Norman and Seve Ballesteros, among others, and early film footage - some dating to 1898 - captured on Kinora (a home movie machine). My personal favorite is the navy-blue outfit worn by Gloria Minoprio when she competed in the English Ladies' Championship in 1933. She caused controversy by becoming the first woman to wear trousers in a major championship. The driving putter made by Hugh Philp (circa 1848), a St. Andrews carpenter and highly respected clubmaker, is also a wonderful exhibit. It was owned by J.O. Fairlie, a founding member of Prestwick Golf Club and a key figure in the development of the Open Championship. Willie Park, who won the first Open in 1860 and again in 1863, asked Fairlie if he could borrow the club for the 1864 Championship. He discovered, however, that it had already been promised to rival competitor Old Tom Morris. It paid off for Morris who used it to claim his third Open victory."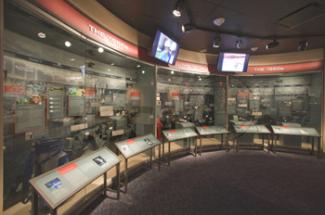 Arnold Palmer Center for Golf History
Superpowers Gallery
USGA Golf House - Far Hills, N.J.

Opened: 1936 in New York. Moved to different locations in Manhattan in 1950, and to Far Hills in 1972.

Size: 40,000 square feet, including the 15,000-square-foot Arnold Palmer Center for Golf History. Also, a 16,000-square-foot putting green for visitors to try replica putters on a nine-hole putting course.

No. of annual visitors: Not declared, but said to be approximately 25,000

Future plans (responses from curator Michael Trostel): "We are currently working on a new room honoring four-time U.S. Women's Open champion Mickey Wright which will open in May, and an exhibit we will have on-site at the U.S. Open in San Francisco on Ben Hogan, Byron Nelson and Sam Snead, who were all born 100 years ago in 1912."

Number of exhibits: Over 70,000 artifacts, over 40,000 publications in the library, 10,000 hours of film and video, over 500,000 photographs.

Notable items: "A few items that are most popular with the visitors include the 'Moon club' - the club used by Admiral Alan Shepard on the surface of the Moon during his Apollo 14 space mission; Ben Hogan's 1-iron - the club Hogan used to hit his approach on the 72nd hole at Merion in the 1950 U.S. Open (Hogan won that Open just 16 months after a near-fatal car crash); and Bob Jones' 'Calamity Jane' putter that he used to win 10 of his 13 national championships. Some of the recent exhibits we have put together are on golf and politics - interesting [that] all but three U.S. presidents played golf dating back to William Howard Taft in 1909; and African-American golf - an exhibit titled 'American Champions and Barrier Breakers' that looked at the African-American golf experience with a focus on the contributions from crossover athletes Jackie Robinson, Joe Louis and Althea Gibson" (exhibit runs through the end of 2012).
PGA of America Museum - Palm Beach Gardens, Fla.

Opened: 2002

Size: 8,300 square feet, including non-public areas. 5,000 square feet devoted to rotunda, which is the main exhibit room. Probst Library is 1,200 square feet, gallery is also 1,200 square feet.

No. of annual visitors: Approx. 5,000

Future plans (responses from Curator Kelly Elbin): "We plan on continuing to tell the stories of PGA of America greats with particular emphasis on the organization's centennial, which will run from January 2015 to the end of 2016. The actual 100-year anniversary will take place on April 10th 2016."

Number of exhibits: "We have approximately 3,000 books and bound periodicals in the Probst Library, about 50 individual displays/exhibits, and hundreds of pieces of significant art and individual historic photos."

Notable items: "There is a great exhibit that celebrates 'The Haig' - Walter Hagen - who, along with Jack Nicklaus, holds the record for the most PGA Championship victories with five. There is also a terrific exhibit honoring Horton Smith, who won the first Masters in 1934. He went on to become the first president of the PGA of America. The Smith exhibit includes the medal he was awarded at the first Masters. My personal favorite is the exhibit honoring African-American pioneers, especially John Shippen, Ted Rhodes, and Bill Spiller, who were recognized with posthumous PGA membership in 2009, and boxing legend Joe Louis was also awarded posthumous membership in 2009. All these men displayed great courage in working to make golf more accessible for blacks."

Jack Nicklaus Museum - Ohio State University

Opened: 2002

Size: 25,000 square feet

No. of annual visitors: Not declared

Future plans (responses from Curator Steve Auch): "Our plans are to continue to share Mr. Nicklaus' artifacts and memorabilia with his fans from around the world. Soon we will be displaying the golf art of English artist Harold Riley."

Number of exhibits: Over 2,000

Notable items: "The most popular exhibits with visitors are the Masters trophies, the Nicklaus Family Room, and the film of his life and career. Personally, my favorites are the cards and notes Nicklaus made as a boy for his mother, and tournament scorecards marked with paced-off yardage."
Tony Dear is an Englishman living in Bellingham, Wash. In the early 1990s he was a member of the Liverpool University golf team which played its home matches at Royal Liverpool GC. Easy access to Hoylake made it extremely difficult for him to focus on Politics, his chosen major. After leaving Liverpool, he worked as a golf instructor at a club just south of London where he also made a futile attempt at becoming a 'player.' He moved into writing when it became abundantly clear he had no business playing the game for a living. A one-time golf correspondent of the New York Sun, Tony is a member of the Golf Writers Association of America, the Pacific Northwest Golf Media Association and the Golf Travel Writers Association. He is a multi-award winning journalist, and edits his own website at www.bellinghamgolfer.com.