Smiling Smyers - Golf Architect-Father & College Star Son are Surprise Leaders at 77th Anderson Memorial at Winged Foot
By: Jay Flemma
Father's Day might come one week early for golf course architect Steve Smyers, as he and his first-team college All-American and Division 2 national champion son Scott fired a scalding 63 at Winged Foot West to surge atop the leaderboard in the 77th Anderson Memorial tournament, the world's premier amateur four-ball event.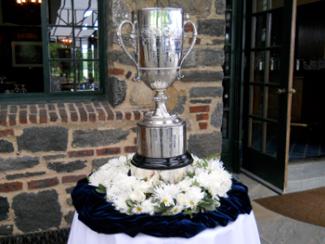 Anderson Memorial Fourball Trophy
Their 10-under total leads by two over Westchester Country Club's pairing of Max Buckley/Max Christie and three over Robert Funk/Dave Bartman of Bear Creek GC and Trevor Randolph/Paul DeRosa of Congressional. Winged Foot's own Hans Albertson and Brian Williams are four back at 6-under, along with three-time defending champion Parker Smith and two-time defending partner Dan Crockett of the Golf Club (Tenn.).

"We came out for a little father and son fun, and the hole wouldn't stop getting in the way of the ball," deadpanned Steve as he reflected on the team's sparkling round, which included seven birdies, one eagle and at least three hair-raising, scrambling saves.

After the kid got the team from Old Memorial Golf Club in Florida rolling with back-to-back birdies at four and five, the Smyerses played holes 10-14 birdie-par-eagle-birdie-birdie. The defining moment of their round - perhaps of the entire tournament so far - was the kid's 265-yard 3-wood second shot on 12, uphill and all carry the entire way, which nestled to a cozy six feet, cinching them an eagle.

"The minute he hit it, I knew it was perfect," said Steve. "He flew it there the whole way too."

Then Dad got into the act - in the clutch, mind you - by making back-to-back-to-back 15-foot putts over Winged Foot West's fiendishly difficult closing three holes: one to salvage a bogey at 16, one to scrape par on 17, and another for a closing birdie at the iconic 18th.

"Dad hit a 19-degree hybrid from 202 on the home hole that was just gorgeous," admired Scott.
"Phil Mickelson sure would have liked to have had that, wouldn't he?!" quipped Steve in reply, before the two drove off into a golden sunset that could have been painted by an Italian Renaissance master, proud pop sitting next to his chip-off-the-old-block son as the evening sky radiated a glorious burnished glow over the gorgeous Gothic clubhouse. It was a stirring sight.

Now comes the hard part . . . fending off a murderer's row of competitors over a much harder Winged Foot West course than they faced Saturday. Tropical Storm Andrea forced a washout of Friday's play, shortening the tournament and forcing a change in format. The four-day event is normally comprised of two rounds of medal play Thursday and Friday, followed by four rounds of match play on the weekend. But with Friday erased by the drenching, the event is now a 54-holes of medal play, with the top 16 teams and ties playing today for the title.

The rain also turned mighty Winged Foot into a mere shadow of itself. Gone was the Wagnerian tumult and cloak-and-dagger claustrophobia of one of golf's most proud and ancient strongholds. Instead, the golfers were able to attack the course and post unusually low scores.

"We had to get 89 groups in both the championship and senior divisions around the course," explained tournament director J.P. O'Hara. "So we moved the tees up to 6,600 and let them fire at some flags."

The final round will be altogether different. The course will play somewhere around 6,900 yards and will be much faster and firmer, pins will be tucked closer to dangerous drop-offs or oceanic bunkers, and the greens will back to their normal speed, somewhere "greased lightning" and "parquet floor." Try shooting 63 in the final round, if you dare, but I'll bring the Band-aids, Bactine, and fire extinguishers to hose you down in case you get torched.

Moreover, the pack chasing the Smyerses is a veritable Who's Who of amateur golf.

"The scariest name on the leaderboard is Max," said one competitor, referring to well-decorated amateur stars Max Christiana and Max Buckley. "They may be the real leaders because of their vast experience in these situations, and they can go really, really low."
That's true, but lurking four back are two even more dangerous teams: multiple-defending champions Smith and Crockett (a.k.a. the Smoky Mountain Boys), and Winged Foot's own Anderson and Williams.

Smith and Crockett fired a smooth 64 of their own yesterday, a perfectly clean card six birdies, no bogeys. They missed two short putts that could have made it 62, but it was a par save at the difficult par-3 third hole that jump-started their momentum.

"I had just made birdie at two, but we were both off the green and in deep trouble on the next hole looking at bogey," said Smith.

"You mean we were looking at Conrad Albert's new paint job on his house," Crockett added with a sly grin.

"Exactly," confirmed Smith, laughing. "But we got up and down to save par, which was critical. And when Dan made birdie on the next hole, we were off and running." They then birdied both par-5s (six and 12), as well as eight and 11, two difficult par-4s.

But now the team that has dominated this event in match-play format finds itself in an unusual spot: having to chase several teams down from behind if they want to continue their impressive winning streak.

"We're gonna have to go for it," confided Smith, as free-wheeling and sweet-swinging a player as you'll ever meet. "We have to be aggressive and try to put two balls in the fairway and two balls on the green. But no matter what happens, we're going to have a great time. Some people go to Hawaii for vacation. We come to Winged Foot and play in one of the greatest golf tournaments in the world. It doesn't get any better than this. It's one of the greatest blessings of my life to get to be a part of something so special."
But in order for the Smoky Mountain Boys to strike up the band for "Rockytop" for a fourth consecutive year, they will have catch the leaders and fend off the other challengers, and there are still plenty more great teams lurking. Tied with them is Winged Foot's best hope for victory, Hans Albertsson and Brian Williams, always among the fiercest of competitors, lurking at the top of leaderboards every time they tee it up, and harder than castle-forged steel in the grueling crucible of amateur golf.

The wild card in the equation is the team from Congressional, who no one knew about except one back-clad journalist who happened to bump into them at the 2011 U.S. Open.

"It's our first time here, and we love it," beamed Trevor Randolph after his team's 66-67=133 total put them only three shots back. "And that trophy is the most beautiful thing I ever saw. It looks like the Wanamaker!"

"Yeah!" agreed partner Paul DeRosa, "the Wanamaker or the Stanley Cup!"

The long hitting young lions from D.C. also have the right mindset going into the final round. "We have to be looking forward, not behind us," Randolph noted. "We played aggressive all day, all tournament in fact, and we had to. These guys are so good, you can't let up. They will go out and get birdies and catch you if you stand still, so we have to go out and try to win this, not play not to lose,"

The winning team could even come out of the logjam at 4-under which includes MGA stars Joe Saladino (who just won back-to-back Travis Invitationals and the Havermeyer as well as representing the U.S. in matches overseas) and Dave Boccia, as well as another former winner of both the Travis Invitational and the Coleman in the same year (2006), Irish ex-pat Eoghan O'Connell and his partner Dan O'Callaghan, though they might have to shoot 62 to do it.

"Yeah sure, I could shoot 62," O'Connell quipped drily. "While I'm at it, I can also pretend that I have hair and a 30 inch waistline too." As always, the entire grill room erupted in laughter for the affable O'Connell, always a valuable addition to the proceedings even when he's not in contention for his effervescent personality and self-effacing humor.

"He's one of the greatest names in amateur golf. You gotta watch out for those Wake Forest boys!" said one Winged Foot member.

So let's recap . . . chasing the little ole golf course architect and his college age son are the Mad Maxes, the Congo Boys, Winged Foot's best, the three-time defending champs (metaphorically carrying with them the entire state of Tennessee), the wily foxes from the Fox Club, and Joe Saladino, presently on his own personal World Domination Tour. They might as well be facing Godzilla, Rodan, Mothra, Kong, Smaug, Sauron, Magneto, and Maleficent.
"It doesn't get any better than this. This is what really makes people love golf," said Smith, and he's right. Golf isn't about pampered, super-rich, apparel scripted, deer-antler-spray ingesting slouches making $1.25 million a year for finishing 12th.

Golf is about families trading golf stories over dinner, then going out to play nine more together. It's about young fearless kids with big dreams who play till they can't see the ball in the dark anymore, then come back at daybreak the next morning to do it all over again. It's about you, the ordinary American who teaches the game to his kids on the weekends after going to work all week - lawyers, real estate agents, pilots, market analysts, teachers, and even golf course designers by day and golf lovers at all other times.

It's even the two kids from Lima, Peru, Patricio Alzamora, who is studying in Houston to be a heart surgeon and his partner Luis Barco, a high school kid hopefully headed to Stanford University.

By the way . . . the "kids" shot 2-under 138 so far. This is the beating heart of golf, and Winged Foot stands at the forefront of promoting this spirit.

"Everyone talks about all the major championships here, but perhaps their greatest contributions are to the amateur game," explained golf expert Bruce Moulton. "Winged Foot is one of the great player's clubs in the world, and they have a long tradition of growing the game by supporting the amateurs. Most clubs want to be Winged Foot because they host majors. They should want to be them because of the example they set through their altruism. That serves all of golf, and that's the true greatness of Winged Foot."

Round 2 Anderson Memorial Results

Steve/Scott Smyers (Old Memorial) - 67-63=130 -10
Max Christiana/Max Buckley (Westchester CC) - 68-64=132 -8
Rob Funk/Dave Bartman (Bear Cr.) - 67-66=133 -7
Trevor Randolph/Paul DeRosa (Congressional) - 66-67=133 -7
Hans Albertsson/Brian Williams (Winged Foot) - 67-67=134 -6
Parker Smith/Dan Crockett (The Golf Club, TN) - 70-64=134 -6
Matt Rosen/Jeremy DeFalco (Tucson GC) - 70-65=135 -5
Sam Bernstein/Mike Karger (Century CC) - 70-65=135 -5
Eoghan O'Connell/Dan O'Callaghan (Fox Club) - 66-70=136 -4
Joe Saladino/Dave Boccia (Huntington CC) - 66-70=136 -4
Tim Kane/Roger Hoit (Eastward Ho!) - 70-66=136 -4
Kevin Marsh/Giles Gibbe (The Floridian) - 71-67=138 -2
Matt/Peter Meyer (Winged Foot) - 71-67=138 -2
P. Alzamora/Luis F. Barco (Lima GC, Peru) - 68-70=138 -2
Rob Christie/Scott Mackesy (Winged Foot) - 67-71=138 -2
Ryan Hill/Eric Joseph (Pinecrest CC) - 68-70=138 -2
For up-to-date scoring, visit http://www.andersonmemorial.org/index.htm#loaded.
Since launching his first golf writing website in 2004, http://jayflemma.thegolfspace.com, Jay Flemma 's comparative analysis of golf designs and knowledge of golf course architecture and golf travel have garnered wide industry respect. In researching his book on America's great public golf courses (and whether they're worth the money), Jay, an associate editor of Cybergolf, has played over 420 nationally ranked public golf courses in 40 different states, and covered seven U.S. Opens and six PGA Championships, along with one trip to the Masters. A four-time award-winning sportswriter, Jay was called the best sports poet alive by both Sports Illustrated and NBC Sports writers and broadcasters. Jay has played about 3 million yards of golf - or close to 2,000 miles. His pieces on travel and architecture appear in Golf Observer (www.golfobserver.com), Cybergolf, PGA.com, Golf Magazine and other print magazines. When not researching golf courses for design, value and excitement, Jay is an entertainment, copyright, Internet and trademark lawyer and an Entertainment and Internet Law professor in Manhattan. His clients have been nominated for Grammy and Emmy awards, won a Sundance Film Festival Best Director award, performed on stage and screen, and designed pop art for museums and collectors. Jay lives in Forest Hills, N.Y., and is fiercely loyal to his alma maters, Deerfield Academy in Massachusetts and Trinity College in Connecticut.