So You Want to Build a Putting Green
By: Bob Spiwak
Many golfers have thought about how nice it would be to have a practice putting green in the back yard. Or the south 40. Or the basement.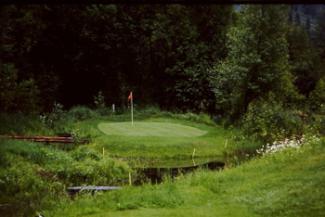 Bob Spiwak's Island Green
The basement is a no-brainer. The other two, out in the fresh air and among chirping birds, offers not only brainwork but brawn work as well. Or, if you have deep pockets, hire it out to a professional greens-building outfit. A quick scan of Google reveals several of these, all or most of which install synthetic surfaces. This is a good idea as the ersatz putting surfaces are impervious to weather, unlike real turf. The costs will vary, but they are not cheap.

If you want the real thing - whether bentgrass in the northern U.S. or Bermuda grass in the South - let's assume you have a sunny location picked out. You have measured and staked and photographed it, and determined the size. If so, you are on your way to having a dream green.

There are certain skills that must be noted before you begin. You have to know something about the nature of water movement from the surface to the roots; the physics of drainage beyond the grass; and the process of digging up the area and back-filling with proper ingredients.
For example, on a USGA-model green, you need - from the bottom up - a drainage area; perforated pipe; coarse gravel; fine gravel; the proper sand for what is called a perched water table; and the correct mix of sand, soil and organic materials on which to spread the seed.

Another consideration: Do you want a flat green or one that will have the putt breaking, depending on where on the green it began?

I must interject here that I am not a golf course architect, possess few of the skills above, and lack the funds to do a "proper" green. This is the bargain-basement way to build your own. Still, I managed to create a 10-green pitch-and-putt course on four acres. The 10th green was built according to USGA specs. What I offer here is based on that greens-building experience.

Aside from initial bulldozing, the course and greens were a one-person endeavor. The golf course owner answered my questions as they arose.
As you are considering one practice green, before you ever turn a shovel you need to decide if this will be for chipping practice as well. If so, a turf mix must be included in your calculations. If the surface is to be synthetic material, mowers, mowing, fertilizing and irrigating are not a problem.

The size will be determined by how many holes you want on the green. It can be one or several in places that are mounded or flat.

The least expensive approach to a real-grass project is to dig out beyond the perimeter of the putting surface and remove about six inches of the soil, if possible in squares or rectangles to be used later as sod. It involves an inch-thick layer of mixed gravel at the bottom, then three inches of coarse sand. The final dressing should be a thorough mix of fine sand, grated peat and good topsoil. Have a yard of sand off to the side.
For a flat green, just roll it with a lawn roller. If there is to be to be a break, plan your cup location and, depending on how much texture to create and how severe or mild a break you want, rake the sand accordingly into higher and lower areas, then gently rake and roll it in all directions. Obviously, the entire area will be compressed and the sand stockpile will be there to shape the residual high and low spots. Roll and fill until you are satisfied, never losing sight of the cup's location.

Penncross (variety) bentgrass is an old reliable strain of putting turf. A pound of the sugar-sized seeds will cover about 2,000 feet. Get extra seed - especially if you have a lot of small birds - and make a mix of seed and sand from the stockpile. If you are in an area with deer, they love to dance on the new soft sand, so you can use the extra mix to fill the hoof holes.

Use a recommended fertilizer, water it well into the surface, heavily water twice daily and syringe it several times a day, especially in hot weather. The seed should germinate within 10 warm days.
Hand-pushed power greens mowers are available. The last one I bought cost about $300. That was over a decade ago, so figure on more. The first cutting should occur when the grass is no less than two inches high. It is crucial to walk flat-footed behind the mower because the top layer of sand/soil mix will be loose until the grass has developed a good root system.

Then, identify your cup location and insert it. Cups and flagsticks are available through most golf-course supply houses and a few golf retail outfits. Then find the length of cut you want and set the mower accordingly. You'll be cutting daily or every other day from now on.

There you have it. It was a two-year project for me to turn four acres into a fun course. The smallest green was an island where a creek had split. It was about 12 by 40 feet. The largest, 100 yards from the tee and shaped like Africa, was 50 by 120 feet.
Your local course superintendent will probably be glad to assist and have some ideas different from these. Listen to him or her; they know the climate, soils and grasses in your area.

This story originally appeared in Cybergolf on December 13, 2011.
Bob Spiwak took up golf in 1953 as a respite from the rigors of selling bibles door-to-door in North Dakota. Though suffering a four-year lapse, he's back to being a fanatical golfer. Now a contributing editor for Cybergolf, Spiwak has written articles for almost every golf magazine in the Western world. Bob's most treasured golf antiquity is a nod he got from Gerald Ford at the 1990 Golf Summit. Spiwak lives in Mazama, Wash., with his wife and several pets next to his fabled ultra-private Whispering Rattlesnakes Golf & Flubbers Club.