SoCal Public Golf - The Bird has Nested
By: Jay Flemma
As the first rays of the rising sun reach the crest of the Topa Topa Mountains, the edge of "the Nest" - the Ojai Valley - begins to turn from deep blue to fiery red. Soon a burnished glow radiates all across the rim of the valley, the trees and mountain slopes all gloriously aflame. The day promises to be hot and dry, but the sky is a piercing blue, crystalline and cloudless. An eagle soars overhead, singing its long majestic cry as it streaks across the sky. It's only 83 miles to L.A. as the eagle flies, but light years away metaphorically from the city's smog, traffic and bustle.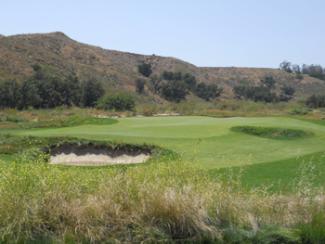 Outstanding Greens are the Order
of the Day at Rustic Canyon
Ojai, a sleepy resort town, is nestled high atop a bowl formed by the rocky arms and steep walls of the purple and brown Topa Topas. (Hence, the name: Ojai - "the Nest.") Southern Californians have been vacationing here for decades, braving bumper-to-bumper traffic and dangerous and windy cliff-side roads to bask in the sunshine, solitude and sports diversions. There are Class V rapids to traverse, mountains to climb, trails to hike, and horses to ride, all in a sunlight the Renaissance masters would have painted. It's a restorative elixir - the mountains encircling in a warm embrace, while fragrant trees and flowers perfume the evenings with their attars so that the air truly is like wine. If you want to experience the Old West California that the Gold Rush settlers risked their lives to reach, Ojai is it.

Ojai also makes for a useful base of operations for a golf trip. There's plenty of lodging at hand (from the venerable old Ojai Valley Inn and Spa right on down to cozy local B&Bs) along with myriad restaurants. The golf courses are either directly at hand or a short hop away, so you will need ground transport to get around. (Plus the car will come in handy for day trips into the wilderness.)

Rustic Canyon

It's been voted the best public golf value in America by every major golf magazine, but it's time to start recognizing Rustic Canyon as one of the country's best strategic designs as well. Super-smart golf architecture expert Pat Mucci recently wrote that, "What golf needs is more fifty-dollar public courses that are about sixty-six hundred yards long and have wide fairways, lots of angles and playing options, with great greens, and quirky architecture to make golfer's think."

That's Rustic Canyon. Architect Gil Hanse, a minimalist who learned the craft while an associate of Tom Doak, designed 18 intricate golf puzzles, sometimes using center-line hazards, sometimes using diagonal carries, and always employing intricate green contours. Like Doak, Hanse also is also enamored with the architectural strategies of Golden Age architects C.B. Macdonald, Raynor and Banks, so you'll occasionally see holes that are his spin on the classic templates, the double-plateau green at the par-4 seventh.
The first three holes are one of the best opening stretches in American golf - all planning and analysis, risk and reward golf at its most exciting - a split fairway on the approach to the par-5 first, followed by a hole subtly reminiscent of the second at Talking Stick North in Arizona (where the further away you play from the O.B. boundary on the left the more you bring a right bunker into play), and a drivable par-4 with a treacherously undulating green. It heralds a banner day on the golf course. The stretch of Nos. 5-8 is exquisite as well, with so many topsy-turvy greens. The back plays through more rugged terrain and is a tougher walk between holes. The par-4s in particular are long and difficult (except the drive-and-pitch 12th).

While the routing and natural setting are exemplary, the beating heart of the golf course is its wild greens.

"You can be pin high and totally dead," explained frequent Rustic player Billy Nathan. "With some hole locations, pin-high is the worst place to leave yourself; there's no way to stop the ball anywhere near the hole. It's like what you see at Augusta for the Masters. If you miss the green in the wrong place, you pray to get down in three."

Examples include the back pin at the par-3 15th. With the back shelf being the size of a bar stool, indifferent chips from off the green from a pin-high position can roll all over the green - as far as 30 feet or more - and certain pin placements on three and seven, three of the most interesting greens on the course.

"There are deep swales and pronounced tiers," continued Nathan. "Unlike some lesser golf courses, you're not out of the woods once you get to the green. You have to earn your putts here."

"He's right," agreed frequent Rustic player Chad Sowers. "These greens hand out three-putts like Steve Nash dishes out assists. And watch out for 'Pin Position B,' those pins are dynamite," he exclaimed.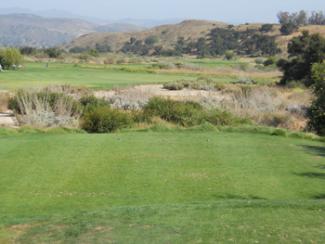 Rustic Canyon's Sparkling Natural Setting
Indeed, "Pin Position B" has become so notorious, some players call them the "Killer Bs." (That would make a great T-shirt/bumper stickerů"I survived the Killer Bs.") They are tough, but certainly not unfair. ike many great golf courses, if you're going to miss, you have to miss in the right place. Golfers must think their way around Rustic Canyon first and foremost. Moreover, the asymmetric routing (five par-5s and five par-3s is a refreshing change from the tired, passe "Doctrine of Symmetry" where you have to have two par-3s and two par-5s on each nine. There's a pleasant surprise around every corner at Rustic.

Magazine rankings rarely agree, but on the few occasions where they do, you can take their advice. Rustic Canyon has become a national attraction. Named as the country's best public golf value by every major magazine ranking, Rustic Canyon is the flagship facility for any public golf vacation between Torrey Pines and Pebble Beach, and with one of those courses pricing itself through the stratosphere and the other homogenized and needlessly toughened by Rees Jones, Rustic must be considered a serious player in the golf vacation industry as well as a course required for study by the golf design cognoscenti.

"Its best attribute is how eminently natural it is," added Nathan. "Hanse simply found these golf holes rather than manufacturing them. That's the difference between a designer who's merely pretty good and one who's truly great." At $50, it's also a steal, and with such high-quality design, it's the little dog that barks like a big dog.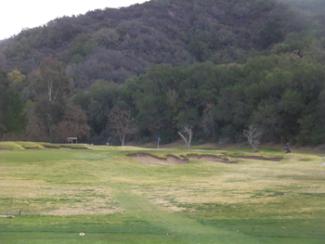 Soule Park has Great Greens, Cunning Bunkering,
and a Fine Routing
Other Places to Play

Soule Park With rates topping out at $45 and an excellent Hanse redesign, Soule Park is another example of champagne golf at beer prices. Outstanding angles and playing strategies meet great greens, and the majestic setting of the nest surrounds you on every hole. A drought has devastated the region and the "Pineapple Express" weather event hasn't helped conditioning, the bones of the golf course are strong and the greens are perfect.

It's biscuit-brown fairways like you find across the pond, the greens emeralds shimmering in a sea of burnished copper. Another super-smart effort from Hanse at an unbeatable price, with the municipality putting more and more money into the facility, Soule Park's reputation will only grow (much to the locals' dismay as it's one of their best-kept secrets for now).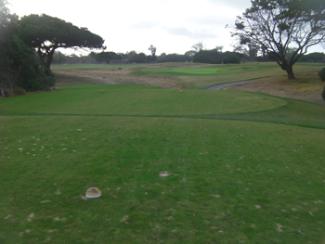 Olivas Links in Ventura is Another Nice
& Inexpensive Public Golf Option
Ojai Valley Inn & Spa

While golf course design experts may find a few of the holes head-scratchers (especially the 90-degree dogleg at No. 2, the intrusive tree blocking the airspace on the otherwise excellent par-4 sixth, and the Jay Morrish bunkering on the back nine that doesn't blend with the rest of the course), the Ojai Valley Inn and Spa has been a favorite of well-heeled jet-setters since 1923. The gorgeous Spanish mission-style resort underwent a $90 million renovation in 2005, and in its history has hosted myriad A-list movie stars and presidents. A favorite of Ben Hogan and Jimmy Demeret, the touring pro who represented the course, it's also the first 18-hole course designed by quintessential Golden Age architect George Thomas.

"Ojai Valley Inn is a tremendous spot for a romantic getaway with the wife. She'll fall in love with how beautiful the place is," explained ardent golfer and well-traveled architecture expert Bruce Moulton. "And if she's not a particularly good player, she'll still be able to whack her way around the course without losing too many balls and carding a too many triple-bogeys. Two days playing there with her, and I've earned up enough chits from her to play Rustic the other five."

With an extensive new irrigation system, the course is in phenomenal condition for hosting this year's California Women's Amateur.

Olivas Links

Forrest Richardson is both an architect and a student of golf history as well. His work in redesigning Olivas Links, originally a Billy Bell family design, has been well-received, and the reasonable price - greens fees never top $50- has Californians filling up tee sheets lightning-quick.

"We looked at the site, with the old Billy Bell course, as a canvas," Richardson explained. "Once we studied how the land moved, we went with that to create a whole new course. I left four or five of Bell's fairways, but created a new routing that responds to the Santa Clara River. We used the river as a guidepost.

"The course flows with the river, leading out and back from the east. [Also] the wind was a major factor. I tried to use the wind to create holes where drives would be affected by 250-yard drives, and equally by 300-yard drives . . . From downwind to crosswind, and from cross-hazards to closely guarded greens."
Quirky and interesting, the greens have excellent contours and micro-movement in them, but with some mounds fronting greens, it's occasionally difficult to play ground game golf on what might otherwise be a good linksy site. The best holes are the short drive-and-pitch third, and the strong par-5 14th. Two pressing issues should be addressed: With a tree completely blocking the drive chute at the par-4 12th, you have a a total "what the hell" moment on the tee. It's nothing five minutes with a chain saw can't fix.

On another occasion there is a stand of trees guarding the knee of a dogleg. It's very 1990s with its sharp-edged shaping, but Richardson nevertheless shows great promise as he continues his career, and it will be remarkably interesting to see his new designs. Also a fan of the architecture of Macdonald, Raynor and Banks, when someone gives him his next chance and leaves him to his own devices, Richardson could be on the edge of a big breakout.
Epilogue

Night has fallen on the Nest. A billion stars blaze overhead, and so far away from the city lights, you can see the lazy haze of the Milky Way in all its serenity. Crickets and cicadas sing the evening's soundtrack, while the scents of mesquite, citrus, and hardwoods fill the air, soothing and restorative. Somewhere off in the distance a coyote howls mournfully.

My best girl reclines on a lawn chair next to me, her face beaming, a frozen margarita in a frosted glass in one hand, my arm in her other. Golf all day, then a perfect California night - soft music in the background, soft girl in the foreground, and a late tee time tomorrow. Who needs to spend $300 per round at a resort? As Robin Hood said to Friar Tuck when he brought him to Sherwood Forest for the first time, "We have everything here we need right here. Here we are kings."
Since launching his first golf writing website in 2004, http://jayflemma.thegolfspace.com, Jay Flemma 's comparative analysis of golf designs and knowledge of golf course architecture and golf travel have garnered wide industry respect. In researching his book on America's great public golf courses (and whether they're worth the money), Jay has played over 420 nationally ranked public golf courses in 40 different states, and covered seven U.S. Opens and six PGA Championships, along with one trip to the Masters. A four-time award-winning sportswriter, Jay was called the best sports poet alive by both Sports Illustrated and NBC Sports writers and broadcasters. Jay has played about 3 million yards of golf - or close to 2,000 miles. His pieces on travel and architecture appear in Golf Observer (www.golfobserver.com), Cybergolf, PGA.com, Golf Magazine and other print magazines. When not researching golf courses for design, value and excitement, Jay is an entertainment, copyright, Internet and trademark lawyer and an Entertainment and Internet Law professor in Manhattan. His clients have been nominated for Grammy and Emmy awards, won a Sundance Film Festival Best Director award, performed on stage and screen, and designed pop art for museums and collectors. Jay lives in Forest Hills, N.Y., and is fiercely loyal to his alma maters, Deerfield Academy in Massachusetts and Trinity College in Connecticut.