Some of the Most Accurately Rated Golf Courses in America
By: Jay Flemma
On a Monday night in October 2006, Arizona Cardinals head coach Denny Green cemented his legacy in sports infamy with a tirade for the ages. His Cards had just blown a gargantuan lead to the Chicago Bears, and in his post-game press conference, he raved like a madman:
"The Bears are who we thought they were! They are who we thought they were!" he fumed in response to question after question. No Irish banshee wailed with more ferocity. Over and over again he raged.

"They are who we thought they were! You wanna crown 'em, them crown 'em! But they are . . . WHO WE THOUGHT THEY WERE!!"

Weeks later, Green was canned, and even the retread coaching carousel that brings back mediocre lugnuts like Norv Turner, Wade Phillips and Cam Cameron time and again has shunned Green like a leper. But the tirade, however, has gone viral, spawning spoof after spoof. And it got me to thinking . . .

We always talk about what courses are overrated and underrated, but why have we never talked about the ones that re rated just where they should be? What courses are rated exactly right? What golf courses are . . . what we thought they were?! Let's take a look. You wanna crown 'em? Let's crown 'em!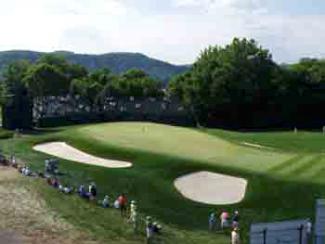 The Short but Deadly 17th at Oakmont
Augusta National

It's the first question everyone asks me: "Is Augusta National really all that great?" Yes, it is, absolutely. Wondrous golf course architecture, unmatched history worldwide, (excepting St. Andrews) and an apres golf that makes every day feel like Christmas, Augusta National richly deserves every golden laurel. It's rated as one of the greatest courses in the world, and it lives up to its lofty reputation every day. Everyone loves Augusta. Everyone reveres Augusta. It's the single most important golf course in America. It's not underrated. It's not overrated. It's exactly where it should be - the best, and we all know it.

Oakmont Country Club

Augusta National may be America's most storied tournament venue, but Oakmont is my favorite. Wild and hurly-burly, canted greens, tilted fairways with side-hill lies, and a cloak-and-dagger claustrophobia due to rough in which you could lose Doctor Livingston, Private Ryan, Bigfoot, the Yeti, Amelia Earhart, Glenn Miller, the Roanoke colony and the crew of the Marie Celeste. It lives up to its reputation as America's toughest tournament venue, but also as a century-old masterpiece. Regarded as one of America's most ancient golfing splendors, it's as venerable as it is difficult. And nobody disputes that assertion.

"There's no water at Oakmont and no real forced carries. It's just a bastard of a course," said quintessential Pittsburgh sportswriter Marino Parascenzo. "[There's] no trees or ravines or waterfalls, but you stagger off the end and ask 'What the hell just happened?' "

We all love Oakmonster, yet we all fear it. (Just like Led Zeppelin, but that's an article for another day.) Everything you hear about Oakmont is absolutely true.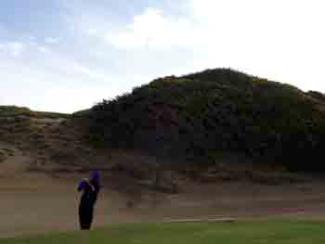 Bandon Dunes
Bandon Dunes Resort

After decades at the top of the rankings lists of public courses, Pebble Beach was finally toppled from its lofty perch by the Bandon Dunes Resort. Now most magazines rate Tom Doak's Pacific Dunes as the country's best public course and they are probably right. Factor in the joyously fun Bandon Dunes course, the super-intelligent Old Macdonald (basically National Golf Links West) and the cult favorite Bandon Trails, while Pebble Beach is left to wonder how Bandon raced past them like they're standing still. In a few short years, Bandon Dunes has taken the world by storm as the new No. 1, must-play golf resort in America.
Caledonia Golf & Fish Club

Ever since opening in 1994, Caledonia has been ranked the top public course in Myrtle Beach, S.C., an area that now boasts over 100 public golf courses. Right out of the gate, Caledonia was heralded as the gold standard of the entire region, and it has held that position ever since without breaking a sweat. In fact, only two other courses are spoken of in the same holy whispers as Caledonia, and one of those is the other Mike Strantz course in the area, True Blue, which is just across the road. (For those of you scoring at home, the other is RTJ, Sr.'s The Dunes Golf and Country Club.) Stately and refined in an area regarded as the reddest of golf's red-light districts Caledonia is the snifter of fine cognac in a margarita town.

As an aside, there is a general rule for Myrtle Beach golf: never play a course with an animal in its name, and that includes John Daly's Wicked Stick.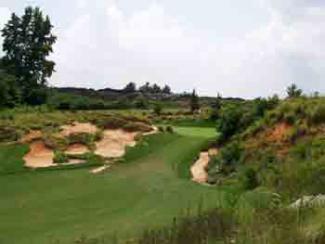 Tobacco Road
Tobacco Road

Since we're discussing Strantz, we would be remiss to leave out what is arguably his most famous course. A few short years ago, Tobacco Road was voted "The Most Adventurous Course in America" and the pundits may be right. Even the savviest, most well-traveled golfers are impressed with his creativity and courage in crafting a design that was so bold. Massive sandy dunes, bathtub greens and a wild Pine Valley-meets-Ireland look and feel make most golfers say exactly the same thing:

"I've never seen anything like it."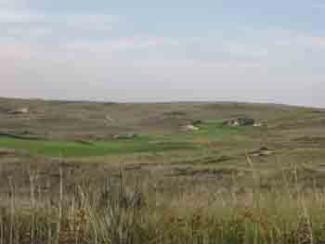 The Rugged Beauty of Sand Hills
Sand Hills Golf Club

Remember those holy whispers I was just talking about? Well they become the Neptunian roil of a Gregorian chant when Sand Hills is brought up. Golf Magazine hailed Sand Hills as the greatest course built in the last 50 years and at the time that article was written, they were likely right. The Coore and Crenshaw design in Nebraska has become the finest trendsetter in golf, and now Ballyneal, Dismal River, The Prairie Club and Awarii Dunes have opened as well, bringing even more pilgrims to the loneliest yet, most mind-expanding location in American golf - the Sand Belt which was formed tens of thousands of years ago when the middle of America was the bottom of the ocean floor.

It's perfect terrain for golf: wild and unspoiled, remote and idyllic, stretching for hundreds of miles. The golf course itself is sublime, an inland St. Andrews. The course is regarded as the most important achievement in golf course architecture in decades, and golfers come from all over the world to recline on "Ben's Porch," and then go home feeling as though they have been to the Promised Land. The cultural importance of Sand Hills to golf cannot be understated. Since everyone loves and reveres Sand Hills, it is properly rated.

Cog Hill (Dubsdread)

Some courses are accurately rated because they are "truly great." Others are accurately rated because they are "merely pretty good." That's Cog Hill: hitherto shalt thou come, but no further.

New York City's great public course got a U.S. Open (Bethpage Black), California's great public course got a U.S. Open (Torrey Pines), and Puget Sound's great public course got a U.S. Open (Chambers Bay). Now Chicago wants one, needs one and has to have one! They can't get a PGA Championship because Medinah and the PGA of America are now going steady like '50s lovers. So they threw gobs of liquid cash into Cog Hill, hired Rees Jones ("The Open Doctor") to toughen it up, and approached the USGA with a lot of Kumbayas about the Jemsek family - kind-hearted philanthropists to be sure - in the hopes that they could draw the U.S. Open to Chicago . . .

…and then Erin Hills got the 2017 Open.

Dubsdread is just not that great a golf course. It's not pretty at all. It's not strategic at all. It's not on sandy soil. It's a long, mundane slog that has only one thing going for it: It's a lot harder than it was before. But if the 1990s and 2000s are showing golf anything, it's that harder is not better. And Dubsdread's design underlines all the design mistakes of the 1970s and '80s, the Doldrums of Golf Design in American golf history: cookie-cutter greenside bunkering, bracketing bunkers in the fairway, boring penal architecture, lather, rinse repeat. For the last two years, the Tour players have hated Cog Hill. I choose that word with precision: hated. Phil Mickelson, normally the friendliest quote in the field, lambasted the course two years in a row,; Tour nice guy Steve Stricker gave a once-in-a-lifetime negative assessment; and phlegmatic but brilliant design analyst Geoff Ogilvy panned it as well.

"A great golf course is a golf course that's challenging for the good player but playable for the average player, and I feel like this is the exact opposite," Mickelson said. "It's playable. It's fine for us . . . but the average guy just can't play it."

"It's too bad. They need to get their money back," added Stricker.

It's one thing when Pat Perez or Robert Allenby cries like Nancy Kerrigan. But it's another entirely when Mickelson, Stricker and Ogilvy complain. They know golf design.

Dubsdread just can't help but tread water in the lower half to lower third of the rankings lists . . . and there's good reason for that.
Medinah No. 3

Speaking of Chicago, we have a similar scenario that developed at Medinah. At some point in the last few years, Golf Magazine, Golf Digest and Golfweek have all come out and called Medinah "the most overrated course in America." So forgive me for going all Chuck Klosterman here, but because everyone now recognizes Medinah as overrated, it is now, actually, accurately rated! (Even if it is only accurately rated by accident: this happens occasionally, the same thing is true of Tony Romo. Everyone knows he's overrated too.)

Medinah gets to host Chicago's major championships by default: it's the only place in town large enough to hold 55,000 people, all the corporate tents, all the TV wires and equipment, and all the media, hoopla and sundries. It's not so tough any more (Tiger ripped it apart twice, before he nuked his own legacy and made the label "Tiger won here" mean a lot less than it should). Other winners include Hale Irwin and Lou Graham, who are as exciting as dry wall and spackling. The course has had more facelifts than Liz Taylor. It treads water in the same hinterlands of the rankings like Cog Hill, and if you think about it, this is perfectly logical: Medinah's lukewarm historical significance is sensible.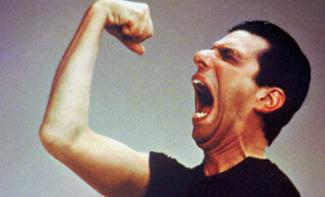 Bowzer of Sha Na Na
Atunyote at Turning Stone Casino

More like Blarney Stone Casino. After debuting on top-100 lists and overpaying to buy their way onto the PGA Tour Fall Series (i.e. the kid's table), this overpriced, over-hyped, under-designed chump trap fell down the rankings like its parachute didn't open and hit the ground with a thud that resounded all the way from Utica, N.Y., to Ponte Vedra, Fla. When overweening ambition meets maniacal arrogance and greed fueled by gambling proceeds, you get a simoniacal heresiarch of a golf course telling everyone stupid enough to listen that, "We are the Augusta of the North," that they are better than "Kiawah Island, Pinehurst, Valhalla, Whistling Straits, Doral and La Quinta. Nice Company"; and, "We're angling to host a major and on that day Tiger Woods will sink a putt at Atunyote and I hope you are there to see it!"

I'm checking back with you now. How did that turn out?

Now they are remembered for telling everyone how great they are, from the Oneida Indian leader and facility overseer Ray Halbritter trying to give himself a sponsor's exemption to their second-rate tournament, and for getting themselves thrown off the schedule with two years to go in their contract when they tried to order the Tour to give them a better date in the schedule. After that, it was tough for anyone to take them seriously anymore.

And there the course sits, a multimillion-dollar boondoggle that charges $300 per round in a blue-collar area of good-hearted people who deserve better - a footnote in golf, and a noxious, noisy one at that. But really, they're great! Just ask them! They may invite you to go see Sha Na Na play there on February 3rd. You might even get to meet Bowzer! That is if someone turns off the dork alarm long enough for people to hear the performance.

[The author tips his hat to Chuck Klosterman and his "The Ten Most Accuarately Rated Bands in History" article as the impetus for this piece.]
Since launching his first golf writing website in 2004, http://jayflemma.thegolfspace.com, Jay Flemma 's comparative analysis of golf designs and knowledge of golf course architecture and golf travel have garnered wide industry respect. In researching his book on America's great public golf courses (and whether they're worth the money), Jay, an associate editor of Cybergolf, has played over 420 nationally ranked public golf courses in 40 different states, and covered seven U.S. Opens and six PGA Championships, along with one trip to the Masters. A four-time award-winning sportswriter, Jay was called the best sports poet alive by both Sports Illustrated and NBC Sports writers and broadcasters. Jay has played about 3 million yards of golf - or close to 2,000 miles. His pieces on travel and architecture appear in Golf Observer (www.golfobserver.com), Cybergolf, PGA.com, Golf Magazine and other print magazines. When not researching golf courses for design, value and excitement, Jay is an entertainment, copyright, Internet and trademark lawyer and an Entertainment and Internet Law professor in Manhattan. His clients have been nominated for Grammy and Emmy awards, won a Sundance Film Festival Best Director award, performed on stage and screen, and designed pop art for museums and collectors. Jay lives in Forest Hills, N.Y., and is fiercely loyal to his alma maters, Deerfield Academy in Massachusetts and Trinity College in Connecticut.