Something for Everyone at Trio of Las Cruces Public Courses
By: Steve Habel
Las Cruces is New Mexico's fastest-growing city and a hub for commerce, health care and education for the Land of Enchantment's southern part.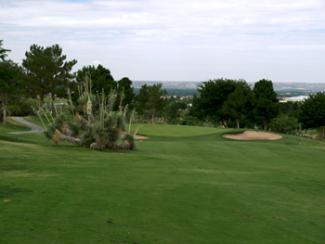 New Mexico State University Golf Course
The city and surrounding area are also home to a trio of notable public golf courses that run the gamut. The venerable New Mexico State University Golf Course has hosted three NCAA national championships along with numerous Western Athletic Conference tournaments and USGA qualifying events.

A second, the barely two-year-old Red Hawk Golf Club, is as good a public venue as you'll find anywhere, while a third, an underrated 11-hole-that-plays-as-18 track on the White Sands Missile Range about a half-hour northeast of Las Cruces, is a hidden gem that crosses a long rocky ridge where the age of atomic warfare dawned.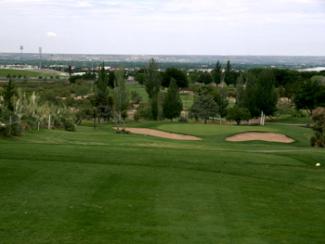 No. 11 at the NMSU Golf Course
Las Cruces lies in the Mesilla Valley, which was originally inhabited by indigenous people at least 4,000 years ago. The first colonists from Spain entered in 1598. The Rio Grande flows through the middle of the valley and the stately Organ Mountains loom to the east. The surrounding agricultural fields yield pecans, onions, cotton and other produce, while other operations grow the best-tasting green chili peppers in the world.

Las Cruces is also where, in 1881, the infamous William H. Bonney, better known as "Billy the Kid," was tried and sentenced for murder; he escaped prison, but was later killed in Fort Summer, about 200 miles northeast of Las Cruces.

These days, Las Cruces is home for New Mexico State University students, public sector and military service employees, and recent retirees. One can play golf about 350 days a year in the city, which sits at an elevation of about 4,300 feet in the high desert. Despite their desert setting, none of the three public courses are target-style venues typical of arid Southwest climes. Instead, all are solid parkland designs with their own unique appeal.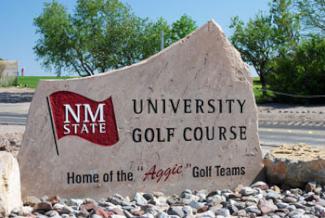 Welcome to NMSU Golf Course
Improved Conditioning Returns Glory Days to NMSU Golf Course

Long regarded as one of the Southwest's outstanding facilities, the New Mexico State University Golf Course was designed by Floyd Farley and opened in December 1963.

Playing at a par of 72 and an expanded 7,204 yards from its back set of four tees, the layout combines playability and challenge as it winds through stands of mature pine and oak trees that have narrowed the fairways over the years. Adding to the equation are small and mid-sized bentgrass greens. It's easy to see why players like Rich Beem, Bart and Brad Bryant and long-hitting Tom Byrum learned their chops at this course before launching successful careers on the PGA Tour.

NMSU's course is highlighted by a series of demanding par-3s, the most difficult of which are the 216-yard second and 225-yard 17th. The downhill, 197-yard 11th boasts the city, the Mesilla Valley and NMSU's campus as a scenic backdrop.

The four toughest holes are par-4s, led by the 451-yard seventh and 435-yard 16th, with each requiring accurate drives and the ability to work the ball left to right or vice-versa. Farley offset those testers with a pair of par-5s (495-yard eighth and 535-yard 12th) that can be reached in two by long hitters.

In 1996, the NMSU Golf Course was named the second-best public track in New Mexico by Golf Digest, and continues to provide a great round for everyday players.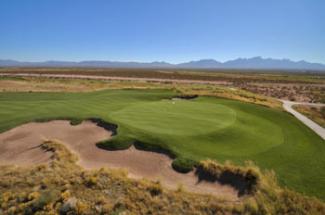 The 6th Green at Red Hawk Golf Club
Red Hawk is a Tough Test

Red Hawk Club, located about five miles north of the NMSU campus on the way over Organ Mountain Pass, was once proposed as the new site of Las Cruces Country Club. After a couple years of delays, the course opened as a daily-fee facility in November 2011 and has quickly emerged as the best course in the area - public or private.

Designed by Ken Dye of Houston-based Finger/Dye/Spann, Red Hawk stretches a whopping 7,523 yards from the tips. With five of its par-4s playing 457 yards or more (one, the fourth, checks in at 487, while the 12th goes 490), the course merits its 74.9 rating and 133 Slope.

Occupying 200 acres (100 acres of which is turf, 50 for planted native grasses and 50 comprising natural desert), Red Hawk brings to mind anything but desert golf because of its links-style look, rolling and big greens, and massive ground features. Dye also inserted five lakes (water is in play on eight holes) and 76 bunkers of assorted sizes and depths.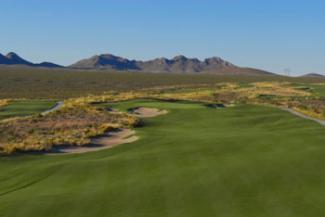 Red Hawk Golf Club
The trouble created by the water hazards at Red Hawk are best illustrated at the 337-yard par-4 sixth, with its pitched green bordered by sand on the left and water right. The 177-yard seventh requires an all-or-nothing carry across a pond to a shallow green with a large mound in its center.

The 472-yard 17th brings deep bunkers into play left of the landing area before stretching out to an elevated green with another bunker front-right. The 457-yard closer is shaped like a narrow question mark, with the putting surface hidden behind a small lake at the front-right and lateral bunkers.

In May, Red Hawk hosted a U.S. Open qualifying tournament. The course, which was not designed for once-a-month Sunday golfer, was voted in 2013 as one of the top-10 courses in New Mexico by Golf Digest.

With elevated greens and demanding surrounds containing quick and severe drop-offs, there's little room for error here. But if you want to play the best and toughest course in the Mesilla Valley, Red Hawk is the place.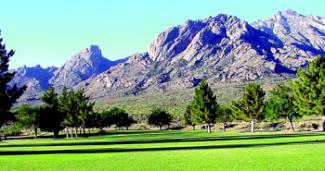 The Organ Mountains are the backdrop at
White Sands Missile Range Golf Course
White Sands Golf Course is Quirky & Fun

Also known as the White Sands Missile Range Golf Course, this was once a private facility for personnel at the like-named base but is now open to the public. It's likely the only course in the country on an active missile range; you must pass through a security check before accessing the pro shop.

Located at the foot of the eastern slope of the Organ Mountains just over Organ Pass on what was once the San Augustine-Cox Ranch, White Sands Missile Range is one of the army's most important weapons-testing grounds and home to the Patriot Missile System.

At the north end of the base is a barren, chilling place open just twice a year. The Trinity Site is where the explosion of the first atomic bomb on earth heralded the age of atomic warfare.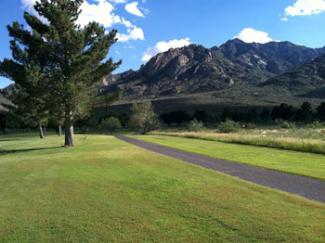 White Sands Missile Range Golf Course
White Sands Missile Base is not only the birthplace of the atomic age but may also hold an answer to the first appearance of man on the North American continent. In a remote location is the Rough Canyon Cave, where excavations by world-renowned archaeologist "Scotty" MacNeish in the late 1990s found evidence of possible human use 36,000 to 50,000 years ago.

It's best to keep to the task at hand while playing White Sands, as it requires your full attention. Established as a nine-holer in 1962, the course since got another two holes. From these 11 tee boxes, the course can be played as an 18-hole track carded at 6,646 yards (3,332 on the front and 3,314 on the back). Accuracy (as befitting a missile range) is paramount here, especially on its three tough par-3s, the shortest of which is 185 yards.

Overall, the course boasts fast greens and majestic views that lead it to be among the Southwest's best-kept golf secrets. It's definitely worth the time and effort to play.
For more information about the courses, visit www.nmsugolf.com, www.golflascruces.com or www.wsmrmwr.com/white_sands_golf_course.php.
Steve Habel is a freelance writer contributing Cybergolf news stories, features, equipment and book reviews and personality profiles from his base in Central Texas. He also works as a contributing editor for Horns Illustrated magazine, a publication focusing on University of Texas sports, and is a contributing writer for Golfers' Guide and Golf Oklahoma magazine, Texas Links magazines and Golfers Guide. Habel's main blog (www.shotoverthegreen.blogspot.com) features news on golf and the Longhorns, and another (www.checkinginandplayingthrough.blogspot.com) chronicles his many travels, including playing more than 600 golf courses since 2008. Habel is a member of the Golf Writers Association of America and the Texas Golf Writers Association.