Something 'Sassy' for the Woman Golfer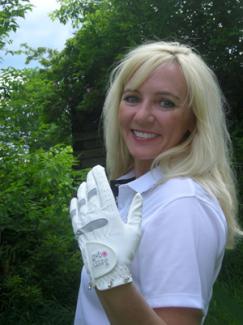 Elizabeth Carless/Sassy Golf
July 2, 2009. Elizabeth Carless loves golf. She also loves style and fashion. What started as a way to put a little more style in her own golf game has turned into a growing business for the Lake Placid, New York resident.
Being curious about all things that have to do with golf, I was intrigued when I came across Elizabeth's website on the Internet. For the last several years Elizabeth has been creating handmade customized golf gloves for women. It all began about five years ago when, as she says… "Basically, I grew tired of wearing a man's golf glove sized for a woman. Originally, the gloves were created for my own enjoyment until other ladies took notice and wanted one too."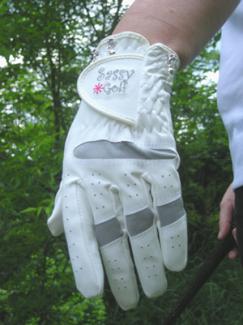 Sassy Golf Glove
Elizabeth headed to the crafts store and got the material to begin embroidering a colorful daisy on the Velcro flap on the back of her golf glove. The eye-catching design became a conversation piece among her playing partners whenever she teed it up, and soon she was making a lot of gloves for friends and relatives.
Seeing a potential market for her gloves, Elizabeth launched her website last year and has been receiving orders from all around the world. Sassy Golf is on Facebook, Twitter, Youtube, Indiepublic, and Ebay just to name a few. "Social Networking has allowed Sassy Golf to find, and make connections with, real women golfers from all over the globe," says Elizabeth, "To us, they are not only our clients, but our friends and we love to have that personal experience."
The big recent news for Sassy Golf is the unveiling of a new look for the brand. Sassy Golf has produced its own golf glove, embroidered with the Sassy Golf logo and every detail was chosen and designed by Elizabeth. "I knew just the look I wanted and the glove design process was so interesting. I just had to tweak it until it was what I pictured in my mind: the perfect, polished, new look for Sassy Golf," she says.
Now her gloves also come with a variety of featherweight charms that customers can order to suit their personal preference. Elizabeth says the charms are so light in weight that players don't even notice them when swinging the club.
A few of the professional golfers on the Duramed Futures Tour (the LPGA's official developmental tour) have begun wearing Sassy Gloves. One of the players, Carling Coffing, says she loves hers and is always being asked about it out on the course.
Elizabeth Carless says the main goal of Sassy Golf is to consistently produce ladies golf gloves that are each unique and specially made at the time a client orders them. "As we grow as a company and the number of glove orders increases, we will continue to make each one with love, or it will not be a Sassy Golf glove," she says. "I still have fun with each one deciding where the charms look best and how it will look on the woman's hand. I feel content when I know I do my best work."
It looks like Elizabeth's love of golf and love of fashion have combined to make the perfect fit for her new business… and don't you just love the feel of a perfectly fitting golf glove.

For more information, visit http://www.sassygolf.com.