Somnambulant Dufner Sleepwalks to PGA Championship at Oak Hill
By: Jay Flemma
Jason Dufner put the entire PGA Championship - players, fans and tournament - in so much of a sleeper hold, the entire golf world must have looked like they were Dufnering.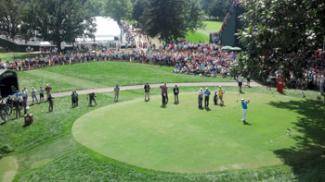 Jason Dufner Driving off 1st Tee at Oak Hill
"This is boring," groused several sportswriters as the final round plodded to a bland, anticlimactic conclusion, and they were right. But you can't blame Dufner. He did exactly what he was supposed to do, he dominated. He got his opponents down and, this time, put them in a headlock and rocked them to sleep. He seized the lead at the par-4 eighth hole with a laser-beam approach that finished a tap-in away from the hole, then took a two-shot lead at the turn when Furyk bogeyed the ninth.

And then Dufner turned on the autopilot. The same formula he used during that 63 he hung on soggy Oak Hill Friday - fairways and greens, lather, rinse, repeat. Furyk didn't fumble this one away - he was outgunned, outmatched and outplayed. Dufner was aggressive with driver off the tee, but hit it straight down the middle. From there, Oak Hill is a piece of cake. You know how some courses are a "second-shot golf course?" Not Oak Hill - it's a driving course. Put it in the fairway, and it's not all that long. You can hit those small greens with lofted clubs in your hands, giving yourself some good looks at birdie.

And that's exactly what Dufner did. Despite back-to-back bogeys to close out the tournament, he carded a 2-under 68 that may have been the most snore-inducing final round since David Graham at Merion in '83 (or perhaps Faldo's 18 pars at Muirfield in '87). The dagger came at 16. By that time, Furyk was reeling and running on fumes. That energy drink he promotes may last five hours, but it can't last four rounds, and by the back nine Furyk was hanging on by his fingernails: being out-driven off the tee, putting from much further away on the greens than Dufner, and scrambling like a mad man. You were waiting for Furyk to make that one costly mistake he tends to make in big tournaments, the one he'd avoided so far with some hair-raising up-and-downs.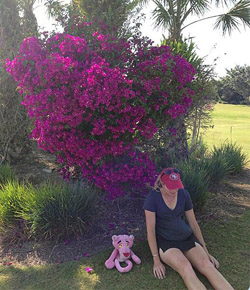 Paula Creamer Dufnering
On the other hand, the only reason we were still watching in the first place was because Dufner hadn't finished him off already. He let Furyk hang around just enough to hope. But if there's a guy to leave hanging around, it's Furyk, who led after three rounds. But Dufner had Furyk right where he wanted him.

It's an open question whether Slim Jim's worse at holding a lead (he's blown the Bridgestone, U.S. Open, Transitions, and his 2012 Ryder Cup singles match after leading all of them late), or coming from behind (which he couldn't do at Winged Foot and Oakmont). Furyk has had 13 top-five finishes in majors, but has won only once.

So, on the one hand, we had the all-but-perennial bridesmaid vs. the guy who can't make a short putt and flushed a five-stroke lead late in the PGA Championship's final round just two years earlier. In other words, we were watching a couple of choke artists try not to be the guy who threw up the Wanamaker.
To Dufner's credit, he played the best golf and deserved to win. At No. 16, he put the tournament away for all intents and purposes with a wedge approach at the short par-4 that nearly went in for eagle. He retained his two-shot lead, got it to the house and turned to celebrate with his wife - which he did by slapping her on the tushie on international television.

"Did he just do that?" half the golf world asked incredulously. "Yes, he did," the rest of us answered, horrified. It was innocent, of course, but particularly ill-timed. I wonder if Keegan Bradley saw that.

"Keegan and I like to needle each other," Dufner told the TV cameras at various interviews. Apparently, Bradley rides him about rallying from five shots behind to steal the 2011 PGA from Dufner. But upon hearing that his pal was about to join him as a Wanamaker Trophy winner, Bradley drove to the course to watch the presentation ceremony and congratulate his friend in person. If he saw that intimate tete-a-tete between Jason and Amanda, he'll be dining out on it for years! "Hey Duff! Remember the time you grabbed your wife's behind on network television? Smooth move, ExLax!"

Good job nevertheless, Keegan, in coming back to celebrate . . . and guess what? You won at Atlanta Athletic Club. Duff Daddy won at Oak Hill. Advantage: Dufner.
The Author Dufnering
Indeed, Dufner went out and took this title in almost as dominant a fashion as he did for 68 holes in Atlanta two year earlier. At Oak Hill he hit over 75 percent of his fairways and 75 percent of the greens. He gave himself enough good looks to make a few putts. He played well enough to get a comfortable lead and then coasted home after everyone else fell away. Jim Furyk is no Keegan Bradley - he's not as long, as aggressive, or as durable.

Despite his dopey grin, dopier Diz and dip, Dufner is less Ben Hogan and more Raymond Floyd . . . well Ray Floyd with a prefrontal lobotomy. He steadies his opponents to death with arrow-straight drives, interballistic-missile accuracy with his irons, and enough good putting to hang around the tops of leaderboards. If he can stop pulling short putts to keep everyone else in contention long enough to steal one from him a la Bradley in Atlanta, he might win as many or more majors as Floyd. He not only plays with Floyd's relentlessness and grit, he looks like Raymond with his fluffy hair and dumpy physique.

And then there's the Dufnering. Where Floyd was a dynamo, Dufner is a flatliner. "So, Jay, tell us about this Jason Dufner guy!" my friends asked me after he won. "What's he like?"

"Well he likes to sprawl on the floor and stare into space with a vacant expression," I replied.

Pause.
"Well . . . how fascinating." they said.

I know as a sportswriter I'm supposed to attach oodles of charm and grace to a guy who wins a big golf tournament, but come on, really, Jason Dufner?! He's more somnambulant than Retief Goosen, the original Dockers-wearing zombie. When Nicklaus or Palmer won majors they went hunting or fishing. Apparently, Tiger Woods went partying. What will Dufner do? He'll go stare at a wall somewhere with a lost look on his face, kind of like what every other American did whenever Seinfeld came on TV.

But who knows? Perhaps now that he has a major championship on his resume he'll come out of his shell.

There's certainly a lot more to talk about in the Dufner household now. He'll ride off into the sunset with the trophy in one arm, and his pretty wife in the other. And, hopefully, this time his hands will behave themselves, because if they don't she's going to put her hands on his tushie, and much more frequently and a lot harder.
Since launching his first golf writing website in 2004, http://jayflemma.thegolfspace.com, Jay Flemma 's comparative analysis of golf designs and knowledge of golf course architecture and golf travel have garnered wide industry respect. In researching his book on America's great public golf courses (and whether they're worth the money), Jay, an associate editor of Cybergolf, has played over 420 nationally ranked public golf courses in 40 different states, and covered seven U.S. Opens and six PGA Championships, along with one trip to the Masters. A four-time award-winning sportswriter, Jay was called the best sports poet alive by both Sports Illustrated and NBC Sports writers and broadcasters. Jay has played about 3 million yards of golf - or close to 2,000 miles. His pieces on travel and architecture appear in Golf Observer (www.golfobserver.com), Cybergolf, PGA.com, Golf Magazine and other print magazines. When not researching golf courses for design, value and excitement, Jay is an entertainment, copyright, Internet and trademark lawyer and an Entertainment and Internet Law professor in Manhattan. His clients have been nominated for Grammy and Emmy awards, won a Sundance Film Festival Best Director award, performed on stage and screen, and designed pop art for museums and collectors. Jay lives in Forest Hills, N.Y., and is fiercely loyal to his alma maters, Deerfield Academy in Massachusetts and Trinity College in Connecticut.