Sorenstam to Receive EWGA Leadership Award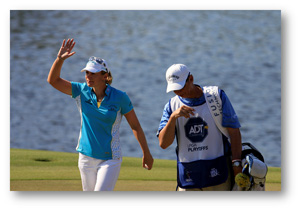 Annika Sorenstam, one of the greatest female golfers of all time and now an emerging entrepreneur and new mother, has been named the recipient of the 2009 EWGA Leadership Award. She will receive this honor at an awards dinner at the 2010 EWGA Golfpalooza (formerly known as the EWGA Conference) to be held at the Pinehurst Resort & Spa, April 7-10, 2010.
The EWGA presents this annual recognition to individuals who have made longtime and outstanding contributions to women's golf by paving the way for female golfers and whose dedication to the game has inspired others to follow in their footsteps. Past honorees have included Patty Berg, Peggy Kirk Bell, Judy Bell, Judy Dickinson, Michelle McGann, Alice Dye, Kathy Whitworth, Shirley Spork, Marlene Hagge, Renee Powell, Golf For Women Magazine, Linda Vollstedt, Pia Nilsson and Lynn Marriott, M.G. Orender, Zayra Calderon, and the 2008 recipient Cindy Davis, president of Nike Golf.
Sorenstam is considered the greatest female golfer of her generation and often regarded as the best player in LPGA history. Her list of accomplishments includes her 2003 induction into the World Golf and LPGA Halls of Fame, 10 major championships, 89 worldwide professional victories, eight LPGA Player of the Year Awards, and participation on eight Solheim Cup teams. She captured the world's attention when she competed against the men in the PGA Tour's Colonial in 2003, and she is the only female ever to shoot 59 in an LPGA tournament.
Annika joined Arnold Palmer as only the second Ambassador of the United States Golf Association, and in 2009 she was named a Global Ambassador by the International Golf Federation as they successfully brought golf to the 2016 Olympic Games. She stepped away from professional golf at the end of the 2008 season to further pursue the ANNIKA brand of businesses which include the ANNIKA Academy, the ANNIKA Foundation, the ANNIKA Collection with Cutter & Buck, ANNIKA Financial Group, numerous golf course design projects, a signature wine label with Wente Vineyards and a fragrance with SA Fragrances.
"Honoring Annika is actually our honor and privilege," says Pam Swensen, CEO of the EWGA. "Her achievements in women's golf are unparalleled and she is so admired by EWGA members. Having Annika at our event is simply thrilling!"
The 2010 EWGA Golfpalooza is a four-day event packed with fun golf tournaments for players of all skill levels, a lineup of speakers and instructors, golf instruction opportunities, new product demonstrations and shopping marketplace, parties and social events, awards, recognition and learning opportunities for EWGA chapter volunteers, and more. For more information and registration, visit the Events section at www.ewga.com.