South Shore Gems
By: Rob Duca
Plymouth Rock, site of the Pilgrims landing in America, is no longer the prime tourist attraction in the sprawling community of Plymouth, Mass., located approximately 45 minutes south of Boston and 15 minutes north of Cape Cod. Golf has transformed the South Shore region over the past decade into a featured destination, with 11 public courses presenting a variety of challenges.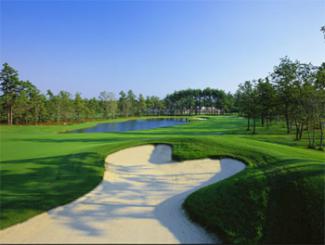 The Treacherous 476-yard 18th
on the Nicklaus Course at Pinehills
From two championship-caliber layouts at pristine Pinehills Golf Club to the rolling fairways at Waverly Oaks to the aptly named Crosswinds to the captivating Southers Marsh to the demanding Squirrel Run, Plymouth offers something for golfers of every ability and taste.

Two Beauties at Pinehills

The Jones' course at Pinehills, designed by Rees Jones, opened in 2001, followed by a Jack Nicklaus Design layout a year later. While many facilities seek to provide a private-club feel at a public golf course, Pinehills accomplishes that lofty goal.

The drive down the winding entrance road stops in front of an elegant, 12,000-square-foot clubhouse, where employees remove your clubs from the trunk and place them onto a cart that will be waiting for you at the driving range. You're greeted like a well-heeled member, even though Pinehills is a daily-fee layout. Afterward, there's a locker room and showers in which to clean up and change clothes, and a grill room and porch to enjoy a sandwich and beverage.

But while the first-class treatment makes you feel special, it's the golf courses that bring you back. Set among woodlands, kettle ponds and cranberry bogs, both layouts feature steep elevation changes and dramatic scenery. Most holes are framed by pines and completely isolated, providing a serene atmosphere that seems as though no one else is on the premises.

The Jones course has a classic feel, rolling gently through the woods with a series of doglegs, valleys and swales past stately white pines and natural vegetation. It's a bit like going back in time, before architects began tricking up layouts in an effort to be unique. The emphasis here is on intelligent shot-making and fundamentals. Most greens are clearly visible from the tee.
The par-4 sixth hole is a bear from the tips at 459 yards, while the 414-yard eighth twists left and discourages cutting the corner with a series of traps running down the left side of the fairway. The front nine finishes in style with an attention-grabbing par-5 of 574 yards that flows downhill and provides an option of carrying a bunker at the corner to slice off some distance.

The back nine is equally spectacular. The drive on the 382-yard 10th must avoid fairway traps both sides and requires a tricky approach. The 248-yard 14th will test anyone's game. The uphill par-3 starts at an elevated tee and often plays into a swirling wind; a massive greenside bunker catches poorly struck shots. There is a bailout area to the left, and if you muscle it long, a nifty chipping area awaits beyond the green.

Finally, there's the par-5 15th. The tee sits on one of the course's highest points, and as you stand waiting to strike your drive you might feel you've been transplanted to North Carolina. The entire hole is framed by towering pines, which you gaze down upon from above the tree line. It's a gorgeous scene when the colors change in the fall. The hole is no picnic, however, as the drive must carry a waste area to reach the fairway, while also avoiding fairway traps left and right.

The Nicklaus course features a series of testy greens, many bordered by low-cut collection areas that provide the option of pitching or putting in order to rescue par. You'll face a fair share of approach shots over ravines to elevated greens, and if you tackle the championship tees, you'll encounter eight par-4s over 400 yards, a 243-yard par-3, and a 591-yard par-5. The finishing hole is truly championship-caliber. A par-4 of 476 yards, it demands a deft tee shot to a narrow fairway lined along the left by a pond that runs all the way to the green.

For more details or a tee time, visit www.pinehillsgolf.com.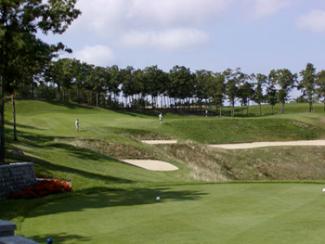 The Demanding 248-yard 17th at Waverly Oaks
Waverly Oaks

Waverly Oaks is located across Route 3 from Pinehills. The club has gone through turbulent times in recent years. It was nearly closed to make way for a film studio and a hotel, but when financing collapsed for the planned "Plymouth Rock Studios," the golf course continued operating. Opened in 1997, Waverly plays 7,100 yards from the tips, although four sets of tees accommodate higher handicaps. There are extraordinary elevation changes throughout; wide, generous fairways; and ballroom-sized greens that are easy to hit but hard to putt.

You won't find many three-hole stretches more demanding than the 15th through the 17th. It begins with a 474-yard par-4, followed by a 636-yard par-5 (although the last 200 yards dip into a steep ravine). Finally, there's the ridiculously difficult 234-yard, uphill par-3. Requiring all carry over a waste area, there's an enormous bunker guarding the front of the green that sits 15 feet below the putting surface.

For more information, visit www.waverlyoaksgolfclub.com.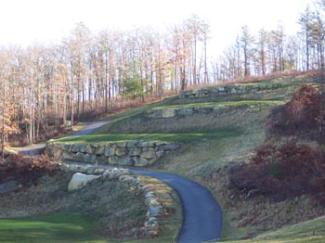 The 4-Tiered Tee at the 378-yard
Fourth on the Jones Course at Crosswinds GC
Crosswinds

It's a short drive from Waverly Oaks to Crosswinds (www.golfcrosswinds.com). Comprised of three distinct nine-hole layouts - the Ouimet, Jones and Zaharias - the course is exposed to high winds that make for treacherous conditions. With tapered fairways, water hazards, precipitous elevation changes and a series of blind shots, this layout is not for the faint of heart.

The final three holes of the Zaharias/Jones course can be a scorecard-destroyer. The steeply downhill, 337-yard par-4 16th demands a precise and intelligent shot off the tee, while water lurks on the 211-yard 17th, and the 560-yard 18th is a superb risk-reward finisher.
Atlantic Country Club

Tucked away in a remote corner of South Plymouth and reached by winding, narrow roads, Atlantic Country Club can truly be labeled a hidden gem. It doesn't receive the accolades of the aforementioned trio, but this Cornish, Silva, Mungeam design is worth the visit. Set on 187 acres of wooded, rolling terrain, it plays 6,728 yards from the championship tees. Every hole features tight, twisting and tilted fairways, followed by approaches to elevated greens that are usually guarded by bunkers.

The landing areas are blind on many drives, and rarely will you see the bottom of a flagstick. Fortunately, the greens are outsized, but accurate placement of tee shots is essential.

Holes to remember include the 428-yard ninth, with its serpentine fairway and heightened, mounded green, and the uphill 339-yard 13th, featuring a tree-lined fairway that leans left. The 373-yard 15th that doglegs left over a pond is also memorable.

Course knowledge is critical due to the succession of blind shots at Atlantic CC (www.atlanticcountryclub.com). Rest assured, you'll never be bored as every hole is unique and secluded.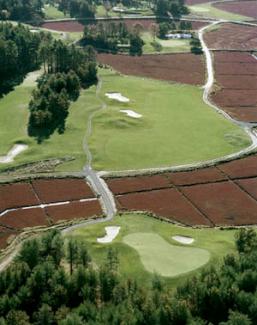 The Scenic, Cranberry-bog-engirded,
363-yard Fourth at Southers Marsh
Southers Marsh

No course in Plymouth is more distinctive than Southers Marsh (www.southersmarsh.com). Opened in 2001, this executive-style course winds across 32 acres of working cranberry bogs. The 18-hole layout barely measures 4,100 yards from the back tees and plays to a par of 61, but this is not a relaxing walk in the park.

Southers Marsh involves a succession of carries over wetlands, beginning with the difficult 370-yard, par-4 opener. The 190-yard third is entirely over a cranberry bog, while hazards must be carried on four other holes. The prevailing theory is that executive courses are stress-free. Not here.
Squirrel Run

Finally, there's Squirrel Run, a par-57, 18-hole venue that can be played quickly, though not always painlessly. The course opens with a seemingly benign 310-yard par-4, but then you realize that the tee shot is blind, with the woods creeping in along the left side mandating a precise drive. The approach to a postage-stamp, crowned green isn't any easier, with bunkers front and right. Next is a 131-yard par-3 whose narrow green is guarded by a large pond. On the 140-yard third, water enters play along right and before the green.

At 2,809 yards, Squirrel Run has only three par-4s, all on the front nine. The one-shotters range from the 109-yard 11th to the 192-yard 14th, with numerous carries over water to a series of mounded, undulating greens that ask for accurate iron play. Nearly every hole features some sort of obstacle. At tight Squirrel Run, there's little room for error.

For more information, visit www.squirrelrungolf.com.
Rob Duca is an award-winning sports columnist who wrote for the Cape Cod Times for 25 years, covering golf, the Boston Red Sox, the Boston Celtics and the Boston Bruins. He is now managing editor of Golf & Leisure Cape Cod magazine and has written for a variety of other publications, including Sports Illustrated, the Boston Globe, Yankee magazine and Cape Cod Life.