South Sound Renaissance
By: Jeff Shelley
For the past few years the state of Washington has taken a back seat to its neighbor to the south, Oregon, in the unveiling of world-class golf courses. While the Beaver State has seen such exemplary layouts as Bandon Dunes (three of them with another on the way) along the Pacific Coast, Pronghorn and Brasada Ranch near Bend in central Oregon, and others on both sides of the Cascade Mountains, the Evergreen State has lagged behind.
But that status changed in June 2007 with the debuts of two spectacular new courses, the one-of-a-kind Chambers Bay in University Place near Tacoma, and The Home Course south of Tacoma in the town of DuPont. The former is a high-profile Robert Trent Jones Jr.-designed track that will be taking its place among the nation's top-50 modern courses for decades to come, while the latter is a low-key venue recently acquired by the Pacific Northwest Golf Association and one of its affiliates, the Washington State Golf Association.

Let's take a look at these two new courses along the southwestern shores of Puget Sound.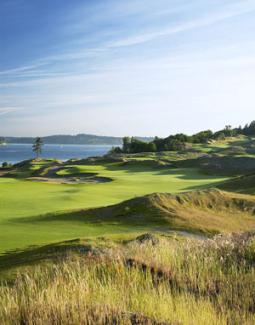 Photos by Aidan Bradley
Chambers Bay Golf Course

Simply put, this municipal facility developed by Pierce County is making one of the most auspicious debuts of any golf course in recent memory. Well-known architectural writer Bradley Klein proclaims Chambers Bay: "A stunning achievement, one that appears entirely natural . . . clearly rates among Golfweek's Best top 50 Modern Courses (post 1950)."

Klein, who, like I, was skeptical about the project - one that cost over $20 million to design and construct - before he visited University Place in late May 2007, contends that Chambers Bay is "the most carefully crafted and well-designed municipal golf course to open since Bethpage State Park's Black Course in 1936. The big difference is that Chambers Bay, perched on the windy shoreline of Washington's lower Puget Sound, has a better natural setting and makes for a more exciting walk."

And walk you must at this course, which has no power carts (hopeful riders must provide a note from their doctors) but offers an expansive caddie program. As expected, since the course just opened on June 23, some loopers are better than others.

Though somewhat arduous, the hike around this course is one of the best golfers will find anywhere. Highlighted by unimpeded vistas of Puget Sound, the Olympic Mountain Range, and various islands, the ambience is simply divine. Between the clackety-clack rhythms of trains rumbling by every 20 minutes, seals bark out on the Sound and eagles, kestrels and hawks swoop overhead. On a few holes, golfers will intermingle with moms pushing strollers along the 3-mile-long, paved path that bisects the course. Other than a couple of junctures, the path is hidden between towering manmade dunes.
South of the site are the remnants of an old gravel-pit operation; the huge concrete bins once used for loading trucks and barges may soon become known as Pierce County's version of Stonehenge. They're particularly noticeable on the 18th hole, a 604-yard par-5 that may eventually determine the champion of national-caliber events (and believe me, golf's powers - the USGA, PGA Tour and PGA of America - are fully aware that this Pacific Northwest gem could handle a tournament of any scope).

The course, which plays from 5,253 yards to a whopping 7,585 yards (where it merits a 76.9 rating and 135 slope), sprawls across 260 acres of the 930-acre county-owned property. Holes wind up, down and around landforms sculpted by the builder, Heritage Links, which shifted 1.4 million cubic yards of material to shape the layout. A blend of 95 percent fescue and 5 percent bentgrass, Chambers Bay provides a true links experience, with the only tree - a solitary fir on the western edge near the tracks - out of play. (In an effort to keep out invasive and the Northwest-endemic poa annua, Jones jokingly said during a recent media day that he had formed a group called the "Friends of Fescue" at Chambers Bay, whereby "members" are encouraged to pick out a chunk of poa - if they find one - and deposit it into a bin.)

Golfers are invited to play close to the turf at Chambers Bay, a game quite different than the one often associated with Western Washington's parkland-style courses. Jones' design associate, Bruce Charleton, said: "Ground is your best friend as far as playing into the greens. Normally you're thinking an air game. But it was a lot of fun [at Chambers Bay] because there are many ways to play these greens."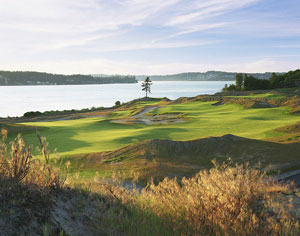 Photos by Aidan Bradley
Jones, Charleton and the other integral member of the design team, Jay Blasi, made over 100 site visits to Chambers Bay from their offices in Palo Alto, Calif. Blasi did much research before finalizing the design, visiting several American courses that hosted major tournaments and visiting the fabled links in Great Britain and Ireland.

The architectural team, chosen from over 50 applicants, was given a simple directive by the brainchild behind Chambers Bay, Pierce County Executive John Ladenburg. Ladenburg, a straight-talking golfer who risked a good chunk of political cachet while convincing other officials and citizens to build the course, told Jones & Co.: "The danger is not if you aim high and fail, the danger is if you aim low and succeed." In other words, let's make something special that Pierce County residents - not to mention golfers certain to visit from around the world - will appreciate 100 years from now.

At first glance, that supreme goal has been accomplished. All it took was an incredible site, a persevering and visionary leader, a talented and creative group of golf architects, and Mother Nature. Sounds like a recipe for success, one that's already cooked up a lot of interest from organizations that arrange major tournaments.

Green fees range from $65 to $150, with the lower rate reserved for Pierce County residents. Caddie fees are $35 plus tip for a single bag, and $70 plus tip for a double bag. For more information or a tee time, call 877/295-4657 or visit www.chambersbaygolf.com.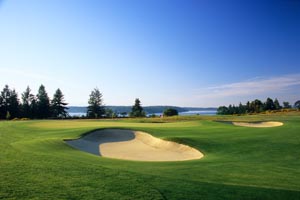 The Home Course

Although not totally at the other end of the spectrum, The Home Course in DuPont - about 5 miles to the south along Puget Sound as the bald eagle flies, is certainly a different kind of welcome addition for Seattle-Tacoma golfers. After growing in for approximately two years, the course - though local cognoscenti were aware of it - had no name or owner until early June 2007.

At that time, the major amateur golf organizations in the state - the Pacific Northwest and Washington State golf associations, representing over 100,000 members - finalized their purchase of the course from the Weyerhaeuser Company.

The property enjoys a rich heritage. For centuries the Nisqually Indians used the land and surrounding acreage for social and commercial gatherings, called potlatches. In 1833, the Hudson Bay Company - one of the original white settlers of the Northwest - built Fort Nisqually. Between 1839 and 1842, Methodist missionaries opened a mission and a school. In 1841, Charles Wilkes began the first American survey of Puget Sound by establishing a scientific observatory near the encampment. In 1842, Hudson Bay built the second Fort Nisqually. Centuries-old records indicate that a clerk for the company fashioned a rough-hewn six-hole golf course on the land in the 1830s.

In 1869, American homesteaders occupied the property as Hudson Bay returned to its Canadian headquarters. In 1904, the 9th U.S. Calvary bivouacked here. Then in 1906, E.I. DuPont bought the real estate to develop an explosives-manufacturing plant and a new company town. The facility was used to make black powder, nitroglycerine and dynamite, employed primarily to clear forests for new Puget Sound settlements.
The DuPont explosives manufacturing plant operated for seven decades. In 1976, the property - by then polluted with lead (which lined the buildings that stored the explosives) and arsenic (used to eliminate weeds and prevent fires) was purchased by Weyerhaeuser, a timber-product and tree-growing operation based 15 miles to the north in Federal Way.

Bob Martin, a Weyerhaeuser engineer who served as the project manager for the clean-up effort, said his company evaluated 56 options for disposing the "hot" material. They finally selected a landfill in Oregon, skimming off a full foot of the top layer of 400 acres and trucking it across state lines to the south. The site was then capped with 15 inches of gravel. By then, officials determined the best use of the land was a golf course, which, according to Martin, "was a great way to re-use the site."

Weyerhaeuser went the extra mile during the remediation and construction process, going so far as to clean every tree - including 170-year-old apple trees planted by the Hudson Bay Company - on the land. They also planted thousands of flowers, rhododendrons and shrubs.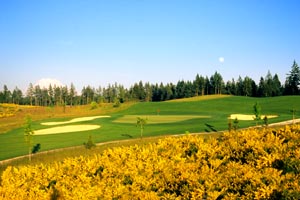 The company then hired Michael Asmundson, a landscape designer and golf course architect - and University of Washington graduate - who had done golf projects in Arizona and South America. According to Asmundson, his task was to "try to make a remediation project into a golf course, make the course usable for all players, and create golf holes that would invite you back."

Asmundson, also the owner of Discovery Bay Golf Club in Port Townsend on the other side of Puget Sound, began crafting a links-like layout with a variety of par-3s, par-4s and par-5s. He created "interesting" greens and, with his landscaping background, tied the course tightly into maintenance considerations. About this time he recommended that Weyerhaeuser hire Kelly Donaldson, a superintendent with whom he'd worked in Chile.

"I wasn't trying to build a golf course for Weyerhaeuser," said Asmundson of a facility that didn't have an owner or a market niche. "It had to make business sense."

Wadsworth was hired to construct the course and Donaldson, who has a "doctorate in grow-in" according to Asmundson, was charged with bringing life to the once-barren parcel. "This was a true collective effort of the state of Washington, Weyerhaeuser, DuPont, lawyers and engineers," Asmundson said proudly.
Led by executive director John Bodenhamer, the golf associations had been building a war chest for nearly 20 years for the eventual acquisition of their very own course. After several failed attempts - luckily as it turned out, the PNGA and WSGA consummated the DuPont deal in June. Martin said Weyerhaeuser had another offer, but he concluded the company liked "the permanence of the golf associations and the knowledge that they'd be here for hundreds of years and would be good stewards of the property."

According to Bodenhamer, the course will be "minimalist" in nature with limited signage and other accoutrements. The operations, overseen by interim director of golf and long-time area pro Ron Hagen, will be conducted out of a trailer before a modular clubhouse will be erected. The final phase - about eight to 10 years out - involves a permanent clubhouse that will contain the offices of the PNGA and WSGA as well as other golf organizations, including the regional section of the USGA and the Northwest Turfgrass Association - thus the name of the facility. The PNGA and WSGA also acquired a neighboring 10.5-acre parcel that may be converted into a par-3 course or a practice layout with regulation holes, bringing their total holdings to around 190 acres.

Nice touches abound along the way, with much of the property's past preserved, including the ancient apple trees. An area around the first green contains a fenced-in area that houses the 1833 Hudson Bay Fort site. Nearby is a cemetery for the Hudson Bay settlers. The large mounds in the 15th and 16th fairways are marked by former explosive storage magazines that were left intact and incorporated into the design.
The Home Course doesn't have Chambers Bay's awe-inspiring panoramas, but it boasts some impressive vistas of the same natural attributes offered by its neighbor to the north. The track crosses high-bank Puget Sound waterfront, with the same train that rolls past Chambers Bay out of sight below a bluff to the west. Several holes offer views of the Sound and Mount Rainier, while nearly everywhere are spot-on glimpses of the Olympics - that is, when the sun is out.

In addition to green fees in the $30-45 range ($45-55 for non-members of the associations), there's much to like about The Home Course. This is not a back-breaking layout, but it can play tough depending on your choice of tee. Yardages range from 5,506 from the forward tees to a daunting 7,437 from the tips (where it gets a 76.5 rating and a 132 slope). There are plenty of traps - some stylishly sod-banked - in play both off the tee and around the greens. Water enters play only on the 7th hole, a 434-yard par-4 whose last leg descends to a pond-guarded green.

Perhaps the most enjoyable aspect of The Home Course - other than the prices - is the putting surfaces, which contain a lot of tilt and plenty of personality. Wind is also a factor on many holes since much of the layout fairly is exposed to the elements. The same critters found flapping happily above Chambers Bay frequent here as well. And, because of the lengthy grow-in period, thanks to Donaldson's deft touch, this golf course is very much ready to play.

For more information or a tee time, call 866/964-0520 or visit www.thehomecourse.com.