Special Sale on 'Around the World in 80 Rounds'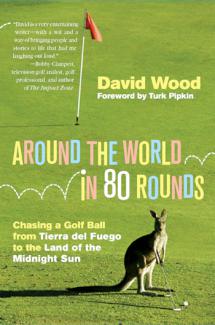 The author of "Around the World in 80 Rounds," David Wood, a frequent contributor to Cybergolf, is offering his entertaining book at a special rate. You can get a personalized, autographed copy of "Around the World in 80 Rounds" for $25 (includes shipping and handling). See below for more details.
The book chronicles David's humorous, insightful, inspiring and laugh-out-loud adventures to golf courses in the far corners of the world. His ventures range from the southernmost tip of South America to the very top of Norway and everywhere in between. Along the way, he plays the world's most extreme golf courses: the northernmost, southernmost, highest, driest, hottest, and every other strange locale he could find.
But this isn't just a book about golf. It's about travel - and the risks - associated with leaving a comfort zone to pursue your dreams. "Around the World in 80 Rounds" is published in hardback by St. Martin's Press.
Reviews

Here's what others think about David's book:

"David is a very entertaining writer - with a wit and a way of bringing people and stories to life that had me laughing out loud." Bobby Clampett, television golf analyst

"His snappy prose is filled with gentle jokes, clever asides and general goofiness. (For instance, on the subject of an apparent rash of ailing chickens in Laos, Wood wonders, "If a chicken was actually sick, would chicken soup make it feel better?") This J. Maarten-Troost-meets-John-Feinstein approach should have readers looking forward to the author's next tee-off. Charming and accessible, Wood's debut scores a solid eagle." Kirkus Reviews

"Wood tells a highly entertaining tale of his trip through 22 countries far off the beaten path from the typical golf vacation." Publisher's Weekly

"Nicely balanced between travelogue and golf memoir, this zany account will spark the wanderlust in every golfer tired of his or her home course." Bill Ott - Booklist
"David Wood's story joyously captures the maddening yet addictive allure of golf as he takes us on a journey every golfer would envy." Rick Lipsey, Sports Illustrated golf writer and author of "Golfing on the Roof of the World"
"Take one itinerant standup comedian, add a love of golf and an Internet connection, and this is what you get. The author, a 47-year-old bachelor, starts his Phileas Fogg adventure by Goggling the northernmost, southernmost, driest, wettest - and so forth - golf courses in the world. By the time Wood completes his trip in northern Norway before jetting home, he is exhausted, yet exhilarated - and so is the reader. Others have tried around-the-world golf books, but few seemed to have had as much fun. Warning: It's contagious." Bob Gillespie - The State Newspaper of South Carolina
"Around the World in 80 Rounds is a wise-cracking and at times humbling ride. It's also very funny." Bob D'Angelo - The Tampa Tribune
"David Wood will be a hero to many. He cast off all responsibility except that linked to the pursuit of golf and self-actualization. From distant lands he brings rich stories of interesting and amusing endeavors and a picture of a diverse world connected via that ridiculous, compelling and wonderful game of golf. Give this to your friends, they'll love it." Charles Lindsay, author of "Lost Balls: Great Holes, Tough Shots and Bad Lies"
"Around the World in 80 Rounds is as much a life-affirming tale as it is a guidebook for the hearty. It's a wonderfully personal travelogue that is both ingratiating and entertaining. As Wood ventures into one exotic country after another, golf is the root that holds his keen personal observations about the local politics, economies, and, especially, their people. This is hands-down one of the best golf books I've ever read." Jeff Shelley, Editorial Director of Cybergolf

"Wood's travelogue skips along with never a dull moment as his artful and witty storytelling sweeps readers from one entertaining golf experience to the next." Guy Generaux - The Journal Newspapers

"David Wood has written an inspiring, attention-holding and humorous golfing travelogue. Paramount was his 'eleventh club'-a razor-sharp sense of humor that enabled him to cope with the ebb and flow of world travel. 'Around the World in Eighty Rounds' is more than merely a regurgitation of golf, golf, and more golf. Sure, this all-important aspect holds sway, but ample text is accorded to village and city life, and landmarks of note encountered. Indeed, Wood's excellent narrative provides insight as to how citizens around the globe conduct their lives - both on, and off, the golf course." Paul Daley, publisher and author of "Golf Architecture, Links Golf, and Favorite Holes by Design"
"David Wood's entertaining and exciting 60,000-mile odyssey reveals the game of golf not as a chin-on-chest battle with the scorecard, but as the perfect medium through which to explore and enjoy the world around you. This is a book that proves golf has far more to offer than most of us take from it - and inspires us to broaden our relationship with the game." Duncan Lennard, author of "Extreme Golf and 112 Miles to the Pin"

"Wonderful golf tales are sprinkled throughout the 282-page book. It's a great inspiration for armchair travelers and even more interesting if you're a golfer. By the time I finished reading 'Around the World in 80 Rounds,' I found myself wanting it not to end." Rick Stedman - RV Golfer

How to Order

To order, please mail $25 (cash, check, money order - shipping and handling is included) to:
David Wood
c/o David Wood Speaking
3129 Alki Ave. SW
Seattle, WA 98116

Please include the name of the person (or persons) you would like David to sign the book for.

WEB SPECIAL: Two Autographed copies for $40 (shipping/handling included).

For questions, email David@DavidWoodspeaking.com, visit www.DavidWoodSpeaking.com or call 206/938-7786.