St. Andrews Links Achieves Environmental Accreditation
St. Andrews Links has become one of the first golf venues committed to achieving GEO Certification, the internationally recognized accreditation from the Golf Environment Organisation (GEO).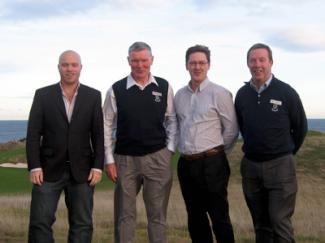 St. Andrews management team (left to right):
Communications Director Benjamin Warren;
CEO of St. Andrews Links Trust Alan McGregor;
Chief Executive, GEO Jonathan Smith;
Director of Greenkeeping, St. Andrews Links Trust, Gordon Moir.
Scotland's St. Andrews Links, which comprises seven public golf courses including the Old Course, enjoys an excellent reputation for its environmental practices. The links has been recognized on several occasions in recent years including receiving the Overall Award at the Golf Course Environment Awards run by the Sports Turf Research Institute in October 2009.
The new accreditation program aims to become the hallmark for sustainable golf and measures all aspects of a golf venue's operations from the courses to clubhouses and greenkeeping facilities. It was launched by the Golf Environment Organisation, a non-governmental organisation, at the BMW PGA Championship last May.
The Old Course will be one of the first links courses put forward for the program and it is hoped that the accreditation will be in place by the time of the 28th staging of the Open Championship at the Old Course in July.
Gordon Moir, director of greenkeeping at St. Andrews Links, said, "We place a great deal of emphasis on managing the courses and facilities in as sustainable a fashion as possible. There is a long tradition of sensitive and sustainable management at the Links and, as the 'Home of Golf,' we have a responsibility to take a lead in encouraging the golf industry to take these practices on board. This accreditation program is an excellent way of ensuring golf courses adopt this approach in a structured way and we look forward to working with the Golf Environment Organisation."
There are several major environmental projects currently being undertaken at the facility. A reedbed washdown area was recently established on the 17th hole of the Jubilee Course that enables water that has been used for washing machinery to be fed through two gravel beds which have been planted with common reed. The reeds filter out the impurities, allowing clean water to be discharged to a soak-away.
Other recent projects include dune-reinstatement work, an extensive grassland management program and soft engineering work for the coastal protection of Jubilee.
Jonathan Smith, chief executive of the Golf Environment Organisation, added, "Decades of strong leadership and responsible, balanced decision-making has positioned St. Andrews Links at the forefront of sustainable golf. They have been walking the walk in both the management and development of the courses, clubhouses and maintenance facilities."

The Reports for St. Andrews Links can be found at: http://www.golfenvironment.org/oldcourse, http://www.golfenvironment.org/new-jubilee, http://www.golfenvironment.org/eden-strathtyrum-balgove and http://www.golfenvironment.org/castlecourse.