Stacy Lewis Thinks Like a Founder - A Writer's Personal Reflections
By: Nancy Berkley
On Sunday, American golfer Stacy Lewis won the RR Donnelly LPGA Founders Cup. She played with grit, patience and determination - the very qualities that define the real founders of the LPGA. Lewis is now the No. 1 female golfer in the world based on the Women's World Golf Rankings. Her victory ends the two-year reign of Taiwan's Yani Tseng atop the rankings.
The rankings are often referred to as the Rolex Rankings. They began in 2006 and are based on points earned worldwide in five women's golf tours in the U.S., England, Korea, Japan and Australia.

But this article is not about Stacy's victory or Japan's Ai Miyazato's miss-hit wedge on the 16th hole of the final round. Nor is it about the two-stroke penalty Lewis received on Saturday when her caddie walked in the bunker on that same 16th hole in order to advise Stacy on hitting out of it (a violation of USGA Rule 13-4 which prohibits "testing" the condition of a hazard). Those are all good stories but you can read them elsewhere.

My story is personal. It's about why this LPGA tournament is called the "Founders Cup" and why Patty Berg, one of the 13 founders of the LPGA, is so important to me. It is about the coincidence that this tournament was played at the Wildfire Golf Club in Phoenix. And it is about why it is so important that a big chunk of the Founders Cup prize money goes to the LPGA-USGA Girls Golf program.

Lastly, it is about the gender issue - about women. Two recent publications, Facebook's Sheryl Sandberg in her new book, "Lean In: Women, Work and the Will to Lead," and Anne-Marie Slaughter's article last summer in Atlantic magazine titled "Why Women Still Can't Have It All," come up with different answers about balancing work and family.

On the face of it, these authors should have no impact on women's golf. But what happens in the office has implications for what happens on the golf course. And, more importantly, Sandberg's book urges women to join together to change their future. And that's exactly how the LPGA originated. Thirteen women in 1950 came together to establish a women's-only professional golf tournament. Using Sandberg's metaphors: the founders leaned-in and led.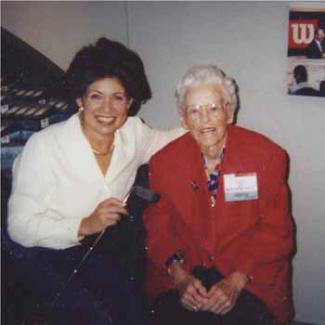 Patty Berg, Co-founder of the LPGA, with the Author's
Autographed Wilson Patty Berg Putter in January 2000
The LPGA is the oldest women's professional sports association in the world that has been in continual existence since its formation. The RR Donnelly Founders Cup tournament was the idea of Mike Whan, the commissioner of the LPGA. When Whan took the helm of the tour several years ago he wisely recognized that the legacy of those 13 founders needed to be honored annually.

Berg grew up in Minneapolis and went to the University of Minnesota. I grew up in St. Paul - just across the river from Minneapolis - and in 1958, when Patty was 40 years old and already a famous golfer, I was a freshman at the University of Minnesota. Patty regularly made headlines in our local papers, which is why I knew golf was not just for men.

And so when I had to select my "required" sports class as a freshman, I chose golf. In a big gym, we all had our own black mat and were given a club to practice with. Of course, there was no ball. To pass the class, we had to play the University of Minnesota golf course and turn in three completed scorecards. That's how I was introduced to the game, and I loved it right from the start.

My first set of clubs was Patty Berg's signature models made by Wilson Sporting Goods, a generous supporter of the LPGA in its early days. I played with Patty Berg clubs for quite a few years until I replaced them with new and better clubs that promised more distance. (Some things in golf don't change, and I am still just a happy bogey golfer.)

But for nostalgic reasons, I hung on to my original Patty Berg putter. I never would have dreamed that someday I would meet her, but that's exactly what happened. After marriage and raising children and going to law school and then working and then retiring, I returned to golf.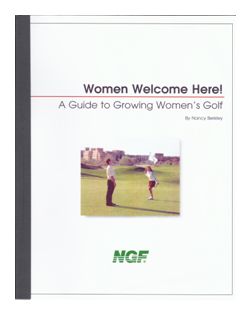 Cover of Nancy's 'Women
Welcome Here' Book
In 1998, I set up a golf-consulting business designed specifically for women. I offered short programs that focused on the culture of the game, including the basic dos and don'ts. I wanted to help women overcome the perception that golf was just a man's game and the intimidation that came along with that mindset.

I had found a new career and became part of the golf industry. In 1999, I was asked by the National Golf Foundation (see www.ngf.org), one of the industry's leading resource associations and located in Jupiter, Fla., to ,write the first book that had ever been written specifically for golf instructors and club managers about how to market to and attract women golfers.

The timing was right because it had become clear that the number of new courses was outpacing the number of new golfers. Women were recognized as a segment that could help grow the game.

In 2000 I attended the annual PGA of America Merchandise Show in Orlando to do some interviews for the book. I knew that Berg was going to be at the Wilson booth as a special guest. I wrote to her and asked if she would sign my "Patty Berg" putter (circa 1960) because she was the reason I originally started playing golf. I insisted we take a photo.

When the 2003 NGF book, "Women Welcome Here: A Guide for Growing Women's Golf," was almost done, we focused on the cover. I decided that the cover photo must show women having fun on the course. But it was difficult to find that image.
Quite by accident, I was reading my monthly Bon Appetit cooking magazine and saw an advertisement for a new resort that had just the photo I wanted - a couple having fun on a golf green. The NGF tracked the photo down and discovered it was shot on the then-new Wildfire Golf Club in Phoenix. In fact, we learned that the man and woman were employees of the resort who were pulled away from their desks for the photo shoot.

Coming full circle, the Founders Cup this past weekend was played at the same Wildfire Golf Club which made the cover of my book.

What's especially important about the Founders Cup is that, while acknowledging the past, it points to the future. Whan brings a marketing background to his position, and he knew that the key to a thriving worldwide women's professional golf tour required building the customer base. And that base begins with girls.

The LPGA Foundation, with help from the USGA and cooperation with the First Tee, led the industry in focusing on girls' golf. With support from RR Donnelly, the winners of the Founders Cup donate a share of their prize money to the LPGA-USGA Girls Golf Program - $500,000 to be exact. Following in the footsteps of the LPGA's founders, those funds enable the program to expand to new locations and establish a tournament program for only girls.

The golf industry recently has increased its focus on female golfers. The PGA of America brought Dottie Pepper on board to lead a new "little league" golf program that will promote both girls and boys team golf. And coming out of the PGA's recent major study by the Boston Consulting Group, the newest initiative "Connecting with Her" led by two experts, Donna Orender and Suzy Whaley, directly addresses gender issues.
The message of "Connecting with Her" is: Women are different from men, so market golf to them with specific women-friendly lessons, messaging and methods.

According to current studies, girls and women, in general, thrive in gender-specific programs and gender-specific playing experiences such as women-only associations, women-only clinics, women-only tee times and women-only tournaments. That's the legacy of the founders. Of course, not all women or girls fall into this category - only about 99.9 percent.

But over the past few years, litigation has increased around golf's gender-specific practices at public and semiprivate courses. (Private clubs - those that are "truly" private - are usually not subject to the same antidiscrimination statutes. But it was good news that Augusta National, considered a private club in spite of their public presence, did admit two women last year.)

For public or semiprivate clubs, the gender discrimination issue no longer focuses on whether or not a female may become a member of a golf club. Given the past several years of depressing economics, most public clubs are happy to have members of either gender.

Instead, golf's female-gender issues have morphed into other areas: Whether or not there should be gender-specific tee times at all and whether or not a gender-specific tee time (for men or women) is fundamentally discriminatory. In California, courses were prohibited from offering special low tee-time rates during women's golf promotions because it potentially would violate California's strong antidiscrimination statute. And even in a mixed-gender tournament, issues arise about what tee women and men should play from to ensure a fair competition.
Actually, the LPGA founders and Sheryl Sandberg have a lot in common. Both believe in the power of the female association. Take a look at Sandberg's website www.leanin.org. It's all about women supporting each other. But I wonder if she would be in favor of having a certain number of tee times just for women (or men) because it would be a good social-bonding experience.

And I am not sure that the founders would agree with Anne-Marie Slaughter, who says you can't have it all. Look at Juli Inkster, champion golfer and mother of two daughters. Look at the J.M Smucker Company, which was honored last November by the LPGA for their 20-year support of a Child Development Center that provides on-Tour support for the children of LPGA players.

And we have yet to hear how Sheila Johnson, the new member of the USGA Executive Committee and the third woman on the 15-member group, will influence the direction of the USGA. Based on a recent article in the March 15, 2013, issue of Golfweek titled "A Woman's Touch - Sheila Johnson Brings the Game to the Masses and New Perspective to the USGA," it may be that she can both "lean in" and "have it all."

For me, the gender issues are not all that difficult. Every club, whether public or private, must think like a LPGA founder. There must be a place for girls and women golfers to learn and compete. But there must also be a place for them to "lean-in" and join with other women to make sure that, as women golfers, we become the best we can be and enjoy this game to its fullest.

We may not all be able to have it all - all of the time. But, I am not giving up on making sure more women play more golf and enjoy it more. Let's do whatever it takes to accomplish that mission. Think like a founder!
Nancy Berkley, President of Berkley Golf Consulting, is an expert on women's golf and junior-girls golf. She is a frequent contributor to www.cybergolf.com/womensgolf. Her book, "Women Welcome Here! A Guide to Growing Women's Golf," published by the National Golf Foundation, is an industry reference on marketing golf to women and spotting trends within the industry. She offers information and advice about the golf industry on www.berkleygolfconsulting.com and is often quoted in national publications. She was a contributing editor of "Golf for Women" magazine and a founding advisor of "Golfer Girl Magazine." Her interviews with women in the golf industry now appear on www.golfergirlcareers.com. Nancy lives in Palm Beach Gardens, Fla., and is a graduate of the University of Minnesota, Harvard University and Rutgers Law School. After a business and legal career, she decided to write about the game she learned and loved as a teenager. She describes herself as a good bogey golfer with permanent potential.