Stark Landscapes at Otherworldly Course in Big Bend Region of Texas
By: Steve Habel
Located on the Mexican border in the southwest corner of the Lone Star State and about 300 miles as the crow files from El Paso, the "Big Bend Region" of Texas is about as remote a place as there is in America.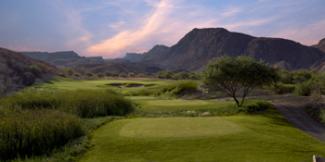 No. 2 at Black Jack's Crossing
This is a wildly beautiful and natural region, with a complex and fascinating history. Over 1 million acres of public land, including Big Bend National Park and Big Bend Ranch State Park, are situated here in the northward bend of the Rio Grande River as it passes through the gap between the Chisos Mountains in Texas and Sierra Madre Oriental in Mexico.

At an elevation at 2,200 feet, it's also the site of one of the most secluded golf resorts in the world, Lajitas Golf Resort, and its sublime, Lanny Wadkins-designed Black Jack's Crossing Golf Course.

There's a reason the resort and golf course are so isolated. The landscape in the Big Bend is stark and not for the faint of heart or thin-skinned. Here in one of the few places flat enough to pitch a tent, build an adobe house and eventually a posh resort, the land rolls away on both sides of the Rio Grande and it takes a different mindset to thrive, let alone exist.

Comanche once roamed these passes that separate the Chisos and Davis mountains. It's a place where General "Black" Jack Pershing forded the river in search of the infamous Mexican Revolutionary general, Pancho Villa, who led raids across the Rio Grande. The old Lajitas Trading Post that dates back to the 1800s has been converted into a Longhorn museum and the golf pro shop.

Lajitas Resort has a long history; its past lives include a luxury cowboy hotel and an isolated getaway for the uber-rich before the economy clanged to a halt in the late 2010s. The resort's new owner, Dallas billionaire Kelcy Warren, took a new tack, opening the property to visitors from afar.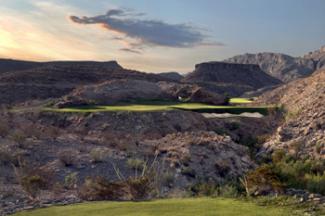 5th Hole at Black Jack's Crossing
A Rockin' Good Time

The golf course fashioned by Wadkins calls out to those with enough guts to tackle its rock-strewn elevation changes, numerous carries over desert washes and 18 holes that require the best a player can muster. The track combines demanding terrain and a stunning setting among Big Bend National and other state parks.

After a devastating flood wiped out the previous Lajitas layout that was on the river's bank in 2008, Wadkins was chosen from an "A list" of architects to craft a new course in the mountain valleys and foothills, safely apart from a future, repeat disaster.

This is a place where peaks, buttes, mesas and other rock formations (lajitas means flat stones in Spanish) will knock your socks off. The routing takes advantage of the dramatic drops from tees to fairways and the panoramas that stretch as far as the eye can see.

There are at least seven heightened tees where, on a clear day, it feels you can see the edge of the world. These driving spots are exhilarating; a few drop as much as 180 feet from tee to green.

Greens Complex at 7th Hole on Black Jack's Crossing
"Kelcy (Warren) and I went hiking in the area around Lajitas, and we were knocked out by some of the views we saw from the mountains," Wadkins said. "We had enough land to do two courses because there was so much to work with, but it was just a matter of getting all the holes to fit together for a spectacular site that gets better as you go from hole to hole."

Wadkins was given plenty of leeway to transform the land as he saw fit to get the look and feel of the course he wanted. "I like to see what's in front of me off the tee and not have to guess where I am," added the 1977 PGA champion and 21-time PGA Tour winner. "With the great view corridors at Lajitas, that wasn't a problem."

It was here, in early 2009, standing on the steps of the resort's Thirsty Goat saloon, that Wadkins got word of his election into the World Golf Hall of Fame.

Black Jack's Crossing is a par-72 layout that stretches 7,413 yards from its back set of four tees. The track has not been rated, but when that happens expect it to have one of the highest Slope and course ratings in Texas. Wadkins' decided carpet the track with paspalum grass, which should thrive in these arid surroundings.

The fairways are generous but sometimes seem squeezed due to the declivitous terrain and multiple forced carries. The greens are medium-sized, but challenging and fast with tremendous undulations.
The first three holes play along the Rio Grande river valley and then the routing climbs into the mountains and foothills. Five holes bring the river back into view, and each seems to result in another unique geological formation and a different landscape color.

The 466-yard opener, which may be the flattest hole on the course, is nonetheless one of the track's most difficult, moving past a set of bunkers to a well-protected putting surface. The 212-yard second is no pushover either, with its tee shot over the desert and between bunkers to a back-to-front-tilting green

The meat of Black Jack's Crossing begins at the fourth tee as the golfer encounters the first in a series of mountain holes. No. 4 is a booming 613-yard par-5 with a forced carry off the tee to a dogleg-right fairway across an arroyo, before ending at an oblong green protected by a dry creek.

The 166-yard, par-3 fifth requires a precise shot across a deep ravine to a putting surface guarded by two steep and deep bunkers in front, a rocky ledge in back, and a deep arroyo on two flanks. This hole is the definition of desert-style, target golf.

The drive on the 444-yard, par-4 seventh begins at a towering tee and must find a narrow landing area on the far side of another crevasse. The arroyo-fronted green and its surrounds are angled left of the fairway. Not only is the green downhill and guarded by two deep bunkers, it's heavily contoured, making putting particularly dicey.

The 649-yard, par-5 eighth heads off another elevated tee (where it appears you're looking at California in the distance) past a huge, rocky hill on the port side. This prominence also enters play on the approach, which must be played left to right. A rock-filled bunker 70 yards short of the green is another hazard with which to be reckoned.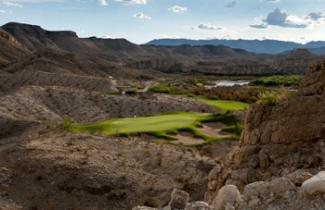 13th Green at Black Jack's Crossing;
Rio Grande in the Distance
No. 12 - at just 357 yards - is the shortest par-4 at Black Jack's Crossing but one of its toughest because of the need for precision to avoid bunkers and find a green that slopes precariously from back to front. The 13th is another dandy par-3 (167 yards) that drops to a small green with cavernous bunkers fore and aft.

Black Jack's Crossing finishes with a bang at the 577-yard, par-5 16th (a right-to-lefter to an uphill green), the 188-yard 17th (whose putting surface seems to hover over the desert landscape), and the reachable-in-two par-5 closer.

No two holes are alike at Black Jack's Crossing. Players need to negotiate steep elevations, forced carries, strategically placed traps, tight fairways, water hazards, deep ball-eating arroyos, rolling fairways, uneven lies, tight approaches, right- and left-turning doglegs, and blind shots.
While Here, Stay Awhile

Getting to Lajitas is half the fun and well worth the effort. But to make the trip make sense, visitors must find that the golf course and other amenities are special, and they are. "Lajitas and the golf course are memorable because I don't think there's another site like this anywhere in the state," promises Wadkins.

The town of Lajitas, which was the site of the 2000 miniseries "Streets of Laredo" starring James Garner, is a revived ghost town converted into a classy, Old West-style resort community. Four buildings offer different types of lodging and a range of prices. The resort has 103 rooms that feature the "cowboy chic" of the Cavalry Post, the Officers Quarters, the newer and more posh Boardwalk Suites, and the "cowboy bordello" interiors of the Badlands Hotel.

Most of the resort is centered around a plaza ringed by the Badlands Hotel, Boardwalk Suites, Candellilla Cafe, shops, a bakery, meeting rooms, Agave Spa, the Thirsty Goat Saloon, Flat Rock Theater Company, an open-air amphitheater for movies, and a medical clinic.

I recommend spending a few days here because you'll want to play the golf course at least twice. There are other fun things to do as well, including hiking in Big Bend National Park, mountain biking, rafting and canoeing the Rio Grande, ATV and Jeep tours, horseback riding, hunting, target shooting and more.

For more information, visit www.lajitasgolfresort.com.
Steve Habel is one of Cybergolf's world correspondents, contributing news stories, features, equipment and book reviews and personality profiles from his base in Central Texas. He is also works as a contributing editor for Horns Illustrated magazine, a publication focusing on University of Texas sports, covers the Longhorns for CBS Sports, is regional editor for Texas Golfer magazine and files stories for Golf Oklahoma magazine, Texas Links magazines and Golfers Guide. Habel's main blog (www.shotoverthegreen.blogspot.com) features news on golf and the Longhorns, and another (www.checkinginandplayingthrough.blogspot.com)chronicles his many travels, on which he has played more than 350 golf courses since 2009. Habel is a member of the Golf Writers Association of America and the Texas Golf Writers Association.