Starr Pass Resort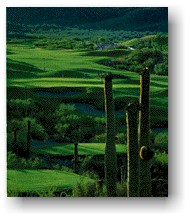 Starr Pass, in Tucson, Arizona, is a world-renowned, true desert golf course that features a commanding desert-style layout of eighteen holes through beautiful mountain passes, box canyons, and desert ravines. Dramatic terrain and a great Robert Cupp and Craig Stadler design promise a championship experience and will challenge any player, demanding finesse and accuracy on the par-71 layout. Starr Pass is just minutes from downtown Tucson.

Recognized by both amateurs and professionals as one of the top courses in the country, Starr Pass played host to the PGA Toursí Tucson Open from 1987-1996. Hole #3 was ranked the most difficult hole on the PGA. Tour in 1996.
Resort amenities include a heated outdoor Olympic-size pool and jacuzzi, tennis courts, fitness center, hiking and biking trails. La Estrella Restaurant caters to diners for casual dining, breakfast, and late lunch.
At Starr Pass Golf Suites, lodging in Resort Casitas offers guests the combination of comfort and luxury in southwestern style. The Casitas are located within short walking distance of the clubhouse, offer easy access to all Resort amenities, and showcase beautiful views of the mountains, the golf course, and the city lights.

To book a tee-time or for more information, use the request form from Starr Passís website and a representative will respond within 24 hours (www.starrpasstucson.com). Or dial direct at 1.800.503.2898.