Kiwi Challenge Set for this Weekend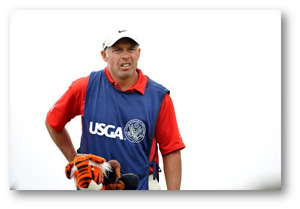 One of golf's most recalcitrant figures toward the media will be going to the "other side" when he makes his commentating debut in the inaugural Kiwi Challenge. Steve Williams, Tiger Woods' caddie, will be assisting NBC when it covers the Challenge Season event November 26-27 in his native New Zealand.
Williams will join NBC regulars Dan Hicks, Roger Maltbie and Mark Rolfing in covering the event, which will feature USA Ryder Cup heroes Anthony Kim and Hunter Mahan, along with Australia's Adam Scott and American Brandt Snedeker, in a 36-hole, stroke-play competition. The winner will receive $1.5 million from a $2.6 million purse.
The two-day event will take place at Kauri Cliffs and Cape Kidnappers - two courses 350 miles apart - on consecutive days, testing NBC's logistics department to transfer staff and equipment to the respective sites. Coordinating the effort will be veteran television producer Jim Walton Jr., in conjunction with Pithey Communications and NBC Sports. Walton has some experience in televising golf in exotic locales, serving as the coordinating producer for 43 episodes of the modern series of Shell's Wonderful World of Golf, including the 2003 match between Fred Couples and Michael Campbell at Kauri Cliffs.
The Wellington-born Williams will be making his TV commentator debut, and he's doing it to support golf in his home country. "This is my first experience at this," Williams said. "I'm doing this because the Kiwi Challenge will bring great exposure for New Zealand and give New Zealanders the opportunity to see four of the world's best players in one group. Seldom would we have four players of this quality at a tournament."
"We think the Kiwi Challenge has a recipe for a great golf event. Four of the best young players in the world playing on two of the most beautiful and challenging courses anywhere in the world. It is going to be a terrific event," added NBC Sports golf producer Tommy Roy said.
Walton said of his role: "Each course will require its own separate technical installation. Much of the hardware and many of the technicians will be from New Zealand and we will be on the ground in New Zealand 10 days before the first day of competition in order to execute the plan on both courses. The moveable feast of announcers, production personnel and technicians who have to move between courses will number around 40. The easy part will be showcasing the beauty of New Zealand and especially both Kauri Cliffs and Cape Kidnappers, plus the environs around both courses."
Walton plans to use Williams to discuss New Zealand points of interest along with noteworthy elements of the two courses and what they mean to the players. He'll also provide insight on what golf means to New Zealanders. "The telecast will weave vignettes about both properties and shots of other points of interest in New Zealand in with the golf competition. And Steve will be a big part of that," Walton said.
"The two courses will showcase the magnificent scenery New Zealand is famous for," Williams said, talking about a Kauri Cliffs course named the Best New International Course by Golf Digest in 2001 and Cape Kidnappers, which is ranked 41st in the world by Golf Magazine. "The exposure from this event will keep golf in the news. This comes at the commencement of summer, which is great timing."
A limited number of tickets, which went on sale August 1, will be available and can be purchased at www.ticketdirect.co.nz. All sales proceeds will benefit local community charities in Northland and Hawke's Bay. For more information about the event, visit www.thekiwichallenge.com.