Stone Creek Opens Third Nine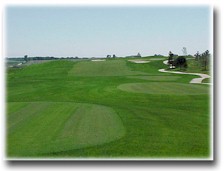 Ninth hole at Blackstone
Omaha's Stone Creek Golf Course opened its third nine holes last fall. Called Blackstone, the new nonet complement the original Sandstone and Greystone nines. The 27-hole venue features rye-bluegrass fairways, seven lakes, and 93 bunkers. Each nine boasts a 500-plus-yard par-5.

Stone Creek's practice area has three tiers of natural-grass tees. The tiers are rotated frequently to ensure the surfaces are kept in top shape. The 300-yard-wide range has a target fairway and four target greens. The facility also features an adjacent practice bunker and chipping greens.

For a Stone Creek tee time, call 402/965-9000.