StoneRidge is a Rollicking Rollercoaster of a Good Time
By: Steve Habel
Just how steep are the holes on the rollercoaster-like Randy Heckenkemper-designed StoneRidge Golf Course near Prescott, Ariz?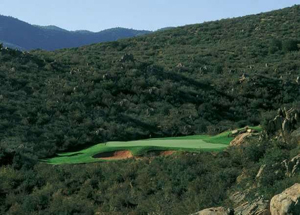 The 12th Green at StoneRidge
For one thing, the track's cart paths are equipped with scores of speed bumps to regulate the downhill speed to ensure the safety of players. Such measures are needed as golfers might also be distracted by the vistas around StoneRidge and of the nearby Bradshaw Mountains.

StoneRidge, which opened for play in 2002, is a hybrid of a desert and mountain layout, curling up and down through brush-tangled, boulder-dotted canyons and ravines at an elevation of 5,200 feet outside of Arizona's former state capitol.

Distinguished from other Grand Canyon State courses by its stunning location in the heart of northern Arizona, StoneRidge contains more than 350 feet of elevation change - from the lowest green to the highest tee, all carved out of its namesake geological formations in the Prescott Valley.

Occupying Native American land, StoneRidge was built with respect for ancient burial grounds. Indeed, a medicine man blessed each hole before completion. Arroyos enhance the course's routing, while contributing to the contours of the site. The diversity of desert, valley and canyon landscapes provide a variety of shot options such that golfers respect the game as well as the area's heritage, culture and environment.

StoneRidge Golf Course
StoneRidge features multiple forced carries, tapering fairways, and greens hidden beyond blind turns. The track offers an exercise in performance, patience and faith.

The amazing thing about StoneRidge is that the Tulsa-based Heckenkemper - whose celebrated designs include The Territory in Duncan, Okla., and the recent renovation of the TPC Scottsdale's Champions course - tempered his routing and the track's difficulty to make it friendlier for users.

"A lot of times on mountain golf courses the shots are too difficult, which makes a course lose its appeal," Heckenkemper said. "We were careful to examine the layout of each hole at StoneRidge and make adjustments that would help the course be more player-friendly, while still offering challenge and beauty. It's a very solid course and one of the most beautiful and challenging tracks I have ever created."

Thanks to Heckenkemper's focus on playability, smart golfers can use StoneRidge's slopes and curves to their advantage. Many of the putting surfaces tilt toward the pin, while shots in fairways tend to roll toward the middle of landing areas.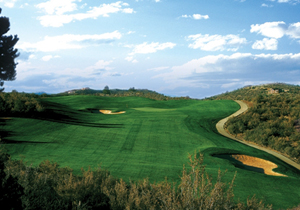 The Opening Hole at StoneRidge
A Great Collection of Holes

The course has a local reputation for difficulty with its lengthy forced carries and greens sitting on ledges or encircled by canyons. But it's the setting, particularly the secluded back nine, that really makes StoneRidge shine.

The turf includes Penncross bentgrass greens, a mix of blue- and ryegrass fairways and tees, and bluegrass, with rye and native fescue in the roughs and off-play areas. The par-72 course isn't exorbitantly long - stretching 7,052 from the tips at its near-mile-high locale, but if it were any longer it might be unplayable. As currently configured, the track carries a 72.3 rating and 142 slope from the back set of five tees.

The design eases you into the round. The first five holes are relatively trick-free, but stray from the fairway and you're lost. The 383-yard par-4 fifth has a large landing area but is deceiving because it slopes and then narrows before ending at a small green guarded by a river wash and ravine.
StoneRidge might have more forced carries than any one course I've ever played. Heckenkemper dares players to clear gullies, deep drops and tall rock outcrops. Never are these more evident than on Nos. 8-10, which begins with a 186-yard par-3 where golfers aim at an almost island-like green perched on circular stone walls that make it seem to be hanging in air. If reaching this putting surface in regulation, you have a great chance at par or a routine bogey. But miss the green and you're looking at a huge number.

The 575-yard, par-5 ninth entails two forced carries. The first is off the tee and the second is encountered as the hole ascends over a rock-filled desert on the approach. Any ball hit to the right - the direction in which the fairway tilts - will disappear into the great beyond. The green is small, two-tiered and well-bunkered.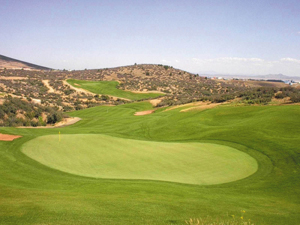 StoneRidge's 14th Hole
Starting off StoneRidge's inward nine is the 430-yard par-4 10th, which asks for a sizable carry off the tee to a fairway that leans steeply rightward. The signature hole may be the 12th, a 230-yard par-3 starting high atop a stony ridge before heading down to a green surrounded by boulders. Ringed by hills, the 353-yard, par-4 13th gives a sense of isolation. It starts at a towering tee and ends at a fairway and green on the far side of an arroyo.

The round concludes at the massive but downhill 630-yard, par-5 18th, which is shaped like a giant "S" from tee to green to accommodate adjacent Native-American burial grounds. Even a good drive may be blocked by trees that border a ravine to the right; also beware the green's false front.

Though the course is only about 90 minutes from Phoenix, snow falls here in winter, so the best time to play is May through October. Summer temperatures in Prescott are 15 to 20 degrees cooler than in Phoenix. Though there is an optimal season, StoneRidge, which recently joined the Troon family of courses, is open year-round.
StoneRidge is a big-hitter's delight, aesthetically pleasing and downright fun. In addition to offering reasonable rates memberships are also available. For additional information, visit www.stoneridgegolf.com.
Steve Habel is one of Cybergolf's national correspondents, contributing news stories, features, equipment and book reviews and personality profiles from his base in Central Texas. He is also the managing editor for Texas CEO Magazine and works as a contributing editor for Horns Illustrated magazine, a publication focusing on University of Texas sports. He also writes a blog (www.shotoverthegreen.blogspot.com), which features news on golf and the Longhorns, and another (www.checkinginandplayingthrough.blogspot.com) on his many travels, which took him across the nation and to 105 different golf course in 2009. Habel is a member of the Golf Writers Association of America and the Texas Golf Writers Association.