Strange Defeats Torrance in Shell's Wonderful World of Golf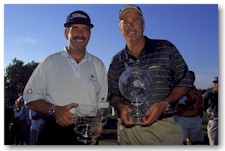 On May 21, 2001, U.S. Ryder Cup Captain Curtis Strange shot a 2-over par 73 to defeat European Ryder Cup Captain Sam Torrance by three shots in a Shell's Wonderful World of Golf Match at Carnegie Abbey in Portsmouth, Rhode Island. Strange's victory was worth $100,000, while Torrance earned $50,000. The players, who praised the new course's conditioning and routing, arrived in style for the match after a 95 mph ride across Narragansett Bay in "cigarette" boats.
In previewing the upcoming Ryder Cup, the players focused on the sportsmanship, camaraderie and etiquette they expect from the players and fans at the upcoming competition. "My 12 guys are going up against his 12 guys on the course and then, we'll all go have a beer at the victory dinner on Sunday night," Strange said.
Carnegie Abbey is in Portsmouth, Rhode Island. The 350-acre property occupies the western shores of Narragansett Bay, six miles from Newport. For more than three centuries Carnegie Abbey was used for farming. However, it has a colorful history as part of the original Colony of Rhode Island and as the setting for the Battle of Rhode Island. It later served as an English-Benedictine Monastery and preparatory school.
The land remained undeveloped until Carnegie Abbey was built. The Scottish-style 6,669-yard, par-71 course and an adjoining sporting club were created by Peter de Savary, a British entrepreneur, conservationist and America's Cup challenger. The match was the first of its kind to be held in Rhode Island and only the second in the event's history to take place in New England. The match will be televised on Tuesday, October 2, 2001 on ESPN from 9:30-11 p.m. ET.